Au Revoir Bretagne by Robert Carter
We continue our series on the marvellous paintings by Robert Carter OAM, FASMA, FISMP of the sailing ship era and recently published in The Marine Paintings of Robert Carter.
Robert is one of Australia's leading marine artists and is also joint founder of the Australian Society of Marine Artists with Dean Claflin.1 You can read more about Bob's biographical information by clicking here.
In The Marine Paintings of Robert Carter Bob has presented his paintings in five parts2 and we will follow this same format. We are up to Part Four: German Sail and French Ships where the ships painted by Robert illustrate that While Britain led the world in shipbuilding in the nineteenth century it was Germany, and to a lesser extent France, that took the sailing ship into the twentieth century. 2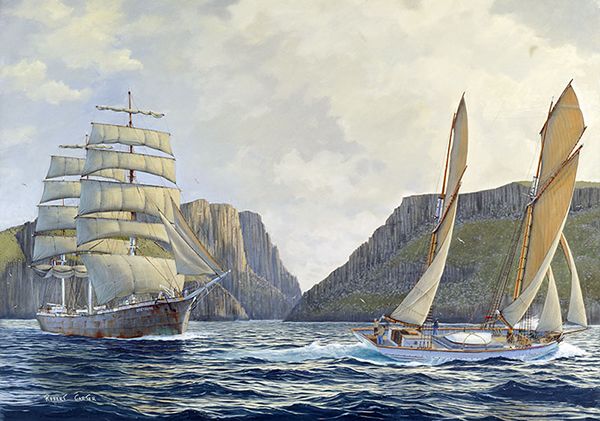 The French bounty ship Bretagne in Storm Bay, with Tasman Island on her port hand, heads off in 1923 towards Astoria on the American North West coast for a grain cargo. A typical Tasmanian ketch crosses her bow in what many would say was a risky manoeuvre. However, the barque is still sheeting home her foresail and her speed would not be more that 2 or 3 knots. The mainsail is still 'up in its gear' so that it will not obscure the way ahead until the barque is well out to sea.
The French Government paid a 'bounty' to sailing ship owners to secure a continuing supply of sail trained seamen. It was paid on net tonnage and on the number of sea miles travelled. Large deposits of nickel ore in New Caledonia brought hundreds of French ships through the 'Roaring Forties' of the Southern Ocean and instead of heading up the shorter route through the Indian Ocean the ships sailed around Tasmania, thereby adding miles to the journey and earning extra Bounty.They often called at Hobart to replenish stores or to see if their orders had been changed. Even if their charter was to load nitrate on the west coast of South America, the west winds of the Southern Ocean route gave them a good passage time and justified the extra miles sailed.
Bretagne made many voyages via Hobart on her way to New Caledonia, the Pacific North West coast of America and Newcastle, New South Wales for coal. Bretagne was built in 1901 and was broken up in 1926.3
© Thank you to Robert Carter who kindly gave permission for the image of his work to be shared on AnArt4Life.
Please check out the Robert Carter Website.
And also the site for the Marine Artisits Australia.
The next glorious vessel in our Robert Carter Marine Series will appear in about a week.
Credits
1. Correspondence with Robert Carter
2. The Marine Paintings of Robert Carter, Published in Australia by Robert Carter Maritime, Gosforth NSW, 2320, Australia, 2022
3. robertcarter.com.au