Art Conservation and Art Restoration: Part Two
Yesterday you were introduced to the topic of Art Conservation and Art Restoration through the work of Duncan Harty. If you missed this post please click here.
As you know we like to make our posts as personal as we can and love telling a story along the way.
Andrew from the Hunter Valley Region of New South Wales, a member of the AnArt4Life blog team, is a collector of paintings especially those created by Hugh Schulz one of the Brushmen of the Bush. If you missed the two posts on Andrew's painting collection, please click here and here.
Recently Andrew had two paintings from his collection seen by Duncan Harty for a health check and necessary treatment! Both are paintings by Hugh Schulz. The first is a miniature at only 10cm x 15cm and was in what Andrew termed an insignificant frame which made the painting look even smaller than it is.
Andrew tells us that Duncan has an amazing studio with a very large collection of old frames which are, of course, very different to modern frames. We don't have a photo of the stacks of frames but here is Duncan at work and you can see a treasured frame on the bench in the background.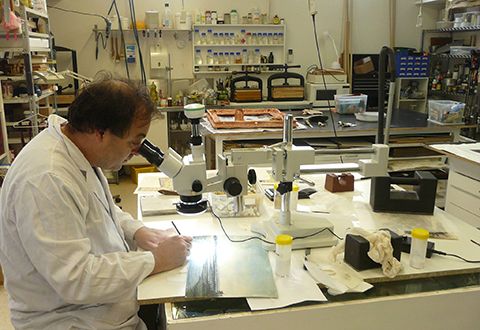 Below is the little Hugh Schulz painting creatively framed to enhance the painting where the colour of the frame and fabric chosen by Duncan Harty intensify the colours in the painting. And Andrew is delighted with the end result and now takes note of the frame nearly as much as the image!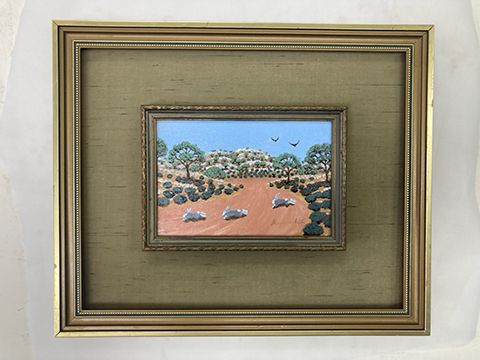 The other Hugh Schulz painting restored to good health by Duncan is titled Moonlight Lake and unfortunately suffered from being uncared for over many years and suffered from poor accommodation. As Duncan said to me in a phone call - this painting has had a very hard life.
And isn't it wonderful that now, thanks to Andrew and Duncan it is in the best of health, loved and admired, and living in luxury!
The before and after images below demonstrate the restoration Duncan made which he said was in fact very simple as the main treatment required was a total clean. When Andrew purchased the painting it was frameless and so Duncan also added a frame from the 1960s style, representative of the era when Hugh Schulz created the painting.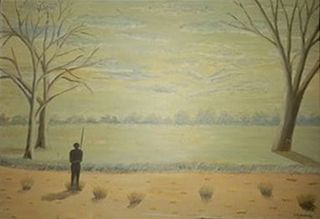 I asked Duncan how an oil painting is cleaned and, as I wasn't particularly good at science at school, really didn't understand all that technical jargon.
But I gather that Duncan makes a cleaning solvent using chelate agents which remove the surface dirt etc from the oil painting. If you into this kind of thing you might like to read this article - The Removal of Surface Dirt on Paintings with Chelating Agents.
There were some very small areas on the painting where the paint had been damaged and these were touched up by Duncan. Below you can see these changes and how the marks of a hard life have been removed making Andrew very pleased with the final result.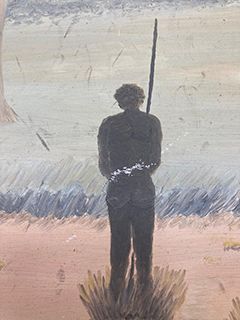 Duncan is very much sought after throughout the eastern states of Australia and he has done work for several local regional galleries in New South Wales including the Newcastle and Maitland galleries which are significant galleries in the area.
Duncan Harty also works on manuscripts, old prints, books, large murals and recently restored a silk flag from World War I.
Duncan was interviewed in 2017 by ABC Newcastle where he said:
While the job is delicate, intricate, and involves working on pieces that are decades of years old and worth thousands of dollars, Mr Harty's love of the craft lies in the chemistry behind the production of artworks, and how science can help bring them back to their former glory.
"I like to get my hands into things, and it's very satisfying," he said.
"It can be very frustrating and very stressful along the way as well, but when things go your way, you feel incredibly empowered. 2
You can read the full interview in how Morpeth man breathes fresh life into priceless artistic treasures by clicking on the Bookmark link below.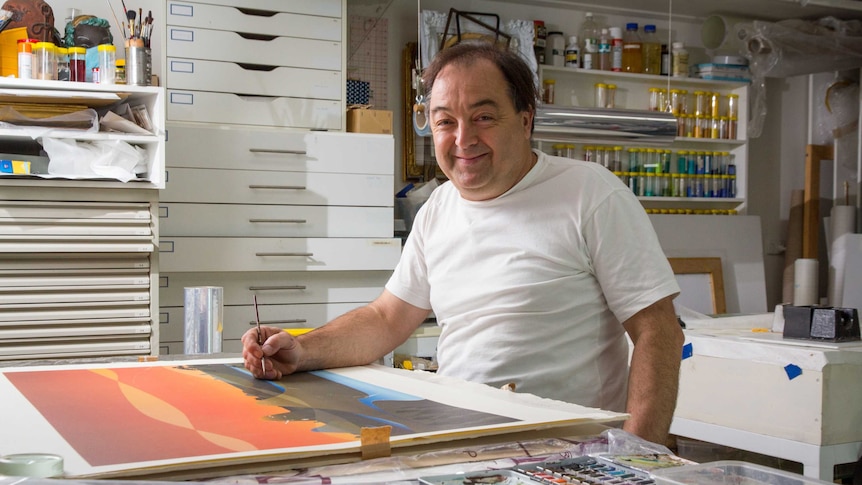 You might like to check out more about Duncan Harty and see more examples of his work by clicking on this link to his Morphet Conservation Studio.
And if you are a Facebook user you can follow Duncan Hart by clicking here.
© Thank you to Duncan Harty for his assistance in producing this post and for giving permission for information and images from his website and Facebook pages to be used.
Credits
1. permission to use the image given by Duncan Harty
2. abc.net.au