Andrew Wyeth: The Famous Member of the Dynasty
Two weeks ago I introduced you the American Wyeth family of artists and I showcased for you some of the wonderful illustrations created by Newell Convers Wyeth. Today we are going to start examing the wonderful paintings of Andrew Newell Wyeth (1917-2009), son of N. C. Wyeth.
When I think of Andrew Wyeth's view of the world I see windows with lace curtains blowing softly in the breeze.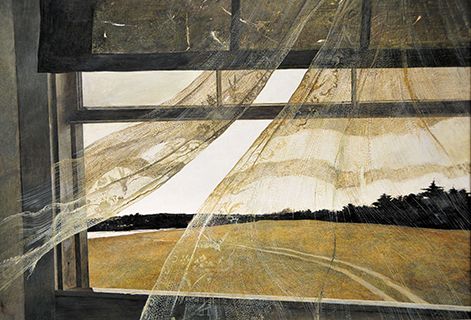 I have always found the Wyeth paintings and his view of his world, multi-dimensional or layered. When you look at an Andrew Wyeth painting his artistic skill is awe-inspiring. This man could draw, create perfect compositions, and execute them in subtle colours that harmonise to form a perfect image. You can see I am a fan.
But there is much more to Wyeth's paintings; far beyond the artistic impact. Take for example, this painting Christina's World painted in 1948. The composition prompts questions and no answers. What is the woman doing? She appears to be rising on her arms to peer up the hill towards the somewhat eerie house on the hill. The woman is slender and appears young and gives the impression of elegant beauty.
To find out about the story behind the image you will have to wait for the post next Monday when I will feature this painting and a full analysis.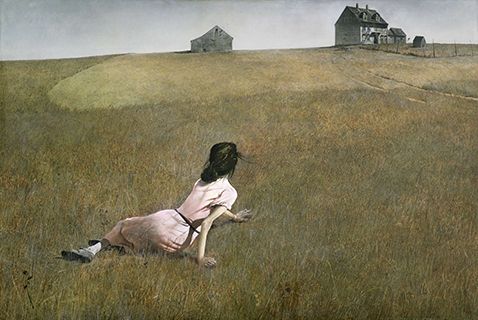 One of the questions which arises with Andrew Wyeth's works is related to where he fits in terms of modern art movements which arose across the world as the C20th got going but much of the seminal works were created in America.
Andrew Wyeth was born in 1917 and died in 2009. Working primarily in watercolor and tempera instead of the more typical oil or acrylic paints, he stands as one of America's best known artists of the middle C20th years. While Wyeth painted his beloved rural scenes in his realistic style around him the younger artists were beginning to break new grounds. Artists such as Frank Bowling 3, Andy Warhol, Jackson Pollock, Lee Krasner4 were creating a whole new way of representing the world through abstract and pop art.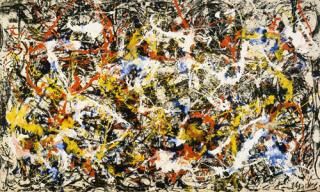 At first glance Wyeth wasn't interested in the exploration of the presentation of ideas and perspectives: Wyeth was intersted in recording the lives of the people he knew around Pennsylvania's Brandywine Valley (and coastal Maine) set in the landscapes in which these people lived in. The Kuerners are a perfect example of this genre.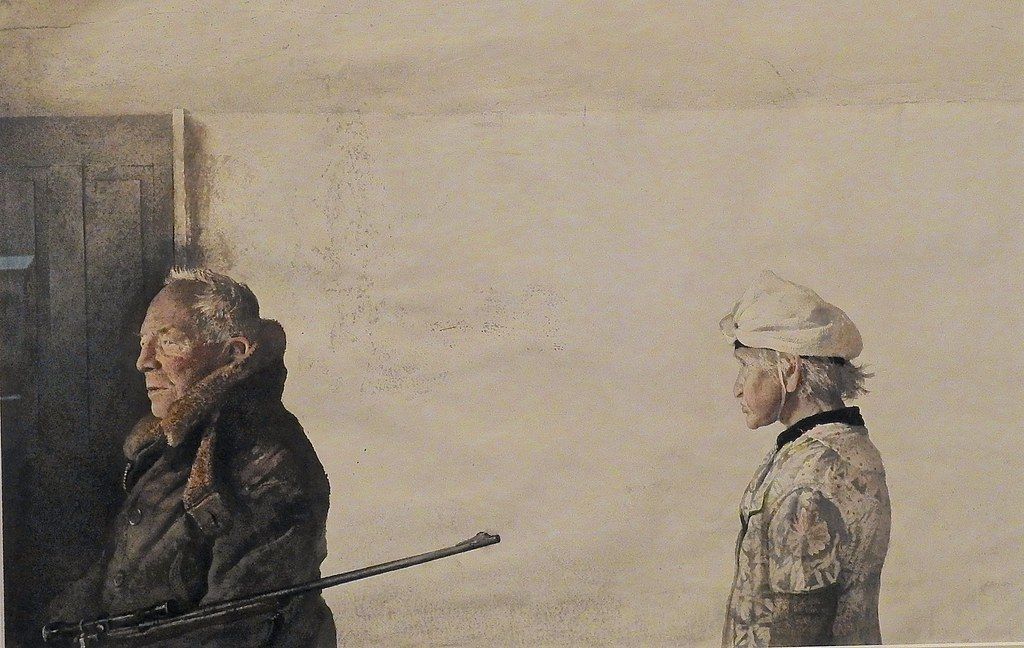 But unlike the naive artists we have been viewing of late who also recorded the lives of the people around them, Andrew Wyeth often included a sense of mysteriousness in his paintings. In fact the book I possess on Wyeth is titled: Andrew Wyeth Memory and Magic. This inclusion of the unexpected lead many critics to label his style Magic Realism or perhaps even, as Michael R. Taylor suggested somewhere between Realism and Surrealism. 11
This leaning towards a surrealist view is illustrated so aptly in Christmas Morning a most unusual painting and quite magical composition. It was painted by Wyeth in 1944.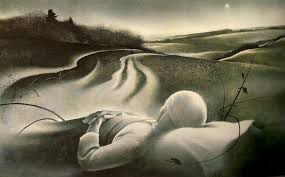 Wyeth's linear, detailed style is certainly realist but, more precisely, it shows the hallmarks of magic realism, a homegrown American response to European surrealism that gained currency in the 1930s and '40s. Magic realism renders ordinary subjects in a sharply focused, precisely delineated style, but it has an element of suggestive ambiguity, as if secrets lie below the surface. Throughout the galleries, Wyeth's portraits and landscapes exude this sense of eerie mystery. Far from being nostalgic depictions of the visible world, they are imaginative fabrications—a manipulated masquerade of reality with a frisson of spookiness.13
Take for example this landscape done in tempera on panel of Dil Huey Farm (1941) - a gloriously textured tree trunk with delicate detail in the foreground. Yet the dark outlines of the farm buildings, almost obscured by the tree, and perhaps the starkness of the hill give an air of mystery. These are not just landscapes but each one holds you, wondering what the story might be behind the image.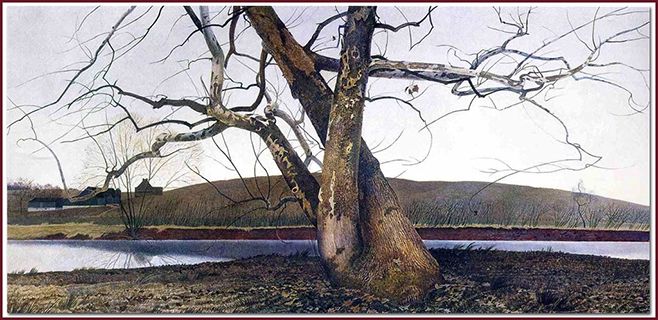 For me Andrew Wyeth creates a narrative where every every object or person has signficance: it is as though he is writing a short story or a poem. The elements in each painting are not just there becauses they belong to the scene, the landscape; the elements are there because they have significance to perhaps only Wyeth but he wants us to be part of his story.
If we go back to the first image I showed you of the curtains blowing in the breeze, don't you find yourself wondering who opened the window and why?
Today I will leave you with a few more of his images to provoke your thoughts and interest. But we will return to study him in more detail and to meet other members of his family: his son Jamie Wyeth and Andrew's almost totally unknown sister Henriette Wyeth Hurd.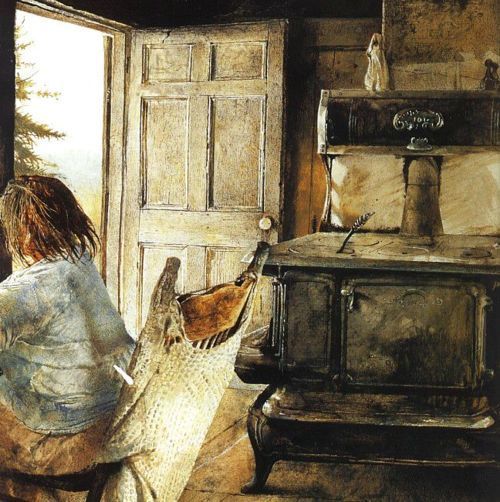 I think one's art goes as far and as deep as one's love goes. I see no reason for painting but that. If I have anything to offer, it is my emotional contact with the place where I live and the people I do. (Andrew Wyeth) 13
Below is the Bookmark link to the first post in this series about The Wyeth Dynasty.
Footnotes
atlasofplaces.com
nytimes.com
The artist Frank Bowling has been featured several times on the AnArt4Life blog. If you are interested in abstract art please check out the bookmarks below.
I have also written three posts on Lee Krasner, the Bookmark links are provided below.
ideelart.com
sothebys.com
artsy.net
tate.org.uk
flickr.com
pinterest.com
Andrew Wyeth Memory and Magic by Anne Classen Knutson, New York, Rizzoli, 2005
welovepaintings.tumblr.com
theartstory.org