Of course Adelaide isn't only known for its cycling events. Its better known for its Churches.
Here is a little article explaining why Adelaide is known as The City of Churches
And to view and learn a little more about some of the churches in Adelaide, follow this link.
But did you know that Adelaide is also home to the oldest still-standing Mosque in Australia? The Mosque was established in 1888, with its original minarets added in 1903. You can read about it here.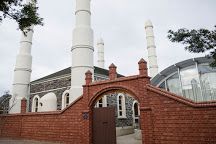 And if you are interested Wikipedia has an excellent overview of Islam in Australia.