A new perception of perspective and reality, from Alexa Meade!
Today we look at a unique art form where figurative painting meets 3D installations!
Alex Meade is an American contemporary artist with a difference. She paints portraits and scenes using backgrounds and actual people, and uses this to really challenge our concept of reality!
In my simplistic terms, she paints people to be part of her scenes, but actually paints ON the people – their faces, skin and clothes – as well as the background, so that her subjects are PART of a life size picture, in a three dimensional installation!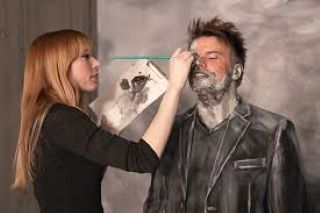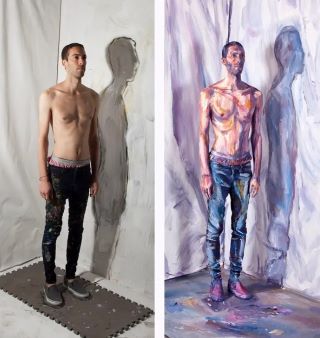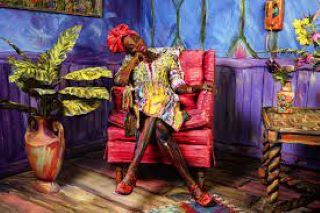 She says on her website: " My paintings are a like a reverse Trompe-L'Oeil. Unlike a traditional Trompe-L'oeil painting which tricks the eye into thinking a 2D canvas might be a real 3D space, I do the opposite: I take the 3D world and create the illusion that it is a 2D painting."
She explains her portrait processes as follows:
"I like to paint as much of the background and clothes as I can before the day of the final painting and photo session. I can spend 2-5 days painting the walls, floors, and props used in a full body portrait. Painting clothes can take 1-4 hours depending on the extensiveness of the drapery and any patterned print. I need to paint the clothes on a stand-in model's body in order to effectively capture the shadows of the drapery."
"On the day of painting the final portrait, my real model puts on the pre-painted clothes and I just paint the face and exposed skin. I like to minimize the time my model has to pose during the painting session so that when it's comes to the photography, the model feels more lively and engaged."
Her picture then becomes a living, breathing and even moving artwork, as can be seen in this short video of some of her projects:
What do you think of Alexa's work? Fascinating and mesmerising? Arresting? Difficult to wrap your mind around?
The New York Times describes Alexa's artwork as follows: "Think of it as a Van Gogh — that is, if one of his paintings were brought to life as a performative protest."
So how did all this come about?
In 2009, while finishing her degree in political science, Alexa Meade had an idea for an art project: what would it look like if she put black paint down on top of shadows? This question took her down a rabbit hole of experiments with painting on people and objects that led her to develop an optical illusion for turning three-dimensional spaces into what appeared to be two-dimensional paintings.1
She further explains: "Soon it evolved to painting all the colours as they existed in a 3D space on top of themselves. I realized that by painting in this style, I was able to seemingly collapse depth, making the entire scene, human and all, appear to be a 2d painting." 1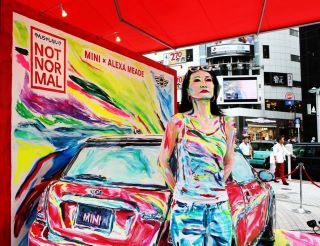 Her degree in political science, and working in that field, did not go to waste! She says: "Working on the side of the politics that dealt with spin and PR, I became really fascinated by how we interpret information and the mismatch between what is said and what is heard. I carried over my interest in spin into my art, prompting me to explore the different ways that visual perception can be manipulated." 1
The following video, called "The Colour of Reality" is an example of how she uses her three dimensional art to explore important issues and reactions to events.
It is therefore not suprising that Alexa and her work are in huge demand, and she has been recognised around the world for her ground breaking work.
Alexa's art has been exhibited around the world at the Grand Palais in Paris, the Saatchi Gallery in London, the United Nations in New York, Shibuya Crossing in Tokyo, and the Smithsonian National Portrait Gallery in Washington, DC. Her artwork has also been exhibited in space, orbiting the Earth on the history-making SpaceX Inspiration4 mission. 1
She has created interactive installations at Coachella, Cannes Lions, and Art Basel. Alexa painted on the body of Ariana Grande for her iconic "God is a Woman" music video, which has 350 million views. Her solo show on Rodeo Drive in Beverly Hills was attended by forty-thousand people. With profound pop cultural relevance, Alexa's art has been upvoted to the #1 position on the Front Page of Reddit. She has been commissioned by Apple, BMW, and Sony. In response to the Covid-19 pandemic, Alexa teamed up with LEGO as a Master Builder for their "Rebuild the World" campaign.1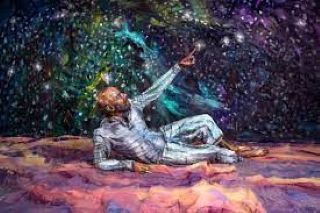 Collaborating with spacetime researchers, Alexa was the first ever Artist-in-Residence at the Perimeter Institute for Theoretical Physics. She has also been Artist-in-Residence at Google, where she worked alongside the engineers advancing Light Field imaging technology. 1
Alexa and her groundbreaking work have been honored with the "Disruptive Innovation Award" from the Tribeca Film Festival. Respected for her thought leadership and non-traditional career path, Alexa has lectured at TED, Stanford, and Princeton. Alexa accepted an invitation to the White House under President Obama. Google Arts & Culture selected Alexa as the face of their "Faces of Frida" campaign, celebrating the legacy of Frida Kahlo and the female artists who are carrying it forward today."1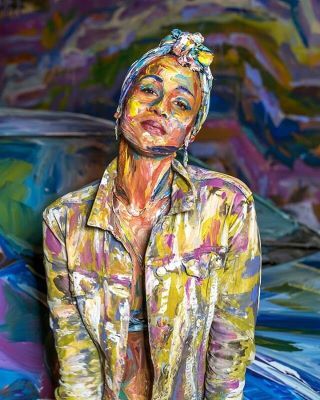 But whilst they are beautiful images, these fixed, 2 dimensional pictures just don't adequately explain Alexa's concepts and objectives. So now, a selection of Alexa Meade's video work is being made available as NFTs - Non-Fungible Tokens. 1
Previously, her art was only collectible as physical, limited edition photo prints. Now Alexa's work can be collected as video art -- capturing the living, breathing paintings in motion, as they are meant to be seen.1
If you would like to look at more of Alexa Meade's work, have a look at some of her NFT's (videos) by clicking here.
Art being taken to a whole new level, don't you think?
Footnotes
With thanks to Alexa Meade, at alexameade.com