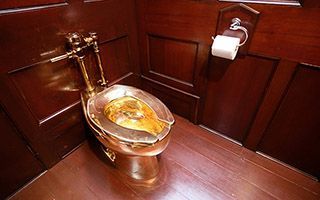 £1m golden lavatory stolen from Blenheim Palace ... police have nothing to go on!!
I just love the English sense of humour and today we have all had a good belly laugh over a solid gold toilet stolen from Blenheim Palace Duke of Marlborough's country home where Winston Churchill was born.
When a solid gold toilet worth £1m was installed at Blenheim Palace, the founder of its art foundation proudly boasted: "It's not going to be the easiest thing to nick".

But early on Saturday morning, just two days after it went on display, a gang of burglars did just that. Breaking into the Palace, they ripped it from the wall and drove off, leaving "significant damage and flooding."

The 18-carat lavatory, called "America", was the centrepiece of a new exhibition by Italian artist Maurizio Cattelan at the Duke of Marlborough's country home where Winston Churchill was born. (TheTelegraph.co.uk)
It had been plumbed into the water system so that visitors could fully engage with the artwork, as long as they obeyed a three-minute time slot.
(TheTelegraph.co.uk)
Maurizio Cattelan (born 21 September 1960) is an Italian artist. He is known for his satirical sculptures many of which are pretty confronting so I will wait until I am not on holiday before writing a more complete blog on his works.
When last I heard a 66 year old man had been apprehended for the theft but the toilet had not been recovered. Please follow this link if you would like to read the complete article of the theft of the solid gold toilet.
Apparently making your toilet into a work of art is not that uncommon. Here are some examples for you to follow if your suddently decide to turn your toilet into...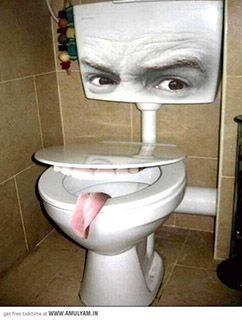 Most of you will have heard of Thomas Crapper (1836-1910) who turned the toilet into an everyday item.
However, Thomas Crapper was not the inventor of the flush toilet as it was invented long before in 1596 by John Harrington. Crapper was, however, a shrewd and relentless businessman who, in a time when talking publicly about toilets was considered a bit on the rude side, widely promoted toilets and sanitation, and even introduced the concept of public showrooms for bathroom and toilet fittings. (sciencelens.co.nz)
And Austrian artist Frederick Hundertwasser turned the toilet into a work of art. This is a public toilet in Kawakawa in the Bay of Islands, New Zealand, created by Hundertwasser, which is quite a sight to behold. Apparently he considered the toilet a special place, somewhere you have time to meditate in peace. Hence his dedication to elevating its aesthetic appeal.(sciencelens.co.nz)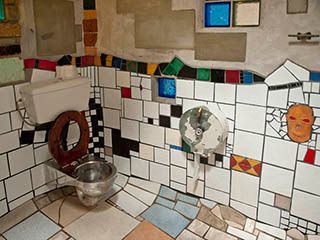 And from a different angle.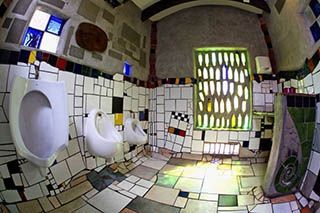 And of course we all assess the outside of the toilet before venturing in. But I don't really know what my reaction would be to this public loo which is in Longwood Gardens, Pennsylvania.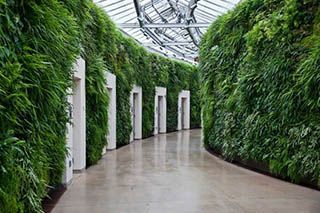 Not to be outdone on the world toilet stage, a local council in the suburbs of Perth (Australia) is looking to latch on to the toilet tourism trend by lavishing attention on their own loos.Once a smelly old 1960s toilet block, the public toilet building at Bayswater is being transformed into a bone fide work of art.
Artist Duncan Moon is building a giant patterned dome over the old flat roof, and has decorated the walls with a geometric pattern of expanding squares.The result will be something that would fit comfortably in Middle Earth: a building that looks like it's grown out of the ground itself.
Mr Moon's design is inspired by the endangered western swamp tortoise, with the patterned dome echoing the lines of a tortoise shell.(abc.net.au)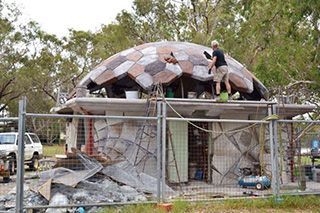 And the completed toilet block looks pretty interesting though from one angle it does tend to look (to me at least) a little like a chamber pot!!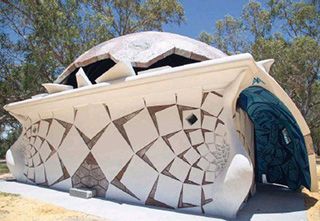 And for those of you who do really want to sit on the throne perhaps this is more to you taste.