The vibrant art of Melanie Hava
My niece Rebecca is travelling around North Queensland, Australia at the moment, with her partner and their cat, Cuddles! (Full marks to them, travelling in a van with a cat!!!). They recently sent me this postcard, having just seen a variety of Australian animals at a wildlife park near Cairns.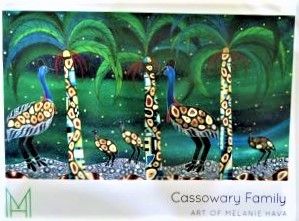 I was immediately drawn to the beautiful colours, and decided to find out more about the artist, Melanie Hava.
Melanie has an unusual heritage, having an Austrian father and a mother of Aboriginal descent. Melanie says in her website that "while celebrating my Austrian heritage, I also identify through my Mum's line as a Mamu Aboriginal woman, Dugul-barra and Wari-barra family groups, from the Johnstone River catchment of the Wet Tropics of Far North Queensland and the adjoining Great Barrier Reef sea country".1 Her Aboriginal name is "Winden", which means "Green Pigeon".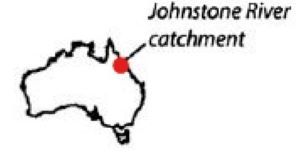 Melanie says that she knew from a very young age that she wanted to be an artist. She is deaf, and art was a world that she frequently retreated into. In her late teens/early twenties she thought about combining her Aboriginal and Austrian heritages. She had already had a successful first exhibition in Aboriginal, Folk and Abstract arts and then, at 23, travelled to Austria to live with her father's family and absorb as much as possible of the Folk and European culture.1
Melanie says that the patterns, gold leaf and occasional Swarovski crystal in her works are inspired by the European side of her heritage. 1
She has now settled down in Cairns, in Far North Queensland – close to her mother's country where she feels close to the spirit of the rainforest and reef. In fact the Great Barrier Reef and rainforest country are important sources of inspiration for her work, as can be seen in these wonderful examples of Australian animals and seascapes.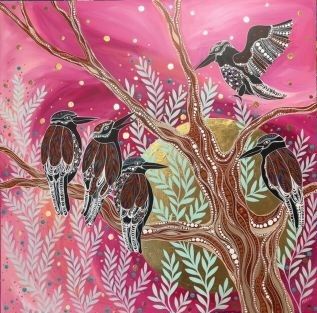 Aren't they fabulous! Her work is a wonderful blend of the traditional Aboriginal folk art style, bright, happy colours and a showcase of unique Australian animals, birds, and landscapes.
Melanie says that her life now revolves around her three children and running the house whilst keeping up with her art gallery and commissioned artworks.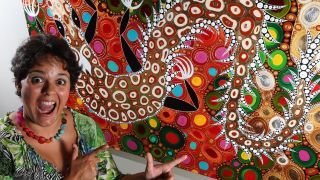 Melanie has also collaborated with other organisations such as Maxwell and Williams, Koh Living and Black Milk (clothes). If you are interested in seeing the available products, please click here.
If you would like to see more of Melanie's wonderful work, please watch the video below, with thanks to artofmelaniehava.com:
Footnotes
With thanks to The Art of Melanie Hava