The ever popular Willow pattern
A couple of days ago we looked at the enchanting work of watercolourist Denise Faulkner where some well known types of fine bone china, porcelain and ceramics featured in her playful works. One of these was the much loved willow pattern.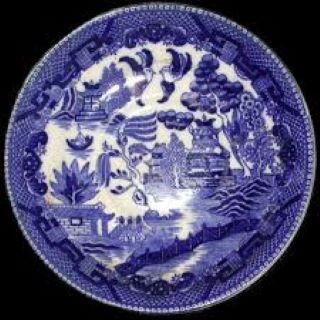 You may be familiar with the distinctive blue and white dinnerware as it is still produced today and is a favourite with collectors across the world.
The elaborate chinoiserie pattern (the imitiation of Chinese designs) became popular at the end of the 18th century in England where English ceramic artists adapted motifs inspired by fashionable hand-painted blue-and-white wares imported from China.1
But at its heart there is a love story and a legend which formed the original design, as explained by the following short video:
The creation of Willow ware occurred at Stoke-on-Trent in England, the pottery and ceramics capital of England, and possibly even the world.
Many famous pottery brands originated there, such as Minton, Moorcroft, Aynsley, Spode, Doulton and Wedgewood, some of which you may be familiar with, or perhaps even own a piece or two.
The exact time of the pattern's invention is not certain, but we know that during the 1780s various engravers including Thomas Lucas and Thomas Minton were producing chinoiserie landscape scenes. Thomas Lucas went to work for Josiah Spode in approximately 1783 and Thomas Minton set up his own business in approximately 1793, producing earthenwares. Minton is thought to have engraved versions of willow designs for Spode and for various other factories.1
It was probably for Spode that the English Willow pattern was created and first produced around 1790.1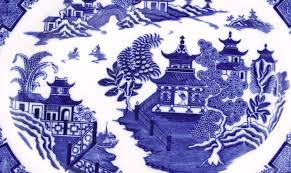 This was at a time when mass-production of decorative tableware by some companies was already making use of engraved and printed glaze transfers, rather than hand-painting, for decoration and hence was called transfer ware.1
This also made the product more affordable as it could be produced relatively quickly, compared to its hand painted, hand fired relatives in other factories.
Many different Chinese-inspired landscape patterns were at first produced in this way, both on bone china or porcelain wares, and on white earthenware or pearlware.1 However, the fundamental picture design represents the legend described in the video above, and represented below.
To be a true Willow pattern it must include willow trees, Chinese pine trees, a bridge with three people on it, a fence, a boat, a teahouse (or pagoda) and two doves in flight.2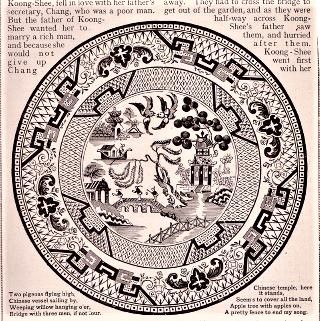 The Willow pattern, known as Blue Willow in the United States, became the most popular and persistent of them all, and, as previously mentioned, has remained in continuous production to the present day, in all sorts of shapes and sizes. There are in the region of 400 documented makers in Great Britain and 500 worldwide, including Buffalo Pottery which was the first cited producer in America, starting in the early 1900s.2
While the classic version of the Willow pattern is blue, it was also created in pink, brown, and even multi-colored. However, most collectors and experts still typically favour the blue variety.2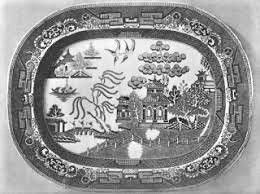 As previously mentioned Willowware is still a favourite with avid collectors around the world, as described by this collector who found "collectors' heaven" in the English countryside!
Footnotes
With thanks to Wikipedia
With thanks to simplemost.com