Denise Faulkner - wonderful Australian watercolours
Today we will look at the colourful, harmonious and often playful work of Denise Faulkner, an Australian watercolour artist based in the bush of eastern New South Wales, Australia. (All images reproduced with the permission of the artist).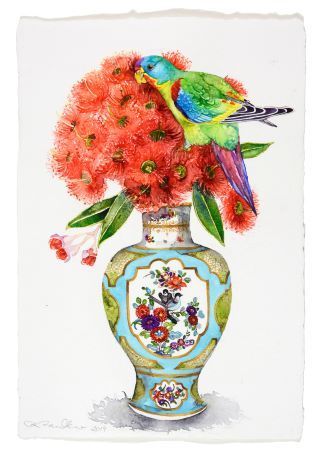 Denise was born in the inner suburbs of Sydney, Australia, and was a real city girl.... or so she thought! She completed a Diploma of Fine Arts at the National Art School in Darlinghurst, Sydney in 1996, and then a Degree from the same college a few years later. 1
After a few group shows with friends she turned her back on being a professional artist, preferring to eat, and so got a job in the Gallery Shop at the Art Gallery of New South Wales. This allowed her to combine her two great loves, art and books. Whilst there she did many various part time and evening courses from Psychology to Jewellery Making and Creative Writing in a bid to keep her mind active.1
Here are some of her early works: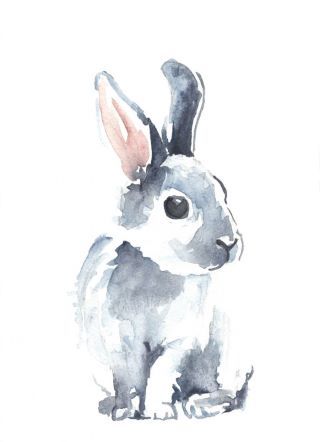 Recently, she and her partner and their cat took the bold step of moving permanently to their bush block just outside Mudgee, NSW, a long way removed from the city life she was used to.
She spends her days watching birds, painting, growing vegetables, taking the cat on bush walks (which the cat loves!), working part time and enjoying life.1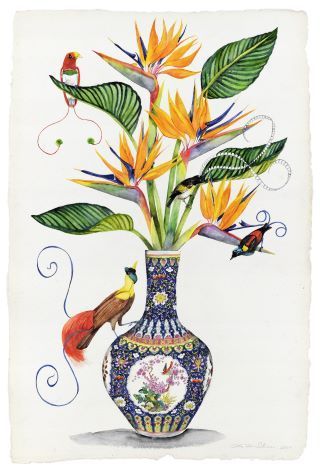 Denise loves the peace, the tranquillity, the stars, the birds, the wildlife, and the inspiration it provides for her watercolours! 1 She started to document the local species in watercolour, which quickly developed into a playful exploration of the inquisitive personalities unique to Australia's native birds. The bold flash of red from a visiting rosella or a dancing flutter of a willy wag tail are the fleeting moments that Denise captures in vibrant colours.2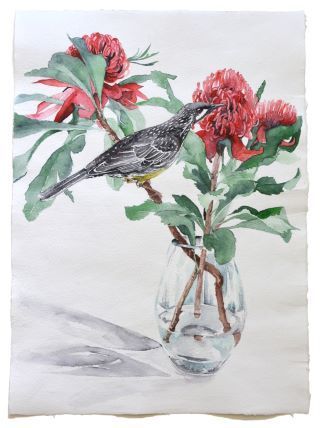 As well as Australian flora and fauna, Denise has a particular fascination with beautiful porcelain and china. This all began when they were adopted by a stray cat, Trampy, on their bush block. Denise says: "In a bid to stop him eating the wildlife we fed him. We had these little porcelain bowls with simple Japanese designs on them which we would put his food in. The magpies worked out that Trampy was a good source of food. He would eat his meal, beg for seconds and leave that for the magpies who were patiently waiting for their dinner. I painted a magpie stealing cat crunchies and the rest is history..."
Here is the very relaxed Trampy with his magpie friends, and the watercolours that started it all off!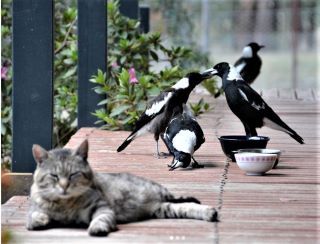 Denise thinks about the personalities of her wildlife subjects and paints them in situations which she thinks are appropriate to them.
The detail in the cups and saucers and vases that she paints is meticulous. You may even recognise some of the fine bone china patterns of Royal Albert, Royal Crown Derby, Famille Jaune porcelain, Bunnykins, Willow pattern and others!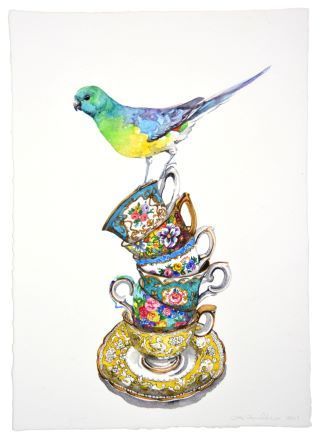 See if you can spot other Australian traditions in the images below, such as lamingtons, fairy bread (with hundreds and thousands sprinkles) and iced vo-vos (Aussie biscuits)! Denise says: "Galahs have so much fun, they just have to be paired with iced vovos or pink donuts."
Denise holds solo exhibitions and also shows her art at the Michael Reid Art Gallery in Surry Hills, NSW.
It was so difficult to choose which images to include here! If you would like to see more of Denise's beautiful works, please click here.
Sitting Duck (Self- portrait) 2018 - Denise Faulkner. © Denise Faulkner
Footnotes
With thanks to Denise Faulkner, denisefaulkner.com.au
With thanks to Michael Reid, michaelreid.com.au
All images are copyrighted to Denise Faulkner and reproduced here with her permission.