The colours inspired by world famous gardens
Inspired by our recent posts on colour Trevor in Canberra sent this link to a wonderful article from the Architecture and Design magazine saying: Here are some broader palettes to enhance your day: The colours inspired by world famous gardens.
Based on ten of the most talked-about and photographed gardens in the world, new colour palettes unique to each garden showcase the key colours that make each garden so recognisable.
Ten key colours and shades have been selected from each garden to highlight each location's unique palette.1
Here are a few of the gardens and their palettes for you to enjoy and then please follow the bookmark link to see the other gardens where humans and Mother Nature have worked together to create a colour wonderland.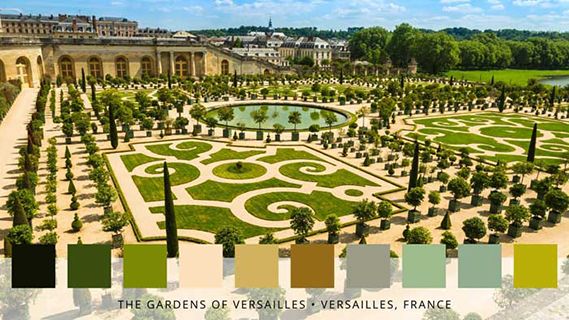 Situated to the west of the Palace of Versailles, these gardens (above) date back to the time of Louis XIV and feature a mosaic of meticulous lawns, sculptures and fountains on around 800 hectares of land.
The gardens' colour palette combines earthy sand tones on the pathways and buildings with a variety of exciting greens from the deep shades of the trees to the lighter grass, topped off with the eucalyptus grey-green of the water in the middle. 1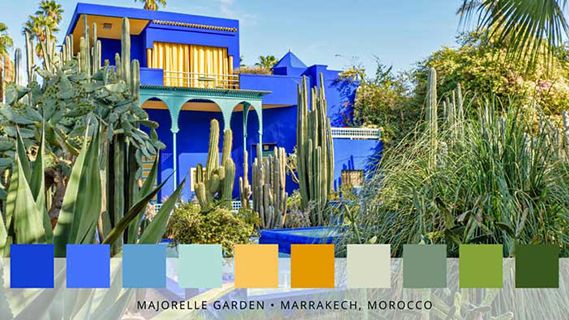 The world-famous cobalt blue of La Jardin Majorelle (above) takes centre stage amongst the 300 plant species from five continents that make up this psychedelic desert garden design. Bought by French fashion designer Yves Saint Lauren in 1980, the garden is now Morocco's most visited tourist attraction, attracting over 900,000 visitors a year.
The garden employs a rich and hypnotic colour scheme, with the electric blue and vibrant mustard yellow sitting aside the grey-green of the cactus and the bright turquoise of the water and the arches. 1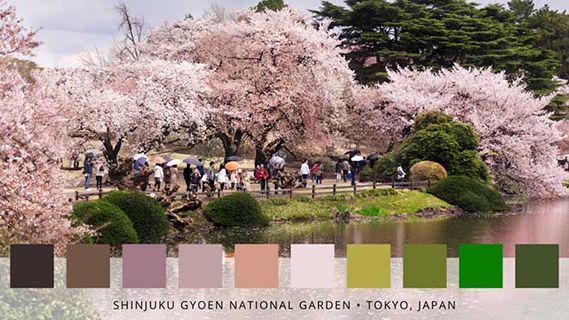 One of Tokyo's largest and most popular parks, Shinjuku Gyoen (above) turns a subtle shade of candyfloss pink as cherry blossoms envelop the landscape in spring. From late March to early April, more than 400 Somei Yoshino trees explode in a celebration of the beloved pink hue.
Established in 1603, the park features three different gardens – the oldest is a traditional Japanese landscape garden, and the other two are a formal French garden and an English landscape garden.
A subtle range of cherry blossom shades dominates the colour scheme here, complemented by the darker colours in the water and the fresh greens of the grass. 1
And now click on the bookmark link to see more of these glorious gardens.
Credit
1. architectureanddesign.com.au