Rowdy Wylie donates his war paintings to RSL museums in South Australia
Every artist wants each one of their art works to find a home where it is appreciated. Over the years we have been following the art journey of John Rowdy Wylie as he follows his passion to record in paint his interpreation of the landscape and history of the Australian countryside close to his heart.
Equally significant for Rowdy is to record Australia's involvement in the various wars and to then place these special paintings into RSL Museums so that others (especially the young) can learn about this aspect of our history.
This is a special year for those of us who have been touched by Australia's involvement in the Vietnam War as it is 50 years since the last of the troops were withdrawn. A couple of days ago we showcased Rowdy's painting Vietnam 1962 - 1975 (Remembrance of 50th Anniversary).
Back on 22 June 2023 Rowdy delivered the completed painting to the Port Pirie RSL – Military Museum in South Australia where it will be on display to acknowledge the 50th Anniversary of the ANZAC troops "with-drawing" from Vietnam combat duties.
Below is a photo of Jeff (Museum Curator) and Cody (Assistant) accepting the painting which will be hung in the Vietnam War Section opposite the RAAF 489 Helicopter.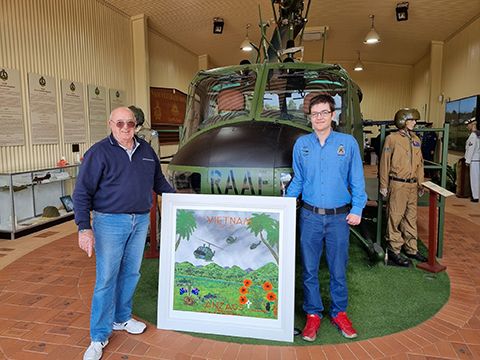 Please check out the Port Pirie RSL Wall of Memory which commemorates all those who have served in the various conflicts Australia has been involved in since the Boer War 1899-1902.

And if you are a Facebook user you might like to check in on the FB page for the Port Pirier RSL Museum where Rowdy's painting now is hung.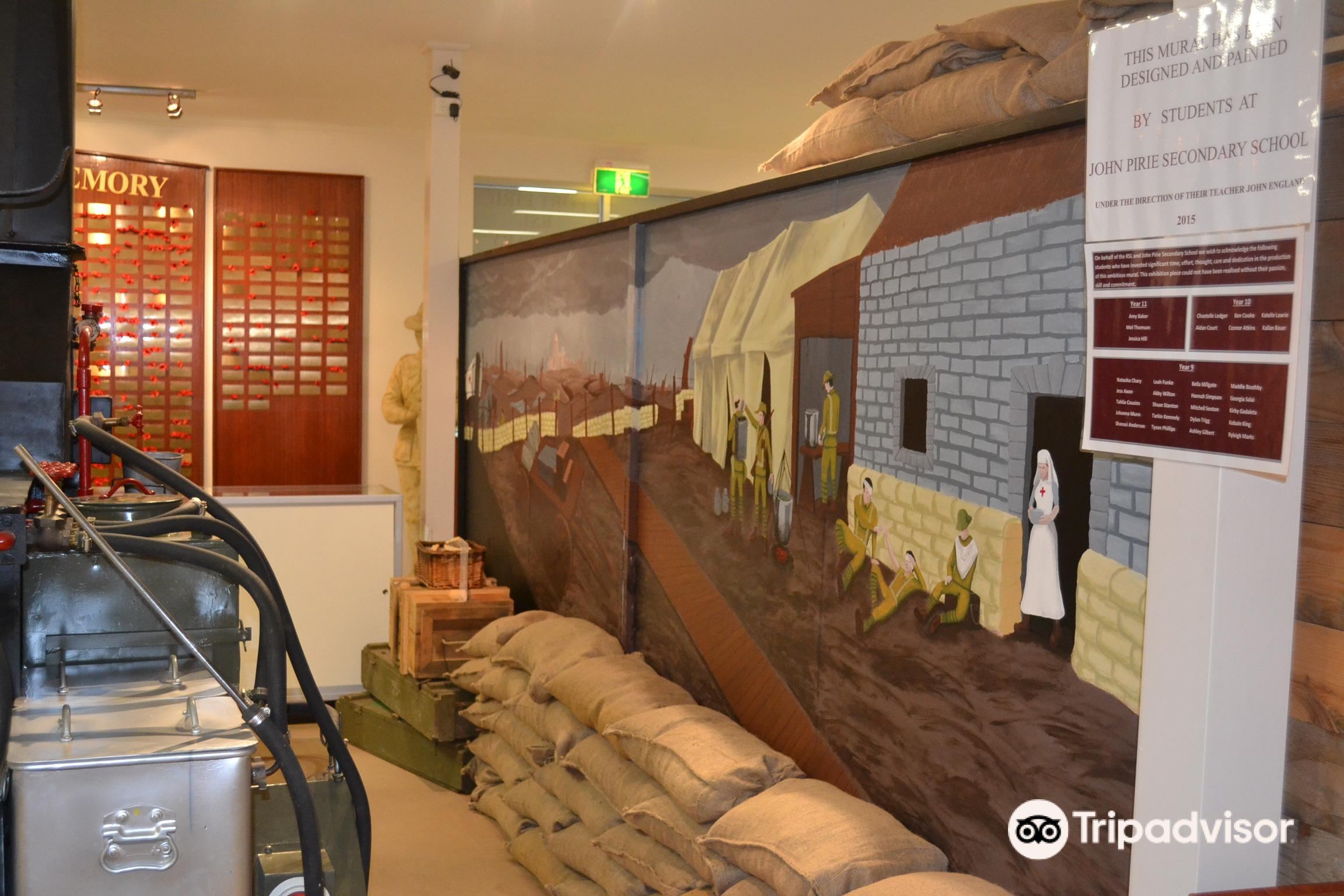 On the same day (22 June 2023) Rowdy travelled north to Crystal Brook, South Australia to deliver GALLIPOLI-1915 The Trenches of Lone Pine which he completed back in April as part of his series on producing a painting each year to commemorate ANZAC DAY and another painting to commemorate REMEMRANCE DAY in Novemeber.
Crystal Brook is a town in the Mid North of South Australia, 197km north of the capital, Adelaide and about 250 km from Rowdy's home of Port Elliot. All in all the round trip for the day to deliver the two paintings would have been in excess of 500km - such is the passion and commitment of Rowdy Wylie.
Accepting the Gallipoli painting (below) is Maxine Wilson from the Crystal Brook RSL. Maxine and other RSL members plan to hang the composition in a prominent position within the RSL War memorabilia.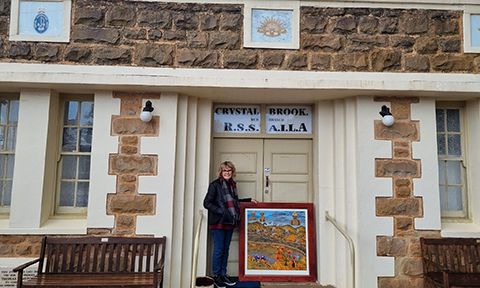 Are you wondering why we don't have a photograph of the inside of the RSL Museum? Rowdy not only travelled in excess of 500kms this day to deliver the paintings to the RSL Museums but he encountered severe storms. So severe were the storms that the power to the town of Crystal Brook was down ... hence no inside photo! They ventured outside into the cold and rain filled sky (plus some hail) to find enough light to take the photo.
But Rowdy with his trademark enthusiasm recounted that: It was a tremendous day of meeting RSL Members and I have a feeling of immense gratitude for their acceptance of my War Art Works.
And we thank you Rowdy for sharing your art journey with us and we look forward to seeing this year's painting for Remembrance Day on the 11 November.