Rone - Street art and installations - Part 1
I recently had the good fortune to go to the latest exhibition of renowned street artist, Tyrone Wright, known simply as Rone.
But before we visit that tomorrow, let's learn a bit about Rone and his art. He is world renowned for both street art and installations in abandoned buildings, (which create an extra dimension to his haunting works).
Born in Geelong, in Victoria, Australia, in June 1980, Rone started his career decorating skateboards and skate parks.
He moved to Melbourne in 2001 and has gradually built a loyal following with his "Jane Doe" paintings of beautiful women on the sides of buildings. He has painted these all around the world, in places such as New York, San Francisco, Los Angeles, Miami, Paris, Berlin, London, Tokyo, Hong Kong, Santo Domingo, Mexico, Havana, Christchurch, and Port Vila.1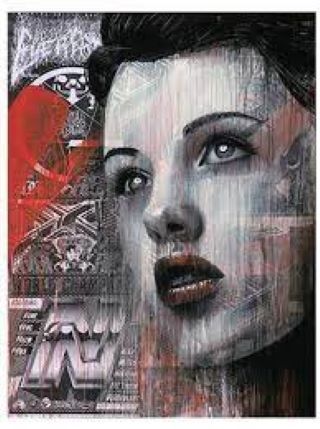 But, as mentioned, Rone is now known around the world for much more - his haunting art installations. He has been creating immersive art installations in abandoned buildings since 2016.
The first of these, EMPTY, took place in the old Star Lyric Theatre in Fitzroy, Melbourne. Opening in 1911 and seating 2,300 patrons, it was one of the first permanent movie theatres in Victoria. When Rone found out the building was going to be demolished, he asked to use the space for an art exhibition beforehand. He was given permission, and 12,000 people came to see it over only 10 days. The photographs featured in the show are now part of the National Gallery of Victoria's permanent collection.
This 3.58 minute video shows the poignancy of working in the huge area of the abandoned theatre, just before it's demise…..
Following this, in 2017, he was invited to transform the machine rooms of the old Alphington Paper Mill, which was built in the 1910s and was Victoria's first paper mill.
This project was kept a secret because there were significant health and safety concerns in the crumbling, derelict building. Consequently, only a small group of people, who had to wear builder's hard hats and reflective vests, were allowed to see it.
The building, and Rone's magnificent murals have now been demolished to make way for a new mini-suburb on the paper mills site. But here are a few pictures of his work, which he called ALPHA.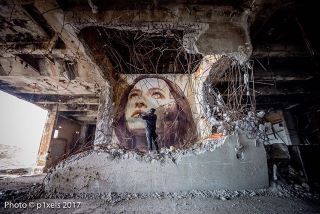 Later in 2017, Rone then transformed a small weatherboard cottage at the back of the Alphington paper mills, into an immersive experience called OMEGA. This was Rone's first project creating a three dimensional statement, rather than his large two dimensional murals.
Like many of his other subjects, this house was also earmarked for demolition as part of the new housing development at the paper mills site. He wanted to pay hommage to the fact that nothing in this world lasts forever by recreating a typical mid-20th century Australian home which the former owner wold have grown up in, blending the old fittings such as the Hawthorn brick fireplace into his tribute, soon to be lost forever.
It was a free exhibition and more than 8,000 people visited over 10 days, with an hours-long queue winding down the road. The following article gives you an idea of his creation.
Rone says he is OK knowing that many of the buildings he has worked in are going to be demolished, along with his iconic artworks. He says it is about acknowledging loss, 'bringing demise and the inescapable passing of time into sharp focus, by creating something beautiful within the context of decay and decline.'
Based on the success of OMEGA, Rone was next invited to turn the iconic Burnham Beeches mansion in the Dandenong Ranges, Melbourne, into a multi-storey art exhibit. Originally built in 1933, this wonderful art deco home of the Nicholas (Aspro) family had stood empty for over 30 years.
The experience, called EMPIRE, was a whole year in the making, with the team living on site to create fourteen giant murals, reflecting this gracious manor's rich history. Each room created a different mood, with the help of interior stylist, Carly Spooner. When the exhibition opened in March 2019 for only six weeks, more than 25,000 people came to see it.
This set the seal on Rone's fame, with his powerful, emotive work now ricocheting around the globe. The following 3.48 minute video gives an idea of some of the rooms:
Along with other artists, in late 2020 Rone was a part of developing Melbourne's first "artcade," to try and lure people back into the city after Melbourne's many COVID lockdowns. The team was given access to several storefronts whose tenants had vacated due to the pandemic. Rone painted a depiction of Sleeping Beauty to represent a city finally waking up after a long slumber. 1
Next, Rone was invited back to the city he grew up in, to have a solo exhibition at the Geelong Art Gallery, one of the largest regional galleries in Australia.
This was the first retrospective of his career to date, charting his development from early stencils and street art to photographs documenting all of his major installations. Nearly 50,000 people visited in the 80 days of the exhibition.1
Tomorrow we will return to look at Rone's most ambitious project yet - an art installation at the iconic Flinders Street Station Ballroom in Melbourne, which has also been abandoned for over 34 years.......
Footnotes
With thanks to Wikipedia
Late Mail
Yesterday saw three new subscribers join up to the AnArt4Life blog which is jogging along in its 6th year of sending out a daily post about the art that is all around us. Regular subscribers and followers will know that we now take a few breaks from the daily posting but we still aim to keep you entertained, inspired and challenged for as long as we can. Today we welcome W.S. in California, Malvin in Israel, Ginevra in Germany and Jane in Australia who all endorse our desire to appeal internationally.