Rod and Inci Jones take us into the minds of creative people
Amongst AnArt4Life's greatest supporters on Twitter are Rod and Inci Jones from Thought Row Podcasts who:
celebrate what people love to do creatively by giving them a voice so you can learn from their creative experience in life. We share with you the conversations we have with talented people from all over the world. We speak to real creatives that come from all walks of life and are the real-life superstars pursuing their creative passions and dreams.1
Rod and Inci explain to us that:
The Thought Row Podcast is a place for you to learn how to be more creative in everything you do. The show features interesting creative people from around the world. These special guests include: artists, writers, photographers, composers, musicians, curators, chefs, skilled artisans, vintners, entrepreneurs, designers, fashion designers, architects, voice actors, actors, and many others.1
The Thought Row Podcasts are extensive and embrace creativity in the widest of definitions.
A few examples to whet your appetite are given below and then you can go to the site to search for people and topics of interest to you. There is something for everyone.
There is an interview with A.K. Fielding historian, writer, artist, illustrator and educator. Angelina discusses Junk Journaling and the Creative Process plus its use of many creative skills. She shares how it can inspire creativity in your life...In recent years, she forged together her love of writing about early American history and art to create works that she hopes will inspire people to study America's rich past.1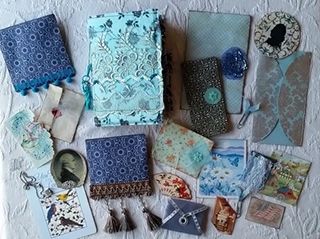 You might be interested in the interview with artist Sonia Bublaitis who through the interplay of different media i.e. Photography, her aim is to express the spirituality of the world around her and to challenge the observer with each piece using somewhat unorthodox techniques.1
Sonia has been greatly influenced by the works of Jackson Pollock and Wassily Kandinsky to name just a couple of artists. 1
"Colour hides a power still unknown but real, which acts on every part of the human body" W. Kandinsky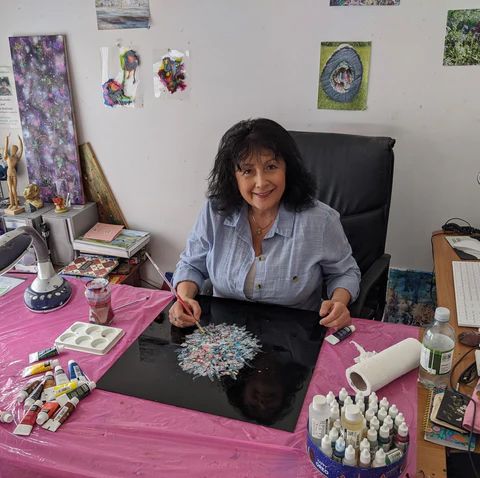 Or maybe you would like to know more from Maurice Quillinan who is an art curator.
Maurice Quillinan grew up in Limerick, Ireland. He studied at the Limerick School of Art and Design (LSAD), the Royal College of Art, London (RCA), the Ecole Nationale Superieur des Arts, Paris and the University of Limerick (UL).1
He has travelled extensively which invariably has informed his work. Central to his practice is a strong set of spiritual values which underlie his exploration of existence, using the landscape and the figure as metaphors for the metaphysical challenges we encounter. This internal dialogue manifests as layered and blurred works, which suggest that there are many meanings and explanations for the spiritual, psychological and physiological conundrums we are introduced to.. images that suggest that we don't have the knowledge to ask questions let alone expect coherent logical replies.1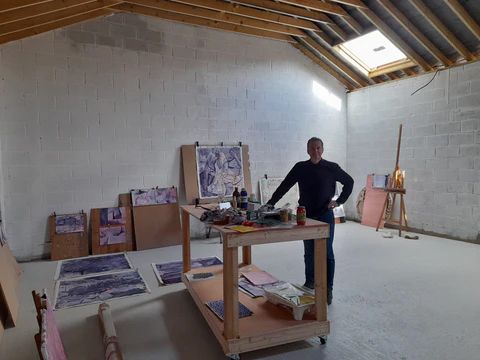 The podcasts are conversations between Rod & Inci Jones and their guests, you can learn from their experiences, insights, and travels. They cover a wide variety of topics that will be of great interest to anyone that is, or wants to be more creative. The world is so noisy, it's sometimes hard as a creative to showcase your originality. Listen to the conversations to help you live your best creative life and nurture your imagination.
While listening to the podcasts you will hear inspirational quotes, stories, and motivational talks that will help inspire and illuminate your thinking. The Thought Row podcast is a great way for you to stay motivated by getting a weekly boost of positive thoughts and ideas. Thought Row will help you in your daily journey of becoming the creative person you want to be.
"Celebrating what people love to do creatively" - Rod & Inci Jones
Latest Subscriber
And speaking of supporters - a very warm welcome to C.F. in Massachusetts - our newest subscriber. It is wonderful that so many people enjoy the daily posts on the art around us that we send out around the world. Thank you all for your on-going support and enthusiasm.
Back with Rod and Inci Jones - If you are interested follow the Bookmark link below to the Thought Row Podcast site and start exploring.
You can follow Rod and Inci Jones on Twitter
And on Facebook.
If you have a Spotify account you can try out this interview below to get you started.
Sherry Karver, a visual artist, and Jerry Ratch, a Poet & Novelist join us to talk about how a couple can share a creative life together. Topics that we discuss: Couples that have to cope with competing with one another, allowing space to create, navigating harmony, and conversations about being a united force when it comes to allowing your partner to express themselves creatively.1
Sherry & Jerry also share how doing jigsaw puzzles turned into a creative outlet artistically. You may find this episode especially inspiring if you have a creative partner in your life.1
Credit
1.thoughtrowpodcast.com