I've received a wonderful response to the blog on talking to each other.
E in London has sent us one of her favourite works of art for the topic: Discussions.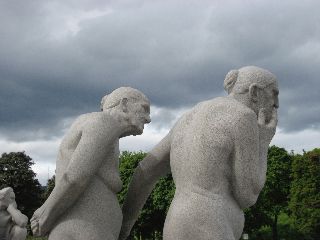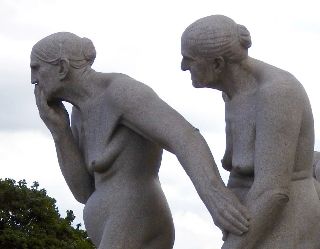 These remarkable sculptures were created by Norwegian sculptor Gustav Vigeland (1869-1943) and are part of The Vigeland Installation in Frogner Park, Oslo, Norway. It is the world's largest sculpture park made by a single artist and features Vigeland's lifework with more than 200 sculptures in bronze, granite and wrought iron:all are naked.
Vigeland was also in charge of the design and architectural layout of the park which was mainly completed between 1939 and 1949. (vigeland.museum.no)
Personally I find older bodies beautiful with all their imperfections signs of a life well lived. We are going to have to do a blog on the art of ageing.
But back to the Vigeland sculptures which are controversial, provocative and remarkable; therefore I will dedicate a future blog to these works and to Norway's most celebrated sculptor. Of interest is that Gustav Vigeland was also the designer of the Nobel Peace Prize medal.
In the meantime if you would like to start appreciating the works you might like to read this article on the Vigeland sculpture installation written by John V. R. Bull and KnightRidder.  
The Hero Image is titled Two Chairs by Marc Whitney and American contemporary artist who aims to  capture the private, visual experiences that define our daily lives and validate moments that matter; a morning cup of coffee, the rumpled sheets across a bed, a simple vase of flowers on a table, a beautiful view, Marc considers his paintings poetic. (marcwhitney.com)
Another subscriber response to the Let's Talk blog was from KM of Sydney who reminded me that Calligraphy is painted speech. I have a friend who does calligraphy, so will ask her advice on how best to tackle this topic.