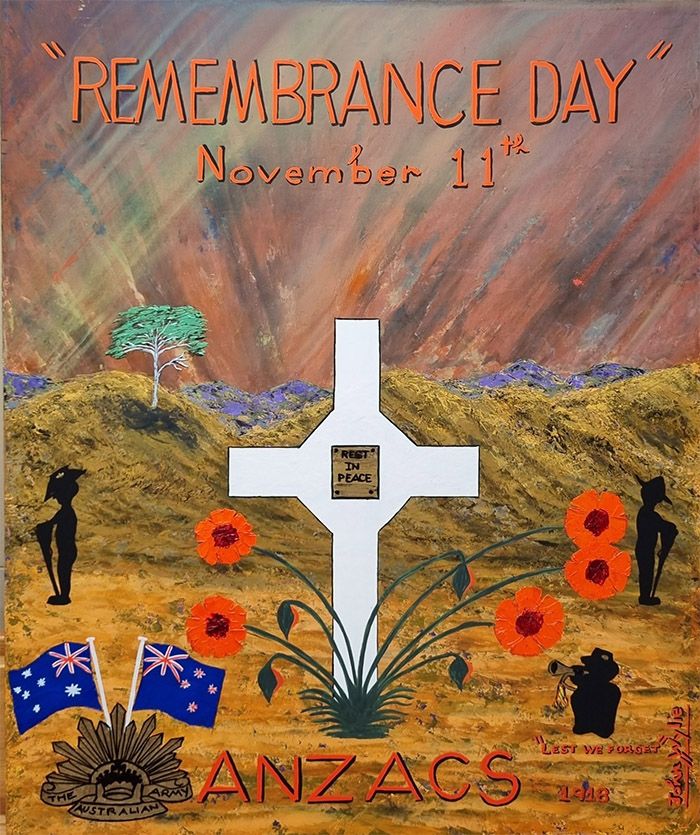 Composition Details:
Title: "Remembrance Day" 2023
November 11th
"Lest We Forget"
Medium: Oil on Timber Board / Framed
Artist: John "Rowdy" Wylie
Size: H75cms x W65cms
Date: 2023
For this years' Remembrance Day/Poppy Day... my thoughts were to keep the composition simple... I aimed to create a "Traditional Remembrance Painting".... specifically focusing on the main elements of remembrance and the sacrifices made by our ANZAC heroes.... The WWI composition features Gallipoli and the battle of Lone Pine... against Germany and the Ottoman Empire (Turkey)...
The remembrance also highlights the significant signing of the Armistice with Germany on Europe's Battle Fields on the Western Front ... marking of the end of combat fighting and the end of WW1... on the 11th November 1918... hence "Armistice Day" was formally named...
The WW1 Gallipoli and Lone Pine battles saw the formation of our comrades in arms between Australia & New Zealand.... formally uniting our countries as ANZACS.... in time of war... peace keeping tours.... and ensuring our nations homeland security.
"REMEMBRANCE DAY" 11th November 2023
"Lest We Forget"
Today – silence will fall across each State & Territory for one minute as Australia commemorates those who have died in wars… conflict & peacekeeping operations…
"Remembrance Day" has evolved since it was first marked by allied countries after WW1… in which more than 60,000 Australian's lost their lives…
November 11th is now observed around the world as a day to remember the sacrifice that countless numbers of people from Australia & New Zealand have made in service to their countries..
In Australia "Remembrance Day" marks the end of fighting on the "Western Front" on the 11th November 1918… Initially the Anniversary was known as "Armistice Day"… until the end of WW2 in 1945… when it was changed to "Remembrance Day"… a day to remember the service & sacrifice of those who have died since WW1…
The "Red Poppy" has been a symbol of "remembrance & hope" since WW1… Originated from the barren… muddy… battlefields of "Western Europe"… the bright red flowers grew in their thousands… the poppy is worn on "Remembrance Day" each year to show remembrance & respect of our fallen…
"Rosemary" is also a symbol of remembrance to Australian's & New Zealanders as it grows wild on the Gallipoli Peninsula…Twigs of "Rosemary" are also worn on ANZAC Day.. 25th April each year & sometimes worn on "Remembrance Day"…
Credit: ABC News
Rowdy likes to make his own frames to put that special personal finishing touch to his wonderful creations. The frames are all made from recycled wood.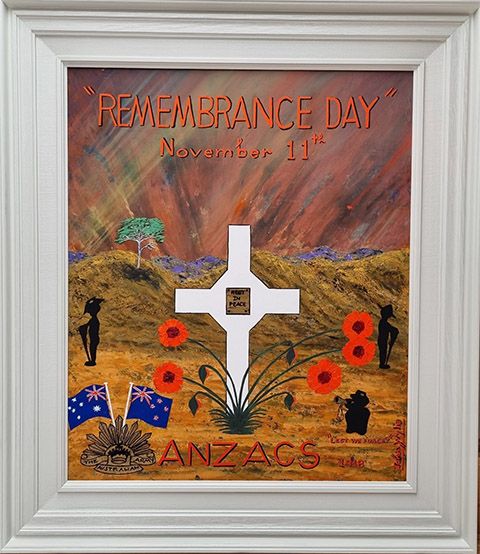 Rowdy also donates each ANZAC Day and Remembrance Day painting to a RSL (Returned and Services League of Australia) museum especially to help educate the young about our past history. This year's Remembrance Day painting has been donated to the Port Elliot RSL, Fleurieu Pensinsula, South Australia.
If you belong to one of the branches of the RSL and you would be interested in receiving one of these painting please email us using the email icon at the top of this post.
---
I would like to acknowledge and be respectful of the Ramindjeri and Ngarrindjeri Clans of the Coorong and the Southern Fleurieu Peninsula regions as Traditional Custodians of the land and oceans where I live and create works of art. John "Rowdy" Wylie