Reflecting on Australia's Involvement in the Vietnam War: Part Two
On "Vietnam Veteran's Day" - the 18th of August each year- here in Australia we pause to reflect and to honour our Veterans for their bravery.. teamwork… commitment and endurance that the Australians & New Zealanders displayed throughout the war… We also pause and reflect on the impact of "war service" on the Veterans and their families…
Yesterday the AnArt4Life post was on Reflecting on Australia's Involvement in the Vietnam War: Part One. More than 60,000 Australians served in Vietnam, 3000 were wounded and 521 service people died.
Our blog team member John "Rowdy" Wylie has created a magnificent acknowledgement to the young people who sacrificed so much to meet Australia's commitment and a poignant reminder that many who were involved continue to suffer greatly to this day.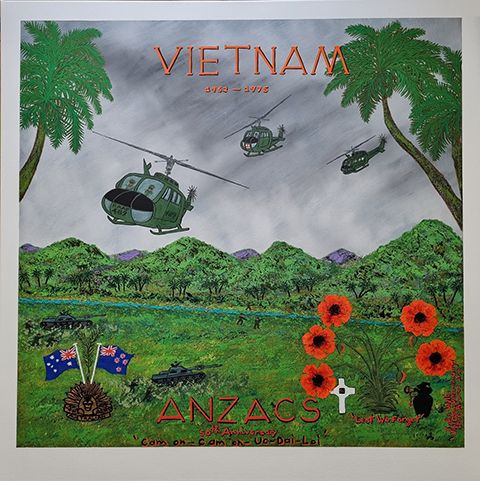 TITLE: "VIETNAM" 1962 - 1975 (Remembrance of 50th Anniversary Year)
ARTIST: John "Rowdy" Wylie
(Fleurieu Peninsula Port Elliot South Australia)
MEDIUM: Oil/Stretched Canvas
SIZE: 100cms x 100cms - Recycled Timber Frame
DATE: 18th August 2023
Painting Dedication:
The "Vietnam" painting is dedicated to our "Vietnam Veterans"…. the Australian and New Zealand Forces – our ANZACS… who sacrificed so much for both our countries in a fight to protect the South Vietnamese people's freedoms, independence and homeland security.
Acknowledgements:
Inspiration for the "Vietnam" painting has evolved from the bravery and heroism of our Vietnam Veterans… all those years ago… and to this day the Veteran's initiatives in supporting each other through RSL Clubs. Veteran support groups and services is awe inspiring.
Many RSL Branches have built or are developing "Military Museums" as part of their Regional Clubs… the "Military Museums" are maintained by the Veterans themselves. They conduct tours for school children and holiday tourists to educate people about the sacrifice our Armed Forces endued during times of conflict and later the peace making efforts…
My sincere thanks to:
Mr Jeff Kenyon – Vietnam Veteran & Curator of the Port Pirie RSL – "Military Museum" SA… for his assistance and expertise in researching the relevant elements for the "Vietnam" painting…
All of the Port Pirie RSL Veterans….. for their ongoing support….
Anne Newman - Editor in Chief of AnArt4Life Australia (art blog) for developing… editing post and painting composition critique…
Rowdy Wylie
The battle environment for the conflict which involved our service people was mainly in the thick jungles of Vietnam.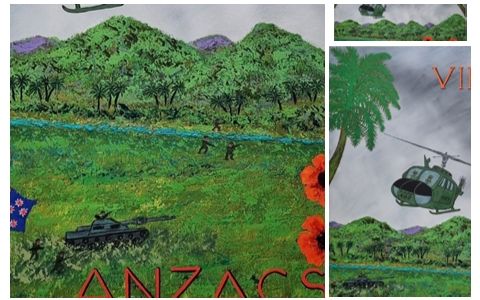 The Vietnam War is, in fact, also known as the Helicopter War as helicopters were the main means of transport of troops, providing supplies, rescuing the injured and scouting. Rowdy has captured the importance of this remarkable flying machine so graphically and significantly as shown below. Please note that the second craft is carrying the Red Cross denoting a rescue mission.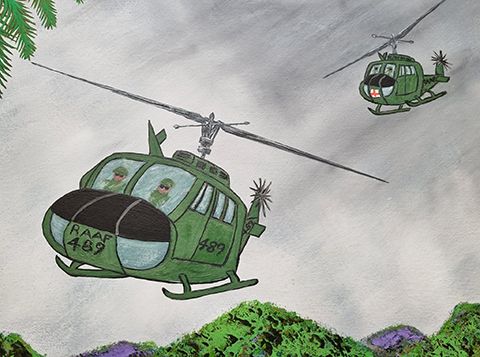 Rowdy explains a little more about the nature of the conflict:
For the most part our ANZACS in Vietnam experienced combat either in rural regions or in the jungle terrain against experienced Viet-Cong fighters… Numerous times our soldiers were fighting at close quarters and engaging in regular combat and were frequently in danger…
Australia's approach to the battles were of counter–insurgency tactics which demanded constant patrolling… the laying of ambushes and pursuit of the enemy. Units would spend long periods of patrolling.. painstakingly seeking signs of the enemy.. Even where there was no contact with the enemy… men could be wounded or killed by concealed land mines & booby traps…
This type of warfare carried a heavy burden… danger was ever–present and many of those who suffered no physical injury suffered long term from the emotional trauma.. stress and drama of their individual experiences of war…
To this day… our Vietnam Veterans are an important part of our "ex-service community" and have actively contributed to the establishment of crucial support services for veterans across Australia..…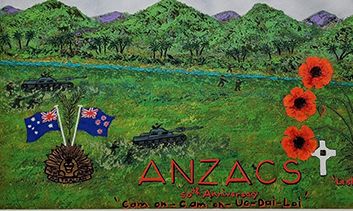 Rowdy continues: The Australian "combat operations" in Vietnam ceased in March 1972. The RAAF however sent personnel back to Vietnam in 1975 to assist with evacuations and humanitarian duties.
My "VIETNAM" Painting reflects the remembrance.. dedication and acknowledgement of our ANZAC Vietnam War Veterans… who sacrificed so much in the fight for people's freedoms and independence…
During this time of conflict Vietnamese orphans would sing their appreciation to the ANZAC troops – Cam on - cam on Uc- Dai-Loi which translates as: "Thankyou - Thankyou Australia".
I have recognised this call of thanks in the foreground of the painting (see below) under the famous word - ANZACS - it was the children's way of thanking soldiers of the 110th Signal Squadron detachment in Saigon and the "Australian Vietnam"…

Please pause with us to reflect and honour our Veterans for their bravery, teamwork, commitment and endurance that the Australian and New Zealanders displayed throughout the war.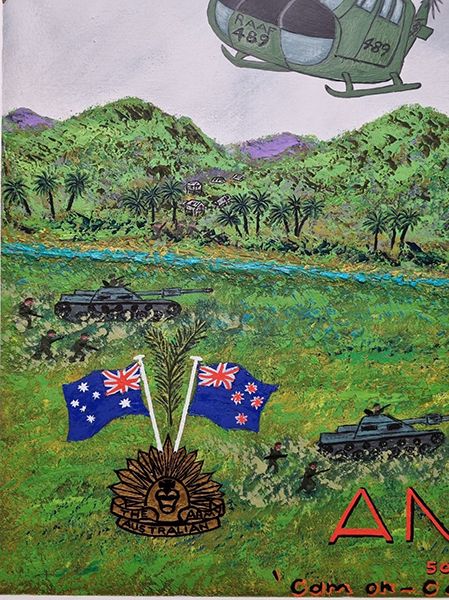 It is important also to note and acknowlege that Australia and New Zealand (and other countries also) did much to support the Vietnamese refugees… and we include them and their families in our thoughts today for the great losses they suffered and appalling hardships endured in attempting to establish a new life. In 1975 the RAAF went back to Vietnam to assist with rebuilding and humanitarian missions… In excess of 60,000 Vietnamese refugees settled in Australia and established businesss and greatly enhanced our Australian "culture".
And so today we also reflect on the impact the war had on those armed service people who survived and we acknowledge the great sacrifices made by them and their families to support each other on a road to better health and fulfilment.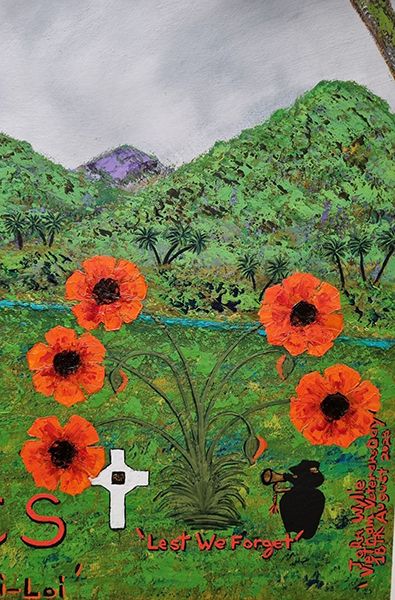 We also acknowledge all those people (whatever side they were on) who have fought and sacrificed their lives in the countless wars the world has endured. We pray that our leaders will be given the strength to work to find better ways to resolve conflict.
Acknowledgements & Credits
1. Jeff Kenyon – Curator Port Pirie, South Australia, RSL Military Museum
2. Anne Newman – Editor in Chief AnArt4Life Australia
3. ANZAC Portal - anzacportal.dva.gov.au/wars-and-missions/vietnam-war-1962-1975
4. Department of Veteran Affairs - dva.gov.au/