Picasso , Cubism & War on the 26th April 1937
Recently we introduced an overview of Cubism as part of the Modern Art Movement but I've been skirting around Pablo Picasso because I'm nervous I can't do him justice as one of the founding fathers of cubism. But face him we must as Picasso's Guernica is considered by many to be one of the greatest paintings about war ever made. But first, a look at a couple of Picasso's paintings, so typical of his style.....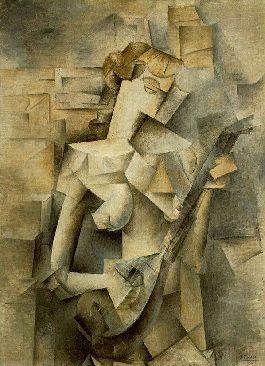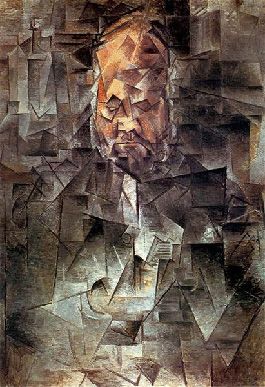 Notice that in both these paintings (above) it is the centre that is in focus and the forms become more diffused towards the edges.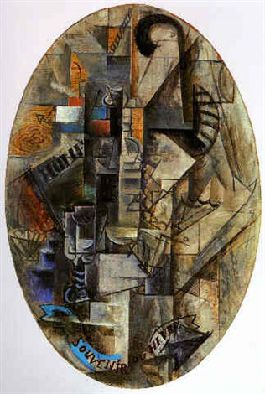 The majority of Picasso's works of Cubism are paintings but he also created etchings, lithographs and linocuts in the style of Cubism.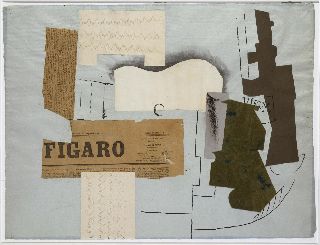 Here is a video explaining the relationship between Picasso and Cubism.
And now let us move on to examine Guernica, painted in 1937.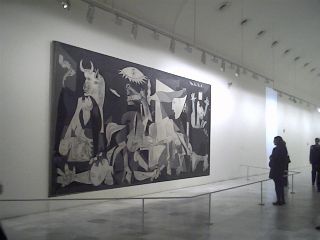 Picasso has used a palette of grey, black and white in the painting which was created in response to the bombing of Guernica, a Basque Country village in northern Spain. It was bombed by Nazi German and Fascist Italian warplanes at the request of the Spanish Nationalist during the Spanish Civil War. The day of the bombing was the 26 April 1937 and hundreds of civilians were killed and injured.
Guernica was Picasso's strong statement of rage at the event. It is still held to be an iconic painting today because it shines a spotlight on the tragedies of war and the suffering it inflicts upon individuals, particularly innocent civilians. It is a perpetual reminder of the tragedies of war, an anti-war symbol, and an embodiment of peace.
Guernica is 3.5 meters (11 ft) tall and 7.8 meters (25.6 ft) wide, so it is a mural-size canvas painted in oil.
Interpretations of Guernica vary widely and contradict one another. This extends, for example, to the mural's two dominant elements: the bull and the horse, both of which are so important in Spanish life, work and culture.
You might like to read this article on the Pablo Picasso website, which lists 10 interesting facts about Guernica and discusses it's interpretation in some detail.
The following images show the painting in development and the finished hanging work.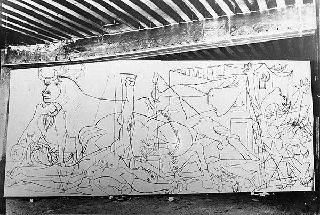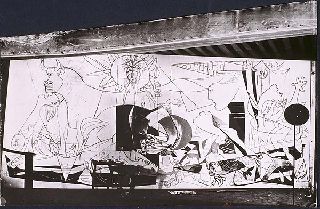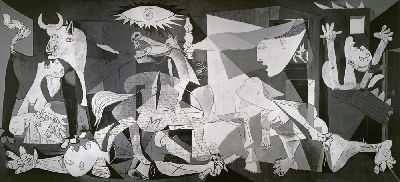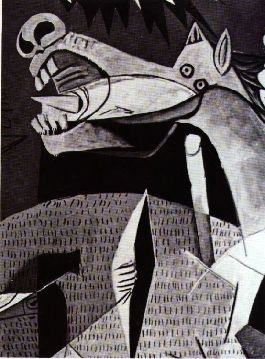 When completed, the painting Guernica was exhibited at the Spanish display at the Exposition Internationale des Arts et Techniques dans la Vie Moderne (Paris International Exposition) in the 1937 World's Fair in Paris. Follow this the painting was sent on a touring exhibition to raise funds for Spanish war relief.
This painting can be seen today in the Museo Reina Sofia in Madrid.
For a detailed explanation of Picasso's Guernica please take time to watch the video below which does go for about 13 minutes so get yourself a cup of coffee or tea and settle down to learn about one of the world's greatest paintings created by one of the world's greatest artists.
Late Mail
A very warm welcome to our newest subscriber Philippe in France who has joined the AnArt4Life online blog community.