Origami and bonsai meet in sculptures by Naoki Onogawa
Today we bring you another Japanese artist in honour of the continuing Paralympic Games in Tokyo.
We meet artist Naoki Onogawa, who folds hundreds of miniature Origami cranes which he then attaches to the delicate branches of beautifully formed Bonsai trees in various colours and styles. Bonsai is another Japanese art form where perfect trees are made in miniature by containing their roots and shaping the branches.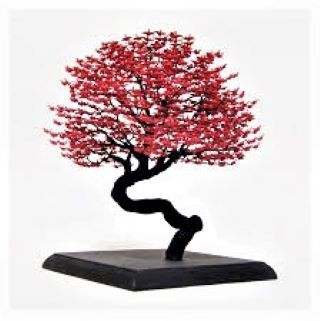 Have you ever tried the paper folding art of origami? It is a traditional Japanese craft where you fold a single sheet of paper into different shapes such as flowers, animals, or any other geometric figure that you can think of.
You may know that the natural world is very important in Japanese culture, particularly mountains, trees, birds and water. The long legged water birds, called cranes, (or Orizuru in Japanese), are a symbol of peace in Japan, and have been used in drawing, paintings and print making from ancient times.
You may know the story of Sadako Sasaki, a young Japanese girl who contracted leukaemia caused by radiation 10 years after the atomic bomb was dropped on Hiroshima (in August 1945). She pledged to make 1,000 cranes before she died in 1955, and she did. The Children's Peace Monument, dedicated to her and to all the children impacted by the atomic bomb, along with hundreds of paper cranes made by school children around the world, is a permanent symbol of peace in the Peace Park in Hiroshima.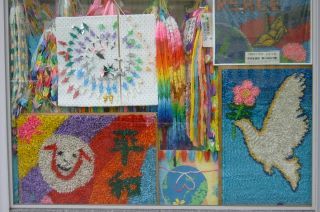 The miniature cranes folded by Naoki Onogawa are no more than 1 cm across, which must be incredibly difficult to do. When I went to the Peace Museum in Hiroshima, I learnt how to fold a paper crane, so I can appreciate how incredibly hard it must be to fold them in miniature form!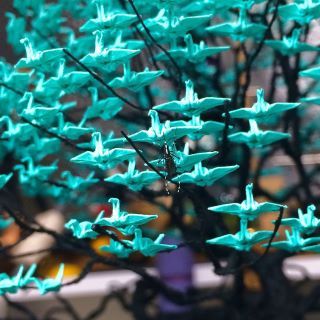 But Naoki finds the process both repetitive and meditative. His creations are inspired by the story of Sadako Sasaki, and more recently, the earthquake and tsunami which struck the Tohoku region on the west coast of Japan in March 2011, causing much loss and devastation.
"Since ancient times, Japanese people have been mindful of natural phenomenon. While confronting our fears of the natural world, we worship and co-exist in harmony with nature. As one symbol of nature, trees possess a life force which lies in all natural things," Naoki has said. "I've tried to endow my artworks with this energy. Through looking at my works, I hope you can feel this life force too."1
Congratulations to all athletes competing in the 2020 Paralympic Games for their incredible lifeforce in overcoming so many obstacles just to be there.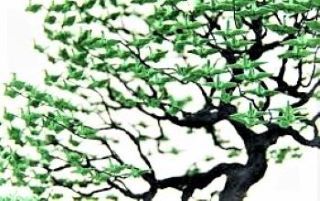 Footnotes
With thanks to Boredpanda.com