Missing part of "Broughty Ferry Harbour, Dundee" by Ian Morrison, Alberto Morrocco and David McClure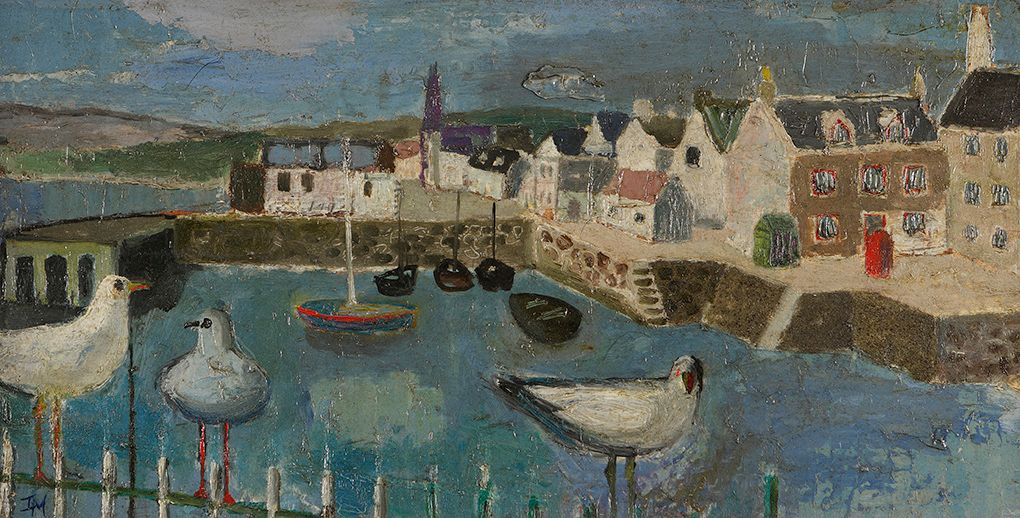 About three years ago I wrote a post about a painting which from all accounts was actually painted by three people: Ian Morrison, Alberto Morrocco and David McClure - all artists from Scotland.
Recently I was contacted by Ian Morrison's son who is writing a book on his father and is naturally going to include the painting of the Broughty Ferry and the associated story.
Unfortunately when the painting was sold in the Bonhams Auction (Edinburgh) on 22 April 2010 the image taken for the sales catalogue cropped some of the painting out.
We are putting out a message for anyone who has a complete photograph of this painting to please get in contact with Anne Newman the Editor in Charge of the AnArt4Life blog through our email [email protected].
Here is the story and how it came to be that three artists all had a hand in the creation.
In 1964, art student Morrison had just finished sketching out a composition from a vantage point above the harbour when two of his tutors, Alberto Morrocco and David McClure from Jordanstone College in Dundee Scotland wandered by.2
Morrocco took the brush and painted the picture for him. McClure added a boat in the centre of the work. Cheekily perhaps, Morrison judged one of the gulls which dominate the foreground of the picture to be unconvincing so he added a few corrective strokes and initialled the painting. The lesson certainly did not go to waste and Ian Morrison went on to become a much respected art teacher before retiring some years ago.2
Chris Brickley, Head of Bonhams Picture Department in Scotland said, This painting is classic Morrocco of the period, and the story is delightful. Some students might have objected to the imposition, but it may mean that 50 years later Ian's picture fetches a little more at auction than it might have done. 2
Credits
1. bonhams.com
2. auctionpublicity.com