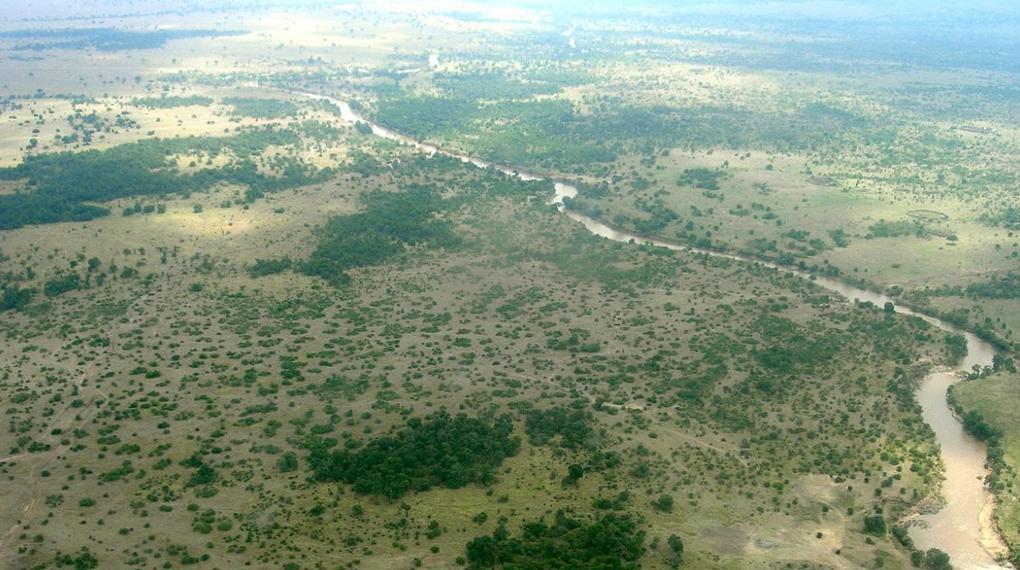 On arrival at the air strip in Maasai Mara, Kenya I saw a fabulous man - tall and statuesque wearing his traditional Maasai attire - what a colourful sight. Little did I realise Peter was to be one of my guides.
At the lodge I was greeted by another Maasai playing a lilting tune on a flute as we walked along a shaded path to the entrance. The lodge is nestled along the mighty Mara river. No tents or bucket showers here! I've stepped up to a spacious room, looking out to the expanse of the river, where hippos and other animals can easily be spotted. The main building is well appointed and the dining space also looks over the river. Occasionally a cheeky monkey eyed off my lunch!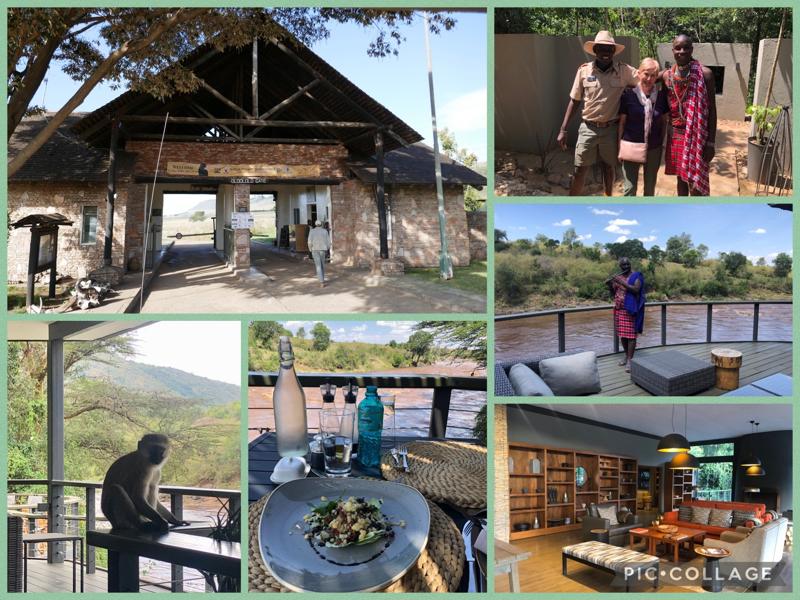 I stayed within the Mara Triangle which takes up 1/3rd of the Maasai Mara National Reserve, an area of 510 km². Bordered by the Tanzania/Serengeti border, the Mara river and the Oloololo/Siria Escarpment, it is an important wildlife conservation and wilderness, world-renowned for its exceptional populations of lion, leopard, cheetah and African bush elephant.1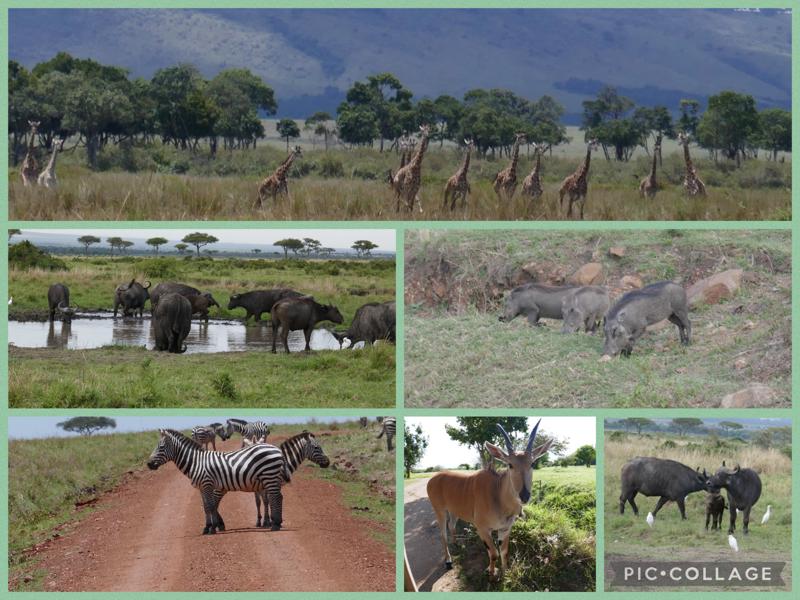 The landscapes of the Mara Triangle include riverine forest, red oat grasslands, volcanic hills and the 400-metre high Escarpment. In Swahili, the word mara means spotted land and gazing out across the plains it's easy to see why. The grassland is dotted with hundreds of thorn trees, widely spaced, their crowns far from touching. These are not acacias, but the so-called 'Desert Date' - a slow-growing tree, with hard timber valued by the Maasai for spear and knife handles, and carved into four legged stools.2
For two days I woke to the sound of the gushing Mara river right by my door and an African sunrise as we headed out to find the "Big 5". The Mara is known as big cat country and has the highest density of lions in the world. Seven prides of lions make the Mara Triangle their home and we spotted members of three.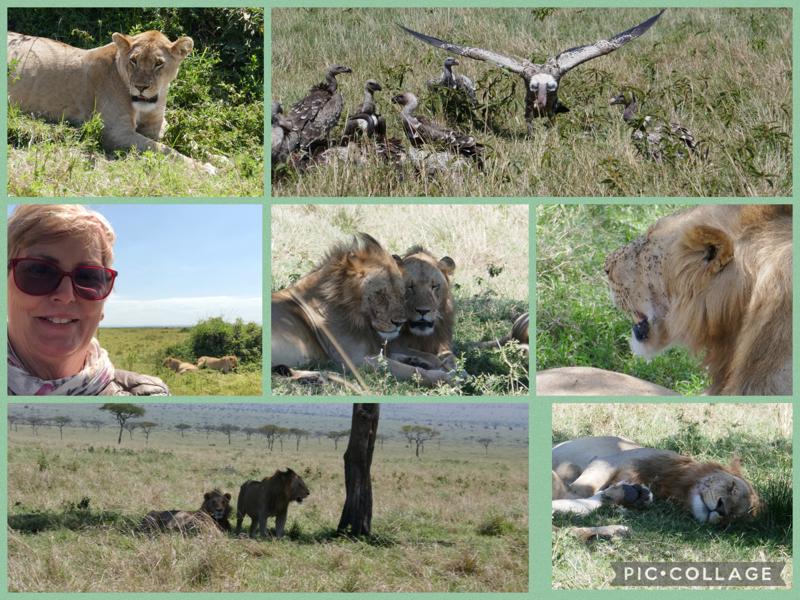 The Riverside pride is made up of 19 females, 3 were lazing in the long grass - their usual pastime, unless they're hungry. Cubs were about but the protective mothers made sure they were well hidden in the long grass. Further along, the Taliban pride - 3 of 6 males under one tree - fascinating to watch them languish about to find a more comfortable spot, their faces majestic yet covered in flies!
These are the warriors and when they hunt usually succeed - hence their name. Anthony our guide tells us that occasionally one of the boys heads over to the female pride for a little romance. With new litters of cubs, it's no way Jose - these girls are tough and gang together to force him back to his bachelor pad.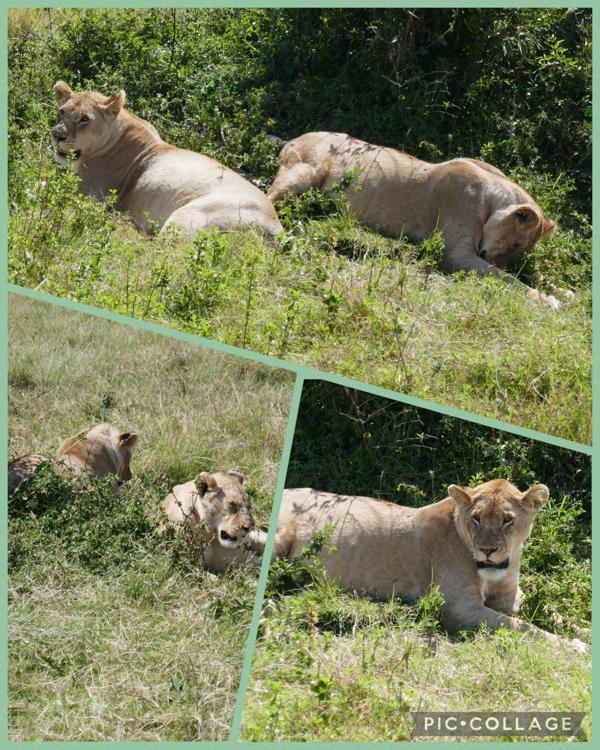 Leopards are a little harder to find; Anthony was aware of a kill the previous night - we circled around to no avail. Later that day our luck changed as the other guides radio him - and yes she is relaxing over a tree branch, with a very full belly. Unlike Ngorongoro and Serengeti, lots of safari vehicles gather at a spotting and often a ranger is nearby to ensure no more than 5 vehicles approach to a safe distance and ensure visitors stay 10 mins.
We line up to wait our turn, hoping she will stay around. With 16 years' experience Anthony knows the ropes and after we take our turn, he waits a little distance away. Sure enough before you know it the leopard decides it's time for a little exercise, slowly descending the tree, stopping to survey the landscape, before climbing another tree and another nap.
Cheetahs are even more elusive - like lions they also linger in the grasses under trees but are much smaller. By the last day I was losing hope, then some excited chatter on the radio. Not one but two cheetahs have been spotted. Initially they were hard to see, but then they too, amble about finding a cosier spot.
You can tell all these Big Cats are the kings, they strut around majestically without a worry in the world knowing they are top of the pecking order.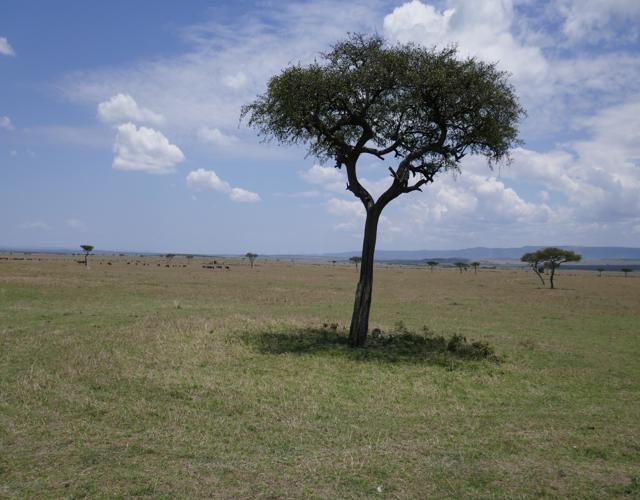 Buffalo, elephant, lion, leopard and rhino make up the Big 5. There are black rhino in the Mara, but numbers are small and sightings usually from quite a distance. I was more than satisfied with all that I saw, although it would have been interesting to see how predators work out a strategy and work as a group to stork prey.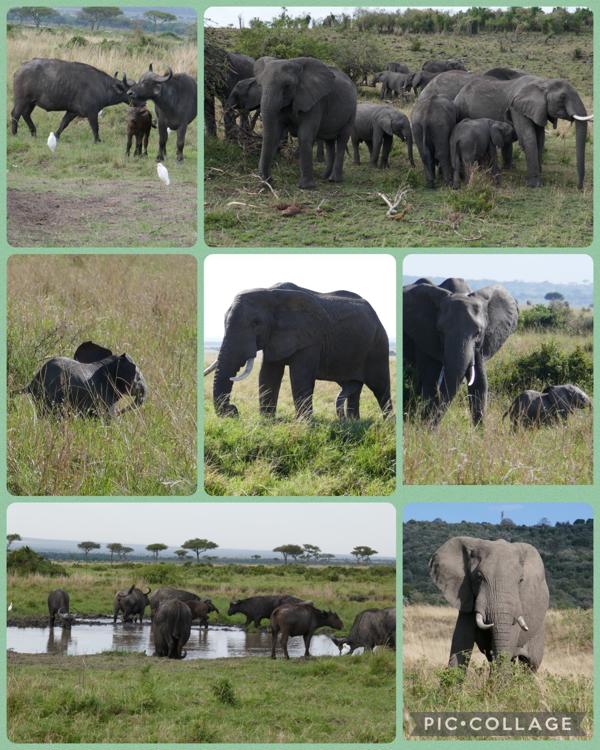 The lodges are usually built along sustained lines. At my lodge the constructed wetlands and indigenous tree planting projects assist with the treatment of river water used and is cleaner when it flows back into the Mara.
It was heartening to hear of committed conservation and responsible tourism, which can include a range of projects based on their potential to create long-lasting relationships with local communities.
Philanthropy programs can include building classrooms; sponsoring student school fees; developing micro-enterprise initiatives for women's groups; encouraging early literacy through the introduction of digital e-readers and making local Maasai children aware of their natural heritage with field trips into the Masai Mara National Reserve.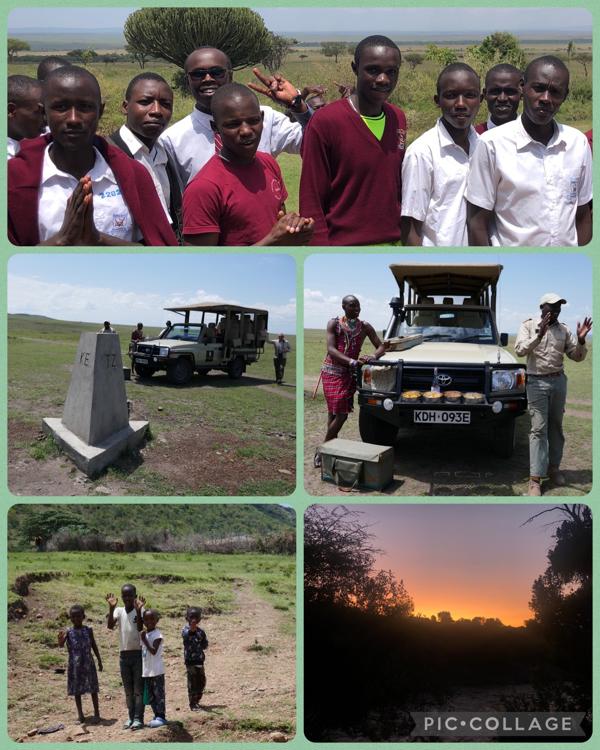 Above:
During my days in the Maasai Mara, Anthony and Peter regaled us with their safari adventures and a little about their lives, when we stopped for a coffee under a shady tree or near the Tanzanian border.
I waved to a bus load of school children - I hear that they live in a village a long way away - with big smiles they pose for a photo but then adopt more serious expressions.
Children wave as we drive by and I saw many an African sunrise!
With emotional hugs I say Kwaheri (goodbye in Swahili) to the staff and guides - we all hope I'll be back soon. It is with sadness I leave the wonderful people of Tanzania and Kenya, however I still have an afternoon in Nairobi - look out for another post soon.
Credits
1 Wikipedia
2. angama.com