Maxwell (Max) Joseph Watters
Both Andrew from the Hunter Valley Region of New South Wales and I have a passion for Naive Art and today from Andrew's Home Collection of Paintings we want you to get to know the works and style of Maxwell Joseph Watters (1936-2020) who lived and worked in the delightfully named country town of Muswellbrook, New South Wales.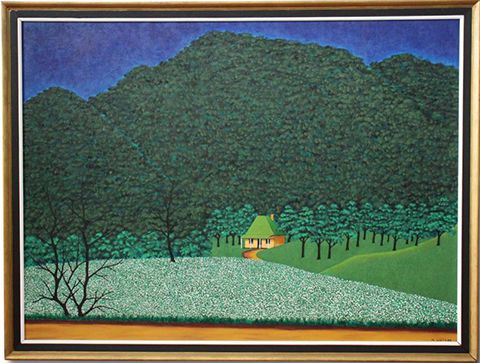 Max Watters was born 31st July 1936 in Muswellbrook, the second of seven children born to a prominent local family. He died on 1st February 2020 at Muswellbrook. He loved his town and the surrounding country of Scone and Murrurundi and drawing from this rural life was the primary subject of his art. The farm structures, fences, farmhouses, tree lines and rivers with the backdrop of a mountain range were hallmarks of his subject matter. 2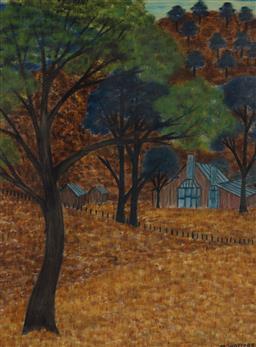 Max was known as a self-effacing man of a generous and giving nature, particularly in his encouragement of anyone having the courage to pick up a brush. His support and encouragement extended to purchasing much of this art and defines his commitment as there is no greater honour for any artist than to be purchased and collected by a peer held in esteem.2
Max developed a pointillism technique or effect with his paint application, sometimes building up three or more layers to create a stipple effect – it is difficult for the viewer to resist touching his work with its steeple like peaks. He 'played' with the textures of paint juxtaposing one to another thereby accentuating the three-dimensional impact of his art.2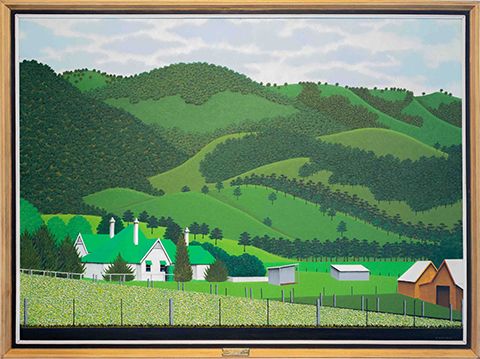 If you look closely at this painting (above) and the first painting at the top of the post, you will notice that in both paintings Max Watters has used a pointillism effect on the pale ground cover that looks very much like coarse sandpaper achieved with mostly pale green with white and black tiny dots added.
You will note that, in contrast, larger dots have been used to create the dark green foliage of the trees. And to create the 3D effect, the inbetween sections of ground have been left untextured.
In House and Shrubs Kayunga Road (below) the tiny dots have been used on the ground with larger splodges for the shrubs.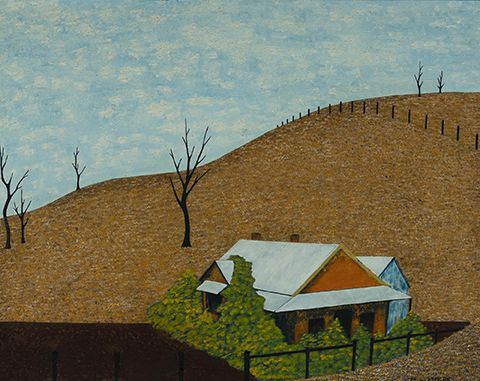 Andrew has a very large collection of paintings by the Australian Naive Outback painter Hugh Schulz and so he is able to compare the style of Max Watters with Hugh Schulz.
As Andrew points out: both artists use a very detailed style which to my way of thinking had to have been a very slow and meticulous process. Interestingly, in contrast to the details they both paint leafless dead trees maybe because they are a motif of the Australian landscape.
Andrew goes on to note that: the biggest difference between these two painters is that Max Watters has no animals, birds, people or vehicles in his paintings. The main focus is on the buildings, farm houses, sheds, fences - the structures brough to the landscape by humans.
In contrast Hugh Schulz always includes animals and birds delighting in often hiding them in the landscape so that the viewer has to "enter the scene" to gain a full appreciation of Hugh's perception of Outback Australia.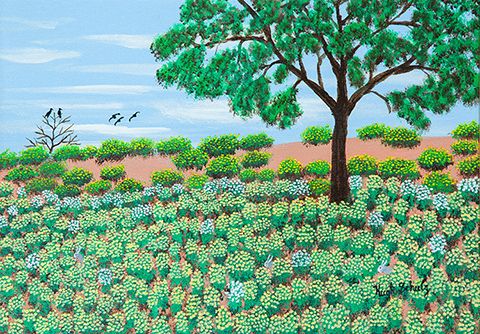 Andrew and I have written many posts on Hugh Schulz paintings - please use the search tool in the menu at the top of the post to locate these.
Andrew is content to own paintings by by artists because: I also find, not only because of the similar backgrounds of these two artists Hugh Schulz and Max Watters (miners and self taught artists), their paintings in the wonderful naive style really compliment each other - one from the arid Broken Hill desert country, the other from the lush upper Hunter Valley.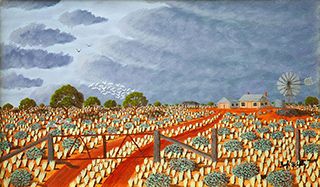 Max Watters ...painted the landscapes of the Upper Hunter for more than 50 years, recording the heritage of landscapes, houses and homesteads in his unique style. He had many exhibitions, and his work has been collected by galleries around Australia including the National Gallery of Australia, Canberra, the Art Gallery of New South Wales and Maitland Regional Art Gallery.3
Details of the painting above on the right are given on the Maitland Regional Art Gallery site which states: Glenbawn Road stretches for some 10km through vineyards and dairy farms, skirting Glenbawn Dam, 20 minutes north of Muswellbrook. The painting depicts the often green landscape of ancient Wonnarua Country, and historic farm buildings which may no longer exist at this time.3
The painting was done in 1976 in oil on masonite, measuring 79 x 110.5 cm (masonite), 88.5 x 120.2cm (frame). 3
As Andrew pointed out - Max painted buildings and human made structures into his landscapes but no people, animals, birds. But I did find one - an untitled crayon on paper work of a Woman in a Chair painted in the 1980s measuring 33 x 25.4cm (sight) 59.2 x 49.2cm x 1.5cm (frame) .3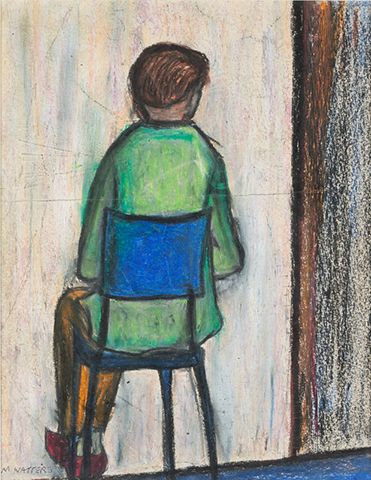 Max Watters was completely self-taught whilst he engaged in the business of life undertaking a butcher's apprenticeship, a stint in national service, labouring in a St Heliers underground coal mine leading a team of pit ponies and working at the McCullys Gap and Liddell power stations for 28 years.2
After winning the local art prize in 1964, he informed the judge that he was going to learn to paint. The judge responded – "no, you just paint".2
The Maitland Regional Art Gallery in New South Wales has several works by Max Watters which help us gain a deeper undertanding of his development as a painter.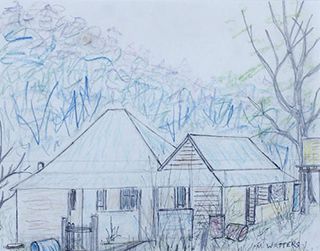 Max Watters concentrated on two dominant features - the workman's cottage and trees. The trees Max painted however were not being the typical gum trees usually seen in Australian landscape paintings. He liked to paint (as mentioned by Andrew) spindly leafless trees and also you will note - pine trees. Plantation pine trees are not native to Australia and so my guess is that these were planted in the Hunter Valley Region as investments.
Above we have three works:
Left: Railway workers homes (Crayon and pencil on paper, 42 x 39cm both (framed)
Description:
This artwork was donated to the MRAG Collection for 'The piano has been drinking (not me)', a Maitland Regional Art Gallery exhibition that celebrated the retirement of Cultural Director Joe Eisenberg in 2015. All the artists and donors participating in this exhibition were responding to Joe Eisenberg's final 'begging' – a request to create a work on paper inspired by the lyrics of the Tom Waits song, 'The piano has been drinking (not me)' and then to donate that artwork to the MRAG Collection. This major act of goodwill and benefaction resulted in a parting gift from Eisenberg to the City of Maitland of 174 artworks valued at over $100,000.3
Centre: House and Fields, Blandford (Produced 1985-1995, Polychrome pencil on paper, Measurements 28 x 37cm)
Description:
Blandford is a small town of the Upper Hunter Valley, 60km north of Muswellbrook.3
Right: Yellow House (Produced 1985-1995, Pencil and oil pastel on paper, Measurements 28 x 37cm)
There is no description given for this painting on the Maitland Regional Art Gallery site.
Whilst maintaining his concentration on workman cottages and spindly trees, Max worked to change the composition and perspective of his scenes. As you can see in the two sketches below, the cottage is still dominant though from different angles and perspectives of the viewer, and areas and shapes have been blocked out to become a feature of his paintings.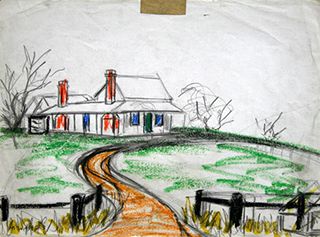 Above we have three different House and Landscape images all produced 1985-1995 in pencil and crayon on paper, measuring 28 x 37 cm. Each has the areas blocked out around the cottage but the perspective changes. The cottage on the left is seen at eye level whereas in the sketch in the centre the viewer is standing above the cottage and looking down which gives a very different feel to the image. And on the right the viewer is looking up to the cottage. Even though the subject matter is very similar the changing perspective makes for very different images.
Below are two works by Max Watters created 15 years apart showing the maturing of his style. The untitled farmhouse on the left was done in 1966 whereas Murtons Dairy (House and Three Tanks, Dalswinton Road) was produced in 1981.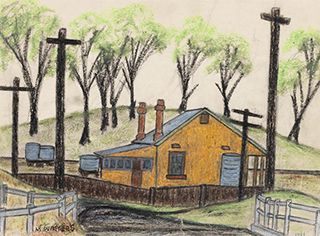 The provenance of the untitled farmhouse (above) following it being created by Max in 1966 is that: Artist Christopher Capper very much admired Max Watters' work and after he corresponded with Watters, Watters gifted two of his drawings to Capper. This farmhouse drawing is one of those drawings which Christopher Capper has now donated to MRAG in memory of Max Watters.3
Out of tribute to Watters' talent Capper created three paintings inspired by Watters' original farmhouse drawing. These paintings have also been donated to MRAG by Christopher Capper.3
The painting of Murtons Dairy (House and Three Tanks, Dalswinton Road) as created using oil paints on masonite and measures 79 x 110.5cm (masonite), 88.5 x 120cm (frame).
As we come to the end of this post Andrew wants to share two interesting facts when we compare the lives of Max Watters and Vincent Van Gogh.
As we all know Vincent was supported throughout his life by his brother Theo who was an art dealer. Max's brother Frank was also an art dealer who supported his brother and ran the Frank Watters Gallery in Sydney.
Now for the second fact which is a bit quirky! Vincent died in 1890 and his brother Theo died six months later. Max Watters died in 2020 and his brother died three months later. Ok - if Frank had died 6 months after Max it would be quirky!!
To conclude our narrative about Max Watters and his art works, the Muswellbrook Regional Gallery has a bronze statue of Max Watters just outside the entrance. Max was a prime benefactor with this gallery as he was a local in the Muswellbrook area. He donated many of his own paintings but also those from his personal collection.
The statue was created by Linda Klarfeld and tomorrow you are going to be treated to a video made by Linda showing the complete process involved in making the Max Watters statue.
As always we must thank Andrew for the wonderful contribution he makes to the AnArt4Life blog through his generousity in sharing artists and their paintings from his home art collection and a thank you also for all he does to provide background information and support to bring these works and more to our subscribers and followers.
Late Mail
We are definitely in a bright sunny patch in terms of acquiring new subscribers at the moment as we welcome Mark from California who has just joined us. And thank you to those of you who let me know how much you enjoyed the poem Sea Fever by John Masefield - a special shout out to Mary in Ireland who said it was one of her father's favourite poems and to Rut in Arizonia who said it made her day - especially as it was her birthday. Happy Birthday Rut from the AnArt4Life team!
Credits
1. From the Collection of Andrew from the Hunter Valley Region of New South Wales.
2. cookshillgalleries.com.au
3. mrag.org.au