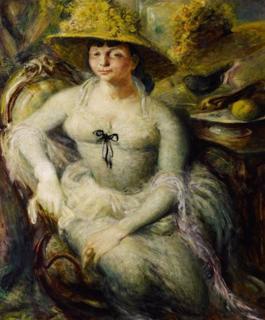 Margaret Olley (born 24 June 1923; died 26 July 2011) was a larger than life character who dominated the art scene in Sydney for more than 50 years. Art Gallery of NSW director, Edmund Capon, described her as passionate, committed and yet always retaining a wry sense of the absurd that life inevitably presents to us. She will be remembered, as a particularly 'Sydney' character. She was friends with the artists of her generation and committed to those friendships, but was also a great supporter of younger artists.1
Olley, born in Lismore, NSW, grew up in northern Queensland on a sugar plantation where her parents made significant sacrifices to send her to a private school in Brisbane and allowed her to follow her passion to study art.
During this period, in order to pay the rent she collaborated with Sidney Nolan on stage designs for Shakespeare's Pericles and Jean Cocteau's Orphée, before winning the first Mosman art prize with a picture of the Wallamumbi Hills (1947) which our clever Caroline (The Keeper of the Rabbit Holes) tracked down. This painting is also known as The New England Landscape. Following this award Margaret Olley was, a year later, granted a one-woman show at the Macquarie Galleries in Sydney. 2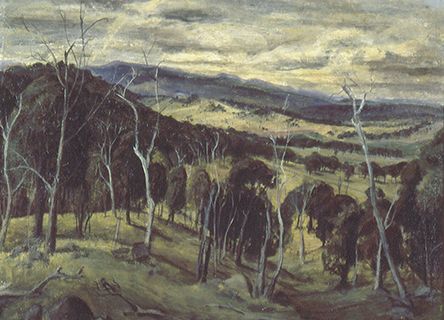 The two paintings below were produced in 1947 and 1948 before Margaret travelled to study overseas. The palette of strong vibrant colours and bold shapes to form a powerful composition was evident even this early in her works.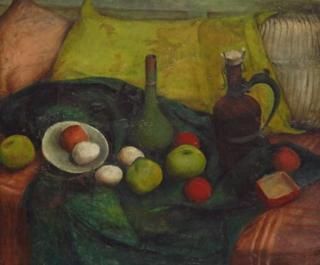 During this time Margaret Olley also painted buildings which have a distinctive Australian flavour, remininsent of the style of Russell Drysdale, who was a friend of Margaret's.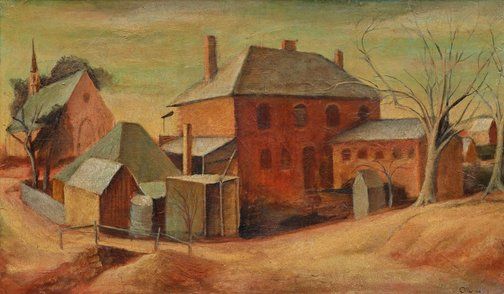 Olley set sail for Europe with her friend Mitty Lee-Brown in January 1949. She had missed out on a travelling scholarship but she was able to study at the Académie de la Grande Chaumière in Paris thanks to the generosity of fellow artist Anne Wienholt who provided the funds for Margaret to travel. 4
Jardin du Luxembourg, Paris 1950 (below) resulted from her in time in the French capital, as the academy was situated close to the Luxembourg Gardens. Olley honed her drawing skills by producing a considerable volume of richly detailed pen, ink and wash sketches of buildings observed on her extensive travels.4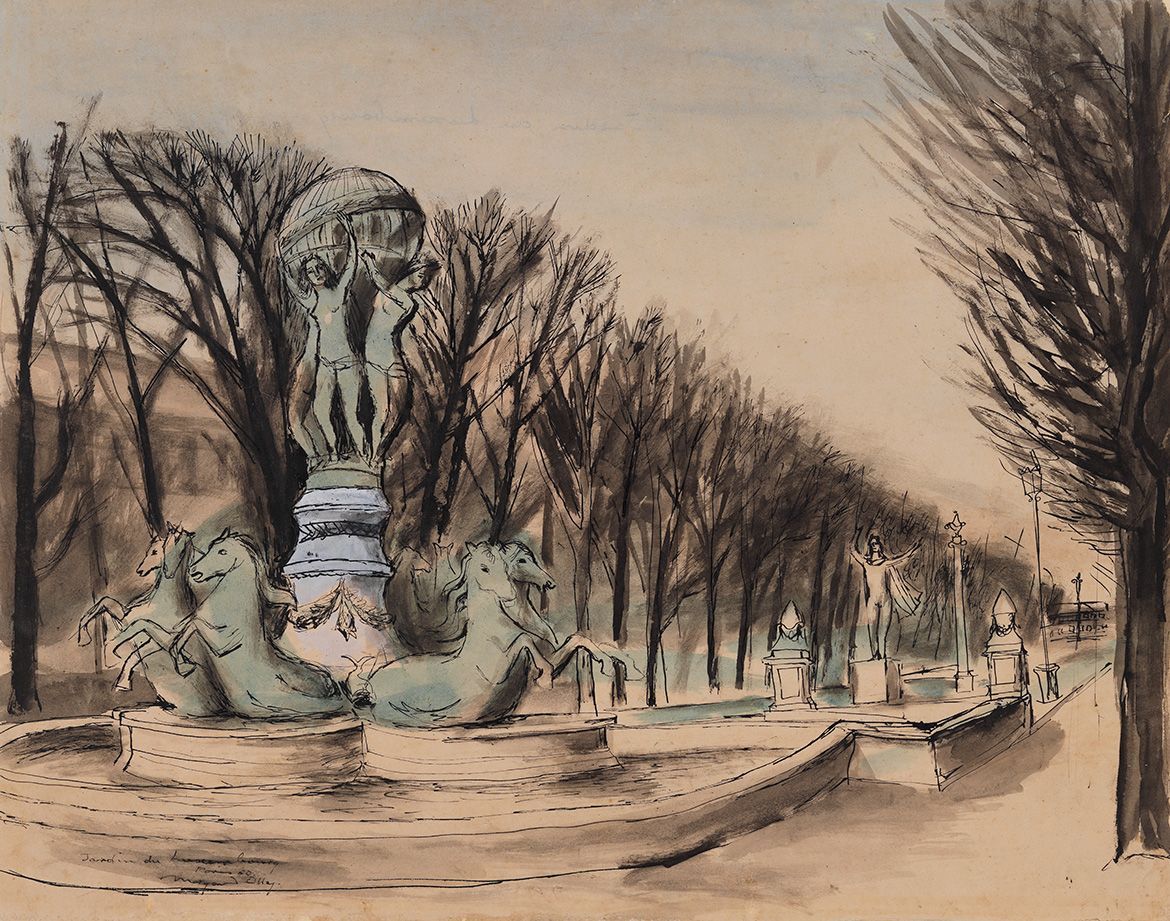 Margaret Olley never ever forgot the lesson of giving started by Anne Wienholt. When Olley was overseas, she'd be admiring a painting, look at the plaque beside it and say, 'Oh, it was donated by someone'. She thought it was a really wonderful thing to have done. So as soon as she got a bit of money, she started donating to public institutions, and the first thing she bought was Anne Wienholt's bronze sculpture The medium 1984, which she gave to the Art Gallery of New South Wales in 1988.1
In 1990 she founded the Margaret Hannah Olley Art Trust, which has contributed significantly to the acquisition funds of Australian museums. Six years later she had a retrospective exhibition at the Art Gallery of New South Wales.
She has donated a collection of valuable works by artists like Cezanne and Picasso to the Art Gallery of New South Wales (AGNSW), including more than 130 works worth over $7 million. In addition she donated money to regional galleries throughout New South Wales.
Following the death of her father in 1952, Margaret returned to live in Australia. The two water colour paintings below bear a strong resemblance to some of her works completed while overseas.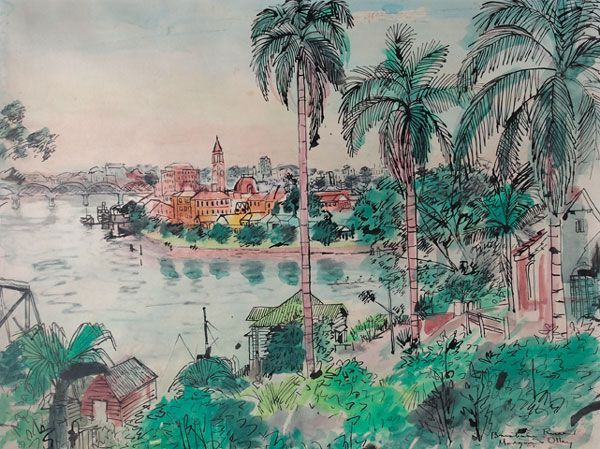 Over the next two decades Olley moved between Brisbane, Sydney and Newcastle, buying historic properties and renovating them. In 1965 she purchased a former hat factory in the suburb of Paddington in Sydney which she transformed into a home and studio.
Margaret was known for wearing hats and so perhaps this was where this penchant started.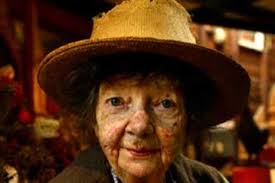 She was an intrepid traveller, filling her studio with artifacts from her travels to New Guinea, Indonesia and many other countries, calling herself "the original bag lady." 9
Her continuing professional success in the 1970s was accompanied by personal happiness with the theatre director and gallery manager Sam Hughes, whom she had first met in the 1940s, and for a while they shared her house in Sydney.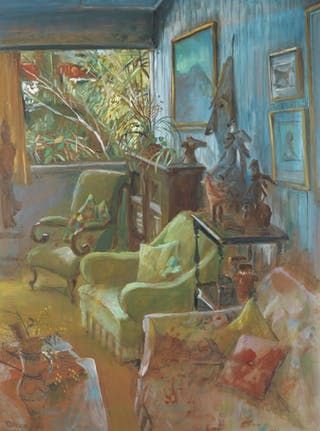 Sadly, Sam Hughes' death in 1982, together with that of her mother, and a fire at her family home in Brisbane, opened another dark phase of her life.
Most know Margaret's works through her Table Settings which, for me, are symbolic of this wonderfully ecentric and generous soul who I would have loved to have met and joined at her table for a chat.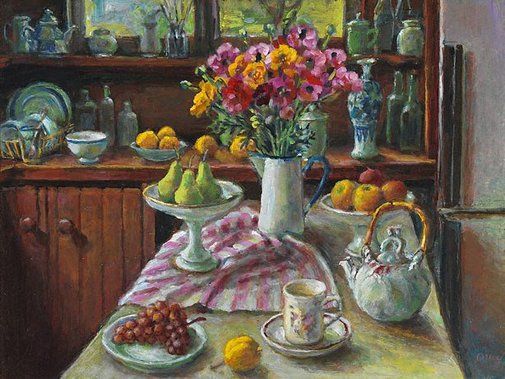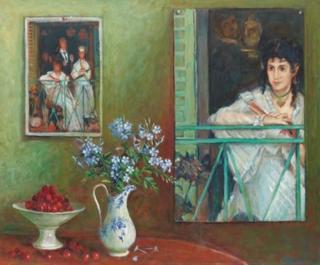 Margaret Olley held over 90 solo exhibitions during her life time. She was appointed an Officer Order of Australia (AO) in 1991, and awarded Life Governor of the AGNSW in 1997. The AGNSW named the Margaret Olley, Twentieth Century European Gallery in her honour in 2001. She was appointed Companion of the Order of Australia (AC) in 2006, for both her art and her philanthropy. She was also awarded Honorary Doctorates from Macquarie University, the University of Sydney, the University of Newcastle, the University of Queensland, Southern Cross University, Lismore and Griffith University, Brisbane.
She was also, as we have seen, the subject of two Archibald Prize winners: one by William Dobell (above) and the other by Ben Quilty which we saw in yesterday's post.
Throughout her life there are probably more paintings of her than any other artist in Australia. She was friends with many artists who also painted her portrait - Jeffrey Smart, Russell Drysdale and Donald Friend.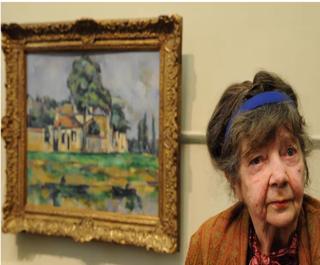 I am sure if you have time you will enjoy this video on Margaret Olley, Australia's most lauded and loved artist.
Credits
artgallery.nsw.gov.au
theconversation.com
art-museum.uq.edu.au
qagoma.qld.gov.au
ehive.com
theage.com.au
tweeddailynews.com.au
newcastleherald.com.au
collageoflife-henrqs.blogspot.com
ngv.vic.gov.au
theguardian.com