Light: Works from Tate's Collection at ACMI Melbourne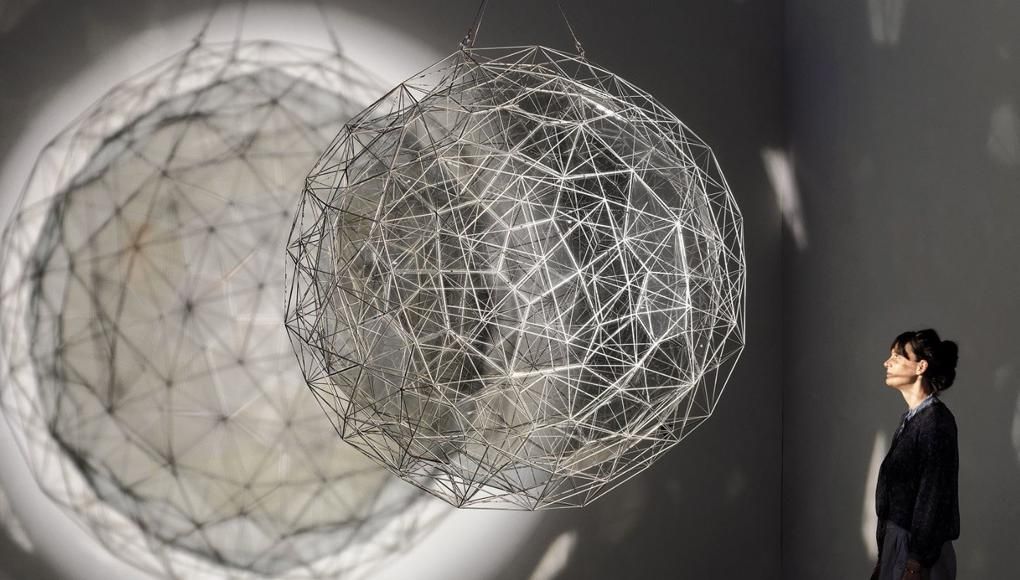 As part of the 2022 Melbourne Winter Masterpieces® exhibition season we are fortunate to have more than 70 works of art at the ACMI Gallery which highlight how light has been interpreted over the last 200 years; groundbreaking moments where artists have harnessed light through painting, photography, sculpture, drawing, installation and the moving image.
This 30 sec video gives you a taste of the exhibition.
I was lucky enough to visit this exhibition in mid June.
Tate Britain is home to the largest collection of works by Joseph Mallord William Turner (1775–1851). A master of history, landscape and marine painting, he challenged the style of the old masters, trailblazing in technique and subject matter. Although brought up in the academic traditions of the 18th century, he became a pioneer in the study of light, colour, and atmosphere.
The first section displayed several of his oil paintings. The one below an example of his artistic techniques to capture natural phenomena, evoking the intensity and transcience of light. 2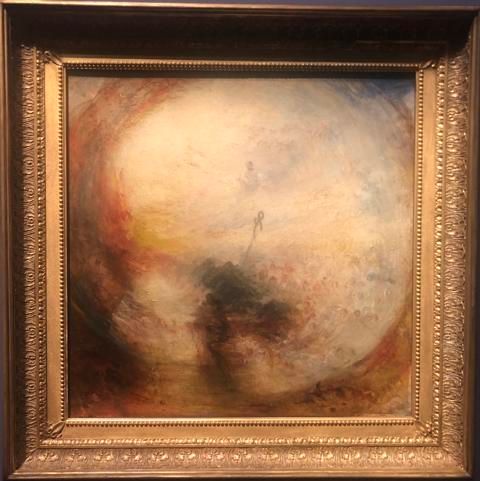 Then some other artists influenced by his techniques:
On the left below - Jacob More's The Deluge – God unleashes the flood to wash away evil. The light radiates the centre, illuminating the figures in the foreground and suggest all is not lost. 2
On the right below – Joseph Wright of Derby's Vesuvius in Eruption with a view over the islands in the Bay of Naples. 2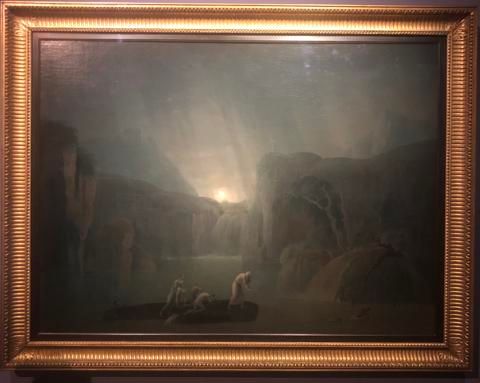 Comparisons are then made to works by John Constable, Wassily Kandinsky and Josef Albers, with a sense of atmospheric beauty and transient light effects captured by Impressionist painters Claude Monet, Camille Pissarro and Alfred Sisley. Some examples below.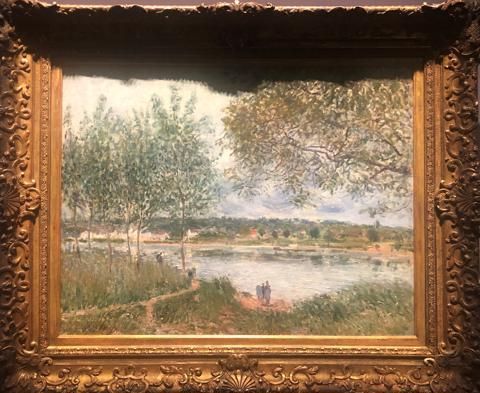 One of my favourites was John Brett's The British Channel Seen from the Dorsetshire Cliffs – it's a large painting and the light on the water is especially striking which doesn't show up well in the photo.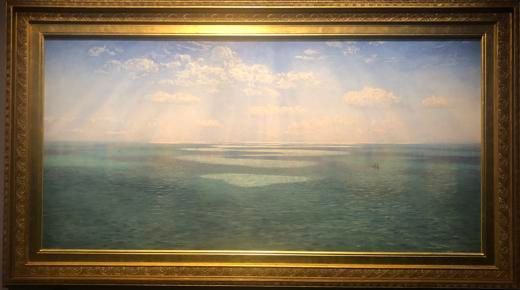 These paintings are juxtaposed against equally groundbreaking works from modern and contemporary artists: Olafur Eliasson's crystalline sculpture Stardust Particle (2014), Yayoi Kusama's kaleidoscopic The Passing Winter (2005), James Turrell's immersive Raemar, Blue (1969), and Liliane Lijn's moving sculpture Liquid Reflections (1968).
Viewed collectively, these radiant works draw fascinating links across time, medium and style, projecting light onto the viewer's body and absorbing them into visions of infinite lustre and luminosity.2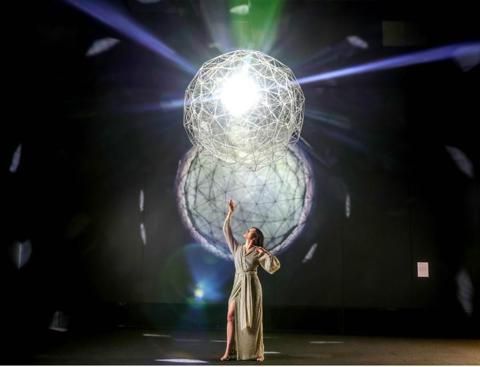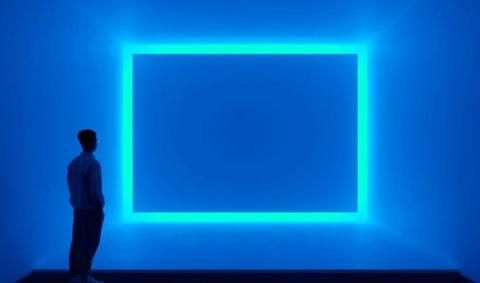 I admit that I had not heard of these artists however I was captivated by the experiences I felt of actually being mesmerised and immersed in the art.
It is a very different way to appreciate art - in fact to appreciate light in its infinite forms.
ACMI curator Laura Castagnini described these pieces in an article I read in the Herald Sun:
Stardust Particle by Olafur Eliasson A striking sculpture of stainless steel, glass and wire is suspended 2.5m off the ground, while a spotlight projects light on to its panels to cause reflections around the space where it hangs.
The Passing Winter by Yayoi Kusama Onlookers can 'peep inside' the Japanese artist's captivating sculpture made of mirrors and glass to 'see a kaleidoscopic vision of circles that expands into infinite space'. Yayoi Kusama is another important contemporary artist featuring in Light.
Raemar, Blue by James Turrell The American sculptor's immersive installation 'envelops you in the colour blue' and a 'really fun (work) for families' to check out.
To create the effect, blue light radiates from fluorescent tubes placed behind a partition that appears to float. Turrell's 'experiments with light since the late 1960s' had earned him 'a reputation as a leading figure in contemporary art'.
Liquid Reflections by Liliane Lijn A 'mesmerising sculpture' by 'a leading figure of the kinetic art movement'. American artist Liliane Lijn created the work after moving to Britain in 1962. It casts an array of light and shadow across a darkened room. Light has always been an important subject for Lijn, who stated her aim for this work was 'to capture light and keep it alive'.
(Lijn was) one of the only women who was creating these sorts of works at the time. To bring that to an Australian audience is really exciting.4
I missed Liquid Reflections when I visited the gallery. Due to its age it needs to cool down for an hour or so during exhibition hours. I returned a few days later as I wanted to see this kinetic art for myself. Below is 30 secs of a video clip I made. Imagine entering a small dark and silent room and enjoy some time of quiet contemplation.
Two artists that particularly captured my attention were James Turrell and Olafur Eliasson stayed tuned for a post on them soon.
If you happen to live in Melbourne or plan a visit, the exhibition is on until 13 Nov 2022 at ACMI, Federation Square, Melbourne.
Late Mail
A very warm welcome to D.D. in New York - we are delighted to have you join up to be our newest subscriber. And we do hope that you enjoy receiving our daily posts about the art that is all around us.
Credits
1. olafureliasson.net
2. acmi.net.au - storyboards and details on their webpage.
3. my photos taken at the exhibition
4. heraldsun.com.au