L'Avenir – The Road to Cape Horn by Robert Carter
We continue our series on the marvellous paintings by Robert Carter OAM, FASMA, FISMP of the sailing ship era and recently published in The Marine Paintings of Robert Carter.
Robert is one of Australia's leading marine artists and is also joint founder of the Australian Society of Marine Artists with Dean Claflin.1 You can read more about Bob's biographical information by clicking here.
In The Marine Paintings of Robert Carter Bob has presented his paintings in five parts2 and we will follow this same format. Today from Part Three: The Erikson Era and the Grain Ships we will showcase another of the four-masted barques - this time L'Avenir.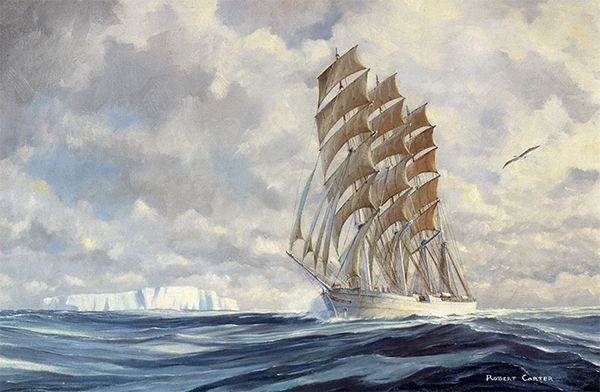 The 4-masted barque L'Avenir is being pushed along by a moderate north-west wind in the Southern Ocean, on her way towards Cape Horn. She was built by Rickmers AG to the order of the Belgian Maritime Association, as a cargo-carrying training ship. Her name can be interpreted as 'the future, or what is to come', representing the expectations of her owners, that she would produce a continuing supply of sail-trained seamen. Finnish shipowner, Gustaf Erikson, a Finnish shipowner, bought her in 1932 and put her into the grain trade with Australia. He retained her all white colour scheme which earned her the title, 'Erikson's yacht'. He utilised the extra accommodation that housed her cadets under her long poop, for passengers on the Australia run and for summer cruises around the Baltic. The pianist and composer, Percy Grainger made a voyage in her from Spencer Gulf to Falmouth in 1934.
In 1937 Erikson sold L'Avenir to Deutsches Schuleschiffs Verein, a maritime training institution sponsored by Hapag Lloyd, who continued to run her in the grain trade out to Spencer Gulf. They renamed her Admiral Karpfanger
On 8 February 1938 she sailed from Port Germein with full cargo of bagged grain. Her last radio report on 12 April placed her well on the way to Cape Horn. Nothing was heard of her after this. The most likely reason was that she broached-to with a heavy following sea; an encounter with an iceberg was also possible. The only wreckage found was a lifeboat and a door, washed up on the Chilean island of Navarino near Cape Horn.2
© Thank you to Robert Carter who kindly gave permission for the image of his work to be shared on AnArt4Life.
Please check out the Robert Carter Website.
And also the site for the Marine Artisits Australia.
The next glorious vessel in our Robert Carter Marine Series will appear in about a week.
Credits
1. Correspondence with Robert Carter
2. The Marine Paintings of Robert Carter, Published in Australia by Robert Carter Maritime, Gosforth NSW, 2320, Australia, 2022
3. robertcarter.com.au