Know My Name & 5 Women Artists - Part 2
As mentioned in Part 1, #KnowMyName is part of a global movement to increase representation of women identifying artists. It builds on the work of groups supporting gender equity across the arts including Countess, Shiela Foundation and the #5WomenArtists campaign by the National Museum of Women in the Arts in Washington, DC.
t-shirt features the names of Australian women artists whose work is represented in the National Gallery collection. Credit nga.gov.au
The Countess Report supported by The Sheila Foundation
and backed by the National Association for the Visual Arts (NAVA), is an independent artist run initiative that publishes data on gender representation in the Australian contemporary art world. The work of Countess is both art and advocacy.
Their goal is to inform and influence systemic change through data collection, analysis in their 4 year sector reports. Click here for the most recent Countess Report, 2019.
Countess has worked closely with The National Gallery of Australia (NGA) who acknowledge that only 25% of the Australian art collection is by women. However, the NGA's exciting initiative,2 called #KnowMyName aims to address this gender disparity. As part of #KnowMyName the Gallery has implemented new guiding principles to ensure gender parity in future programming, collection development and organisational structures.
The Market, Ethel Carrick 1919. Featured painting for the KnowMyName Exhibition at the National Gallery Australia (Canberra) Credit: Private Collection NGA.gov.au
KnowMyName: Australian Women Artists 1900 to Now exhibition will run 4 November 2020 till 4 July 2021 at the NGA and showcases art made by women. It brings together more than 300 works, as can be seen here, drawn from the Gallery's collection and other collections from across Australia. This exhibition is part of a series of ongoing initiatives by the National Gallery to increase the representation of artists who identify as women in its artistic program. Featuring lesser-known and leading artists such as Margaret Preston, Emily Kame Kngwarreye, Destiny Deacon and Julie Rrap, this exhibition tells a new story of Australian art as shown below.
Thea Proctor's Tea Party 1924 by Margaret Preston (1875 – 1963) one of the female artists in the KnowMyName Exhibition at the National Gallery Australia (Canberra) Credit:artgallery.nsw.gov.au
By bringing together artists from different times, places and cultures, this exhibition proposes another history, upending the assumption that modern and contemporary Australian art is a male-dominated narrative.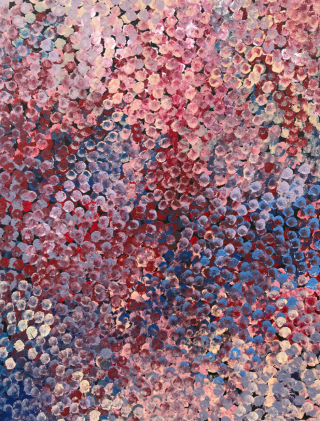 The livery based on Emily's Yam Dreaming artwork took:
A team of more than 60 graphic designers, engineers and painters at Boeing's Seattle facility worked with Balarinji to install the design onto the aircraft, taking more than ten days to complete.
There are close to 5000 dots on the aircraft.3
For further details regarding Indigenous livery on Qantas aircraft, please click here.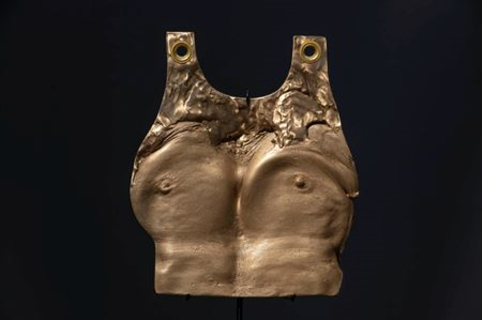 Just 18 per cent of biographies on Wikipedia are about women. When it comes to female artists and creators, that number is even lower.
Wikimedia Australia partnerd with the National Gallery of Australia on its Know My Name project, to enhance the understanding and appreciation of work by Australian artists who identify as women.
In March 2020, they co-hosted a series of edit-a-thons with galleries and libraries around Australia on the weekend of International Women's day. The goal was to create 100 new pages about female creators, also as part of Art+Feminism.
Thanks to amazing pre-planning and coordination by Caddie Brain and her team in each state, the weekend saw 125 (mostly first time editors) create 69 new articles about female creators. Across the 7 edit-a-thons, 757 references were added to Wikipedia, and participants edited 223 articles.4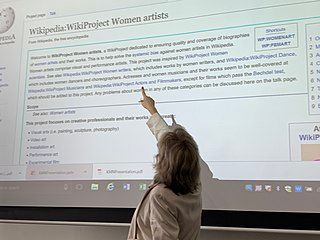 Naomi Polonsky highlighted in The Guardian (31 Jan 2019) that in 2018, the National Gallery, London, had only 24 female artists in its collection – out of more than 2,300 in its archives, museums did not deem it necessary to collect their works. Invisible in museums, they did not sell well on the art market. In turn, museums did not think it necessary to acquire them, producing a vicious cycle of exclusion.
Naomi concludes her article with a call to arms…
… "to ensure that future generations are familiar with more female artists, we need to be adventurous with the exhibitions we visit now. We need to show that exhibitions on little-known female artists (not just male artists' Wags) can be put on without damaging the financial health of public museums. We need to help our institutions help us, so that our children and grandchildren inherit a fuller, more representative, more female history of art."
Hopefully this post will wet your appetitite to make the trip to the National Gallery of Australia to view this exhibition and show support for this wonderful initative.
Footnotes
1. countess.report
2. The initiative is being delivered in partnership with the Australian Broadcasting Commission, oOh!media, Wikimedia Australia and cultural partners The Countess Report, Australia Council for the Arts, Australian Ballet, Sydney Opera House and National Museum of Women in the Arts, Washington D.C.
3. qantasnewsroom.com.au
4. wikimedia.org.au/wiki/Know_My_Name
5. creativecommons.org/licenses/by-sa/4.0/