Freda Robertshaw - A Trailblazer
Yesterday we saw Sheila Cruthers who was standing next to Anglican Archbishop Peter Carnley, holding the Freda Robertshaw's painting Standing Nude Circa early 1940s and we said that Freda Robertshaw deserved to star in her own right. After reading below I am sure you will agree!
Freda painted 'Standing Nude' (the self-portrait depicted in the Sheila blog) as part of her entry for the 1944 New South Wales Travelling Art Scholarship. Entrants were required to submit a nude, a still life and a genre painting. Unable to afford a model, Freda Robertshaw painted herself nude, the first Australian Woman to do so,  in what must have been a provocative, even confronting, act. The scholarship was won by 'the more contemporary' Anne Weinholt (watch out for a blog on the remarkable Anne Wienholt in the coming weeks). (Credit Lawrence Wilson Art Gallery at The University of Western Australia)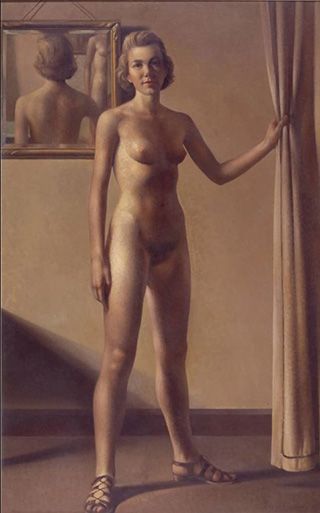 Leanne Santoro  (Sheila.org.au) writes "Her unflinching, full-frontal portrayal, including back views reflected in the mirror behind her, put her self and her body at the forefront. There was no precedent for a painting of this kind as even male nude self portraiture was rare in Australia making Robertshaw's painting particularly innovative. The portrait is remarkably confident, both technically and in subject"
In an interview with Linda Slutzkin in 1994, Freda admitted "I was a bit vain, I didn't worry about not being decent to look at, I knew I had a good body and could make something decent of it."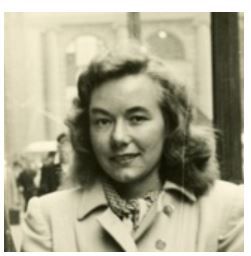 Freda Rhoda Robertshaw (1916–1997) was born and raised in Sydney and trained at the East Sydney Technical College until 1937, and became an apprentice of Charles Meere. Both artists were conservative academic artists, painting the human figure in a studied neoclassical style. Painters Arthur Murch and Napier Waller, and photographers Max Dupain and Olive Cotton were Australian contemporaries with a similar vision.
In the 1930s nostalgia for farm life grew as an increasingly modern lifestyle overtook Australia's capital cities. Many artists incl Freda painted scenes of the land, a powerful symbol of place that helped define Australia's identity. (Credit Benalla Art Gallery)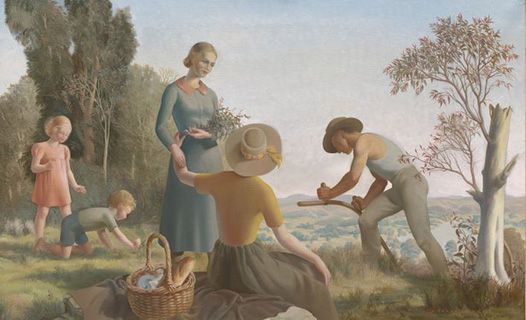 In 1998, Australian Beach Scene (1940), a feminised response to Meere's famous 1940 work Australian Beach Pattern, sold at Sotheby's for $A475,500, a record for an Australian woman artist at the time.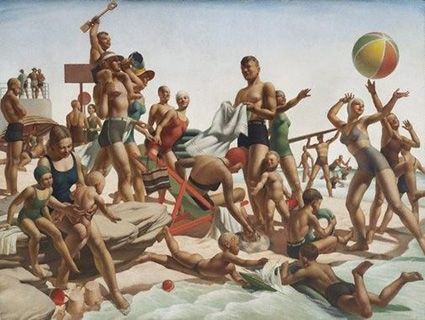 "She had worked closely with Meere during the conception and execution of Pattern. Her own work Australian Beach Scene was done while still under his tutelage and, presumably, with his approval. While it is clearly inspired and influenced by Pattern, it presents a more intimate "feminised" version – the group is smaller, the painting is more tightly focused, the gender balance has been reversed so that women predominate, the actions are a little freer. The sign, blank and uninformed in Pattern, is now clearly a cautionary, motherly warning about bathing between the flags.  Credit artinsociety.com"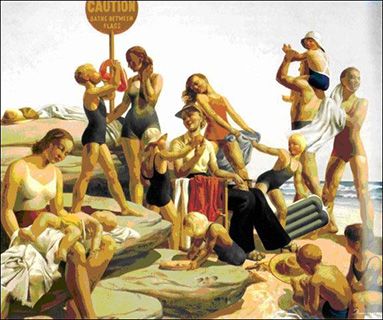 We will leave you with some of the other beautiful works of Freda Robertshaw, her favourite painting subjects were landscapes and flowers.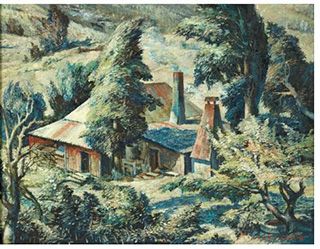 We will share some more of our favourites in the future. But in the meantime tomorrow we are joining John "Rowdy" Wylie on his trip to the ancient lands around the Flinders Ranges in north-east South Australia.
And we are also welcoming another subscriber from North Carolina which is exciting. We are delighted to have S.P. in North Carolina join the AnArt4Life blog on-oine community. In a week or so we are going to take a look at some of the artists from North Carolina which I have been researching.