It's time to vote for the Eucalyptus of the Year because on 23 March each year we celebrate National Eucalyptus Day. And we also welcome another new subscriber to the blog - step aboard S.W. in Australia - we are delighted to have you as a member of our on-line community.
National Eucalypt Day is Australia's biggest annual celebration of eucalypts held every year to celebrate and promote Australia's eucalypts and what they mean to our lives and hearts. As part of this celebration we set out an annual challenge decided by popular vote: which species will be THE eucalypt of the year?1
There are over 900 eucalypt species across the continent – eucalypts, corymbias and angophoras – from the towering Mountain Ash of south eastern Australia, to the haunting Ghost Gum of the outback, to the West Australian Mottlecah – "The Rose of the West" – with flowers as big as your palm. It will be exciting to see some fervent social media action culminating in the eucalypt that takes out this year's "Eucalypt of the Year".1
Which magnificent tree will you vote for?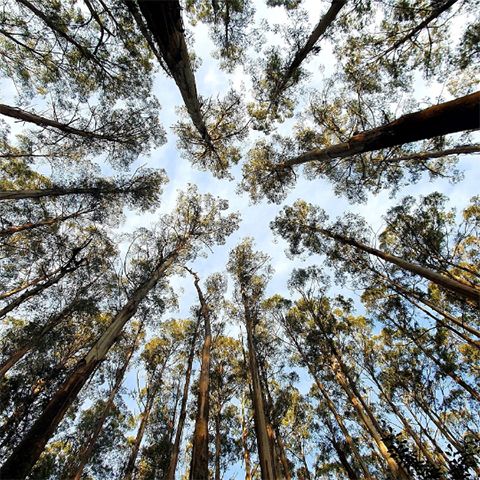 Mountain Ash (above)
Eucalyptus regnans
Tas, Vic
Until very recently, the Mountain Ash or Swamp Gum was the tallest flowering plant in the world. That record has recently been snatched by a tropical species in New Guinea, but the towering giants are no less majestic and command respect from all who stand in their presence.1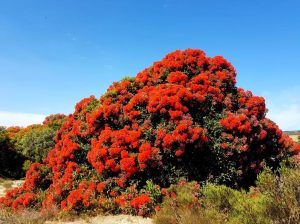 Red Flowering Gum (above)
Corymbia ficifolia
WA
One of the best-recognised and frequently planted eucalypts, with several very popular small cultivars, like the highly regarded 'Summer Beauty'. Although the species naturally flowers in red to red-orange, varieties in a range of pinks have been created by hybridising this species with the white-flowering Marri (Corymbia calophylla).1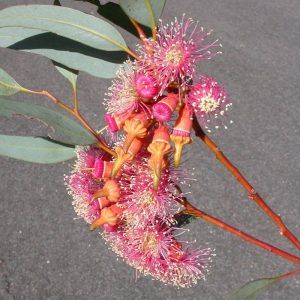 Coral Gum (above)
Eucalyptus torquata
WA
The distinctive pinky-orange, ribbed buds with their beaked caps make the Coral Gum easy to distinguish amongst the eucalypts. With plenty of showy pink, cream and apricot flowers throughout the year, this small tree is popular amongst gardeners and birds alike and has become a common street tree in Adelaide. The name 'torquata' comes from the Latin 'torquatus' meaning 'adorned with a necklace (or collar)'.1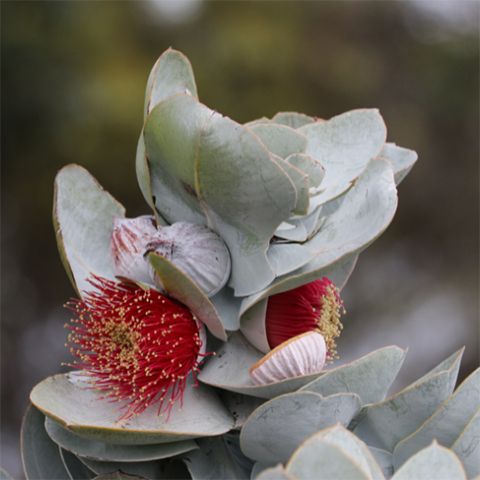 Mottlecah (above)
Eucalyptus macrocarpa
WA
One of our most famous ornamental mallees, hailing from the wheatbelt region of Western Australia, Mottlecah's enormous red flowers bloom straight from the branch. Mottlecah apparently derives from the Noongar word for this species, Mottlecar. A spreading form with leaves and fruit held tight to long branches gives this species an impressive appearance. The species name 'macrocarpa' comes from the greek words for 'large fruit', an apt name for this species.1
To view some more of these magnificent trees - their exquisite leaves and glorious flowers, please follow this link to Eucalypt Australia. And please vote.
You have until 20TH MARCH to vote.
As you know I love sharing my photos of my favourite species of tree. I will signoff today with a few more examples which can be found close by to where I live.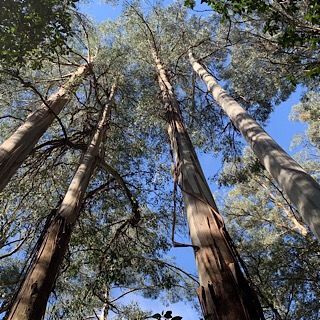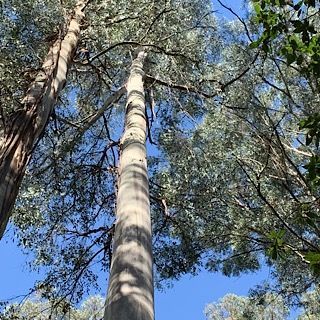 Credit
1. eucalyptaustralia.org.au