Ethel Carrick Fox – An Australian pioneer
Today we will learn about another Australian female artist who is featured in the Know My Name initiative of the National Gallery of Australia.
Ethel Carrick, (also known later as Ethel Carrick Fox after she married Emmanual Phillips Fox), was born in February 1872 and died in June 1952, aged 80. She was an English Impressionist and Post-Impressionist painter.
There is a very good summary of her life on Wikipedia, so I am going to let you read that first via the following bookmark:
I came across some of her work in the National Gallery of Victoria, and I just loved the bright colours and the contrasts of light and shade, particularly in her outdoor scenes. Here are a couple of the photos I took of the paintings there: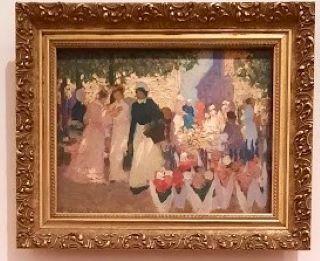 Many of her landscapes include a large number of people, because Ethel was fascinated by crowds. She described this in 1913 as follows:
"It's people who attract me. Crowds are to me what a magnet is to a needle. I love the color, life, movement, and individuality of a crowd. It's rather unfortunate, as I hate noise, but my private feelings have no chance against the compelling charm of a mass of people. To me it has the attraction a fine orchestra has to a musician, and often when I've been painting some of the groups I am showing in my exhibition, I have felt them as musical chords." 1
As Wikipedia tells us, Ethel married Emmanuel Philips Fox in 1905. Unfortunately, they were only married for 10 years before he died in 1915, aged only 50, from cancer. Interestingly, he was more well known than Ethel Carrick Fox, painting more in the "accepted" style of the Heidelberg School impressionists, with whom he was briefly associated. (We will look at Emmanual Phillips Fox in more detail in a future post.)
It was only after her death in 1961 that Ethel gained more recognition and acclaim for being the more adventurous with colour and style.
Much of her work reflects her extensive travels around the world, both with her husband and after his death. We can see how she progressed from an Impressionist en plein air artist to a more Post-Impressionist style which featured blockier compositions and sharper colour contrasts. Some are distinctly Fauvist in their strong colours, high abstraction, and loose handling of the paint. 2
Ethel survived her husband for another 36 years, and did not ever re-marry or have children. She remained very active in the art world, and exhibited extensively. I am amazed at the list given in Wikipedia under the heading of both Solo and Group Exhibitions held during the artist's lifetime.
She, along with other artists we have featured, was a true pioneer of art for women in what was very much a man's world in that era.
You might like to browse through the following collection on Google of her work:
I can see why her work is now gaining great popularity! Isn't it wonderful? Let us know what you think of her work in the Comments box below!
Footnotes
Distinguished woman artist', The Sun, Sydney, 9 November 1913, p 19, at trove.nla.gov.au/newspaper/article/229343041. Reproduced from an article by Emma Kindred, Curator at the National Gallery of Australia in the Know My Name publication of 2020 by the National Gallery of Australia, pp 72-73

With thanks to Wikipedia, under the Creative Commons Attribution-Share alike 3.0 Unported License (CC-BY-SA).