E. Charlton Fortune: Artist Extraordinaire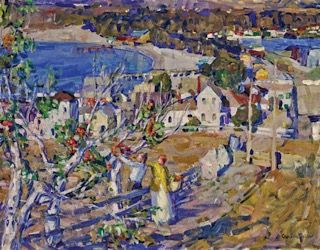 (Credit:crockerart.org)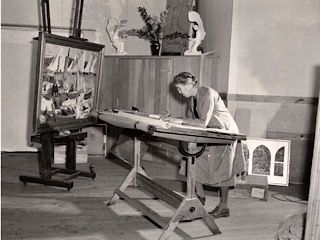 (Credit: crockerart.org Photograph courtesy of James R. Fortune.)
Effie Fortune was obviously driven by a desire to create in spite of her parents discouraging her as they did not understand her artistic passion. She returned to San Francisco in 1905 to join her mother and brother and enrolled in the Mark Hopkins Institute of Art (a forerunner of the San Francisco Art Institute), where she studied under Arthur Mathews (1860-1945), an American Tonalist painter and one of the founders of the American Arts and Crafts Movement who in turn had been influenced by non other than James Abbott McNeill Whistler whom I haven't mentioned for a while. This Summer Landscape painted by E. Charlton Fortune in 1914 shows the influence of Mathews who emphasized the use of a limited palate to create a unified painting...(and) stressed that nature was the most important source of artistic inspiration. (bonhams.com) This painting won a silver medal at the Panama-California Exposition of San Diego in 1915.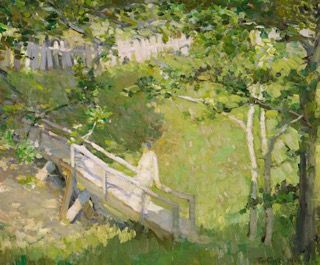 (Credit: bonhams.com)
In terms of her painting technique you can see Fortune's attention being given to the effect of light and shadow across her limited palette of green and white tones. The white fence and path act as strong diagonals which lead the viewer's eye to the woman on the bridge, highlighted by the sun and encompassed by the green tonal surrounds.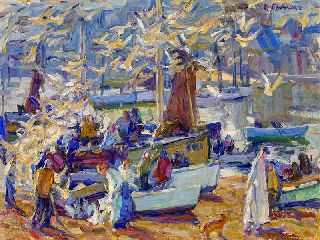 (Collection of Marie & Murray Demo Photo PMCA)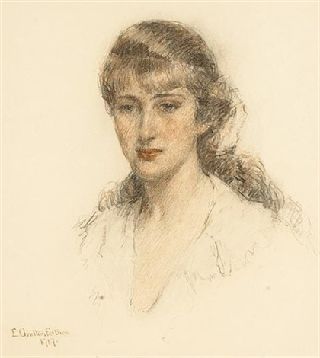 (Crtedit: artnet.com)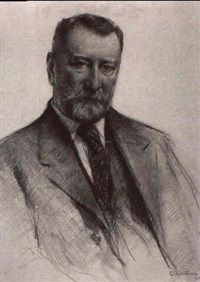 (Crtedit: artnet.com)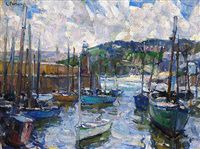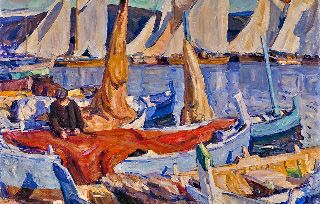 (Credit: Pasadena Museum of California Art)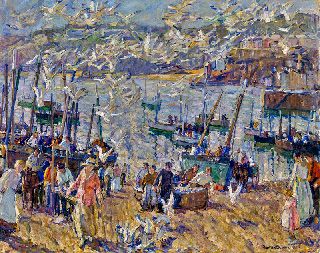 (Credit: Mountain Democrat)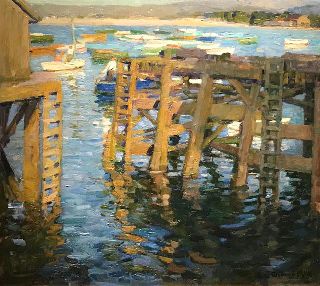 (Credit:Bodega Bay Heritage Gallery)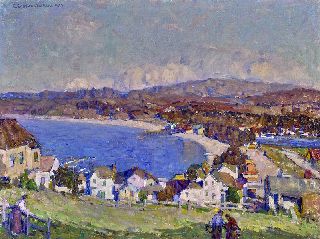 (Credit: Crocker Art Museum)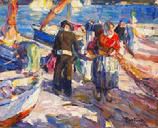 (Credit:Pinterest)
There is so much to say about this American Impressionist but once more I have run out of time. I do hope you have enjoyed seeing her wonderful colourful images. E. Charlton Fortune devoted the second half of her career to liturgical art and founded the Monterey Guild, which decorated some thirty Roman Catholic churches across America.
Postscript 1:  She signed her paintings E. Charlton Fortune, not because she didn't like her first name Euphemia but to help conceal her gender.
Postscript 2:A Fortune painting sold at auction in April 2014 for $365,000. Wikiedia  
The Hero Image today is of Monterey Bay, California.
I am having a break for a couple of days so that I can choose the right horse for the Melbourne Cup. We are the only country in the world I believe where the whole nation stops to watch a horse race!! Of course if my horse wins I'm off to St Ives, Cornwall to paint.