Chaposos Huamanguinos: Excursion Homeland Peru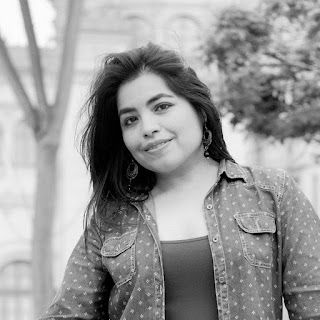 One of the AnArt4Life Facebook Followers is Rebeca Dorich (above) who is a Peruvian artist passionate about the importance of national spirit and knowing your culture.
Today we learn a little more about her participatory project Chaposos Huamanguinos, Excursion Homeland - a playful proposal that invites the public to share places, memories, present activities or projections for our homeland, Peru, with characters co-created by Rosalía Tineo (a traditional ceramic artist) and Rebeca Dorich. The proposal is developed via Sidera Art projects, with the artistic mediation of Grazzia Benvenuto. 2
There are 10 unique Chaposos Huamanguinos in the collection.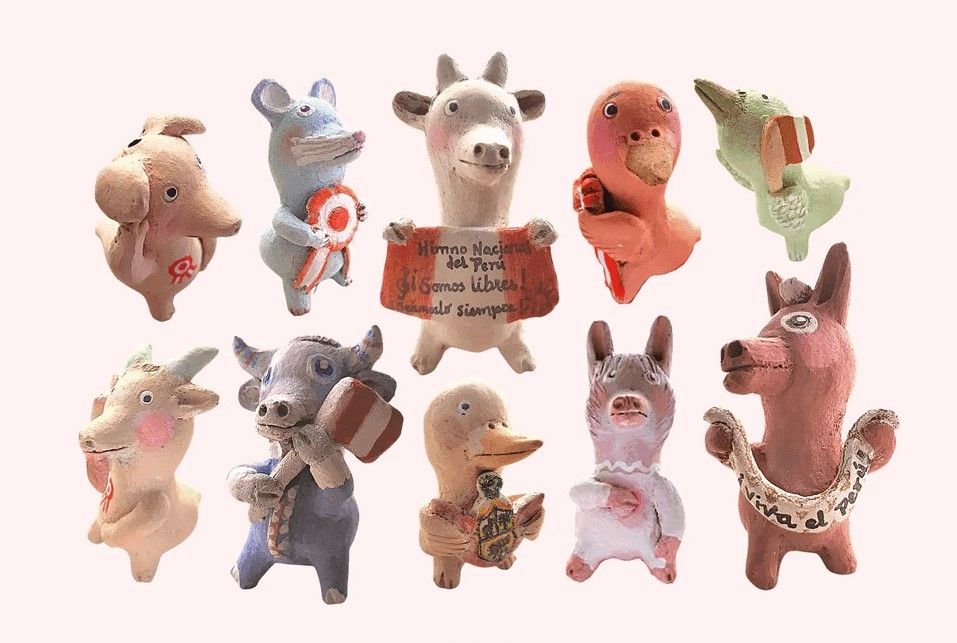 Rebeca explains the Chaposos Huamanguinos to us:
Chaposos means with a blush on their faces, from the enthusiasm and will of action typical of childhood.
They are also the marks on the red cheeks, sometimes somewhat tanned by the constant contrast between intense sun and cold, typical of the climate in the highlands of Peru. 4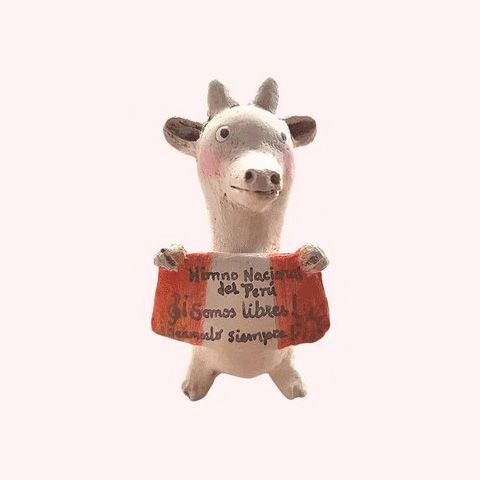 Rebeca continues:
Huamanga is a mountain town (capital city of Ayacucho - Perú) and the clay workshop where the chaposos come from is there.
Despite being a city full of culture and traditional art in various directions, not all of its inhabitants have the resources to give their children the excursions that we are achieving as a proposal, although for now from the digital point of view.
The idea is that symbolically these clay children who with their national symbols travel the country, who are also offered historical memories and are learning about the work of different compatriots from different parts of the country, thus affirming their Peruvian identity. 4
Here are the Chaposos leaving on their digital journeys.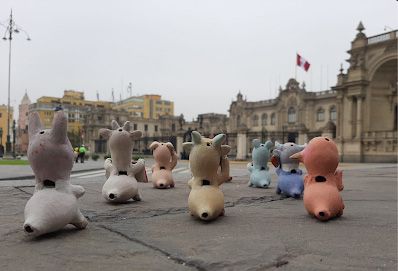 Each with its own identity card.

This is a very clever project which utilises social media to move the Chaposos from place to place making us all aware of Peruvian history and culture. Below Rebeca has taken them on a virtual trip to the Lima Art Museum.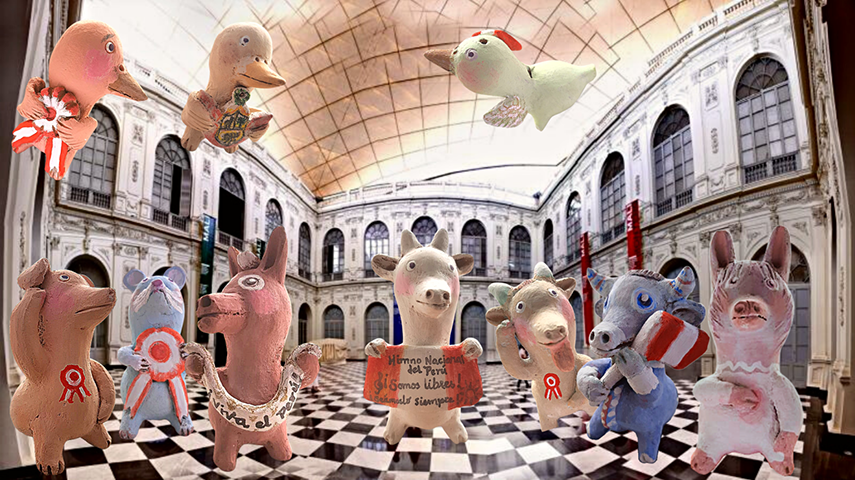 Rebeca explains the project in this way:
Rosalía Tineo usually models in clay a variety of animals that are also whistles. We can see them as characters in which the artist represents the noble and innocent soul of these beings. 2
For the bicentennial of the independence of Peru, she has shaped a series of ten small figures that in a gesture of pride show the national symbols. Rosalía invited me (Rebeca) to paint them and create something innovative together. She has that spirit of creation. Values its traditions, has achieved high recognition for its work, with identity in shapes and colors; but maybe her soul asks her to explore more. 2
Noting that restlessness, grace and courage, I gladly agreed to intervene in this project. For these ten little animals, I wanted to highlight that creative impulse that returns us to memorable qualities in the little ones: the willingness and eagerness to experiment, their open gestures, their face in front or their elevated gaze and the shelter of the symbolic, that lets us see that love for the country expressed in each of these characters who carry live Peru on their chests. I declare myself their godmother, I take them as if they were chaposos children from the mountains, who in addition to having all those qualities, are brave. Barely cakes, well wrapped by the mother, came to me in a small box from the Santa Ana neighborhood, Huamanga, Ayacucho.2
As artists we have generated these ten unique pieces, each one has its identity card signed by both. In addition, we consider space for creative participation. Anyone who wants to take a chaposo can give him a name, take care of him in his fragility and even accompany him on his national excursions. Participatory art, an invitation to play, to action, be it real or virtual.2
Below we find Burrito as a guide in the ruins of Lima from the XXVI century.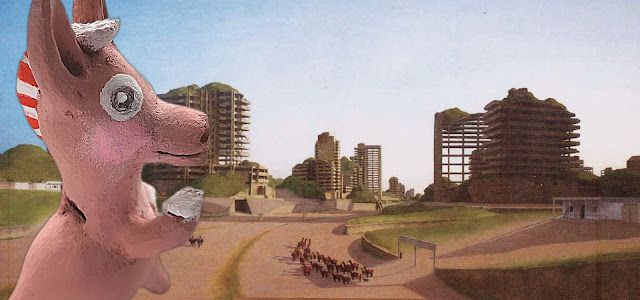 Rebeca's passion for the project comes from her desire to bring all that we are offering in the group to the real Chaposos from Huamanga (chaposos huamanguinos). To bring to those children our participatory artwork, perhaps as a selection.
Each time attention is paid to this participatory art proposal, as it spreads, possibilities are opened up for something special.
The show will eventually reach their eyes, their hands, their minds, but above all their souls. 4
Rafael Llimós Sihuay has placed the Chaposos in Cahuachi, Nazca which was a major ceremonial center of the Nazca culture, based from 1 AD to about 500 AD in the coastal area of the Central Andes. It overlooked some of the Nazca lines which were featured on the AnArt4Life blog some time back by Jane.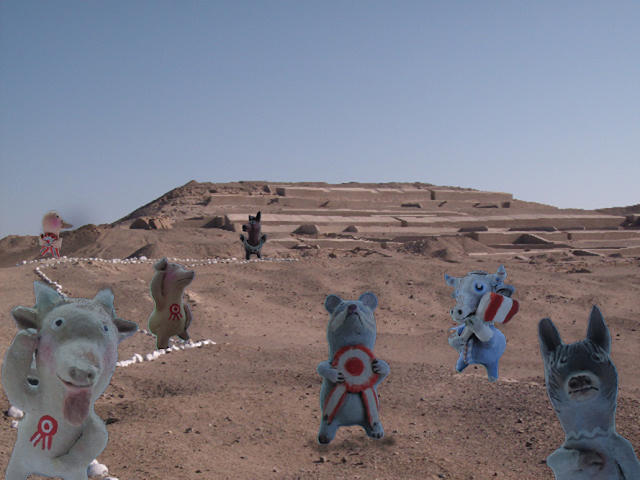 Rebeca emphasises that there is much to unveil. It has not been a simple chance. You know, we are celebrating 200 years of our independence this 2021. Taking into account the year of the proclamation of Independence which was in 1821 but, the seal of that process was given in 1824, after a battle that took place in those lands, in Ayacucho (the same land of the Chaposos) That is why I am planning this participatory proposal to be developed from 2021 to 2024. And, as a closing to present it back in Ayacucho 2024.
I am in Lima, capital of Peru, on the coast. But, because of the possibilities of virtual connection, we can carry out this cultural project and hopefully sustain it and achieve our purpose.4
Here we see the Chaposos recreating and announcing the moment of the first proclamation of independence by San Martín, on the historic balcony of the city of Huaura. 2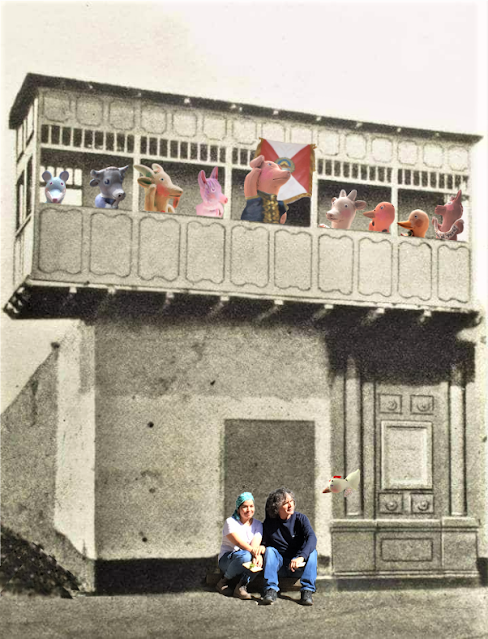 The project aims to make a selection of the images that the public shares on the Facebook page to put together a publication dedicated to them. Los Chaposos can interact with the photographs of a place that they dream of knowing or that they visited and it brings back good memories. In addition, any artist is also invited to integrate the Chaposos into their creations as inspiration if they wish.
'Chaposos Huamanguinos, excursion homeland' is a project that seeks to revalue tradition and reinforce national identity.5
If you would like to be involved in the Chaposos Huamanguinos, Excursion Homeland project please go to the Facebook page by Clicking Here.
Rebeca suggest you think about:
What qualities would you like to symbolically highlight for these dudes?

To which landscapes of our land or to which places would you take them?

What do you feel should not be lost?
If you would like to participate and you do not have a Facebook account you can send your image and description to the AnArt4Life mail box - [email protected] and I will post your image on the Chaposos Huamanguinos Facebook page.
Below we see Observing Bull by El Faro de Miraflores. He is running because he will raise the Peruvian flag - perhaps on top of the lighthouse!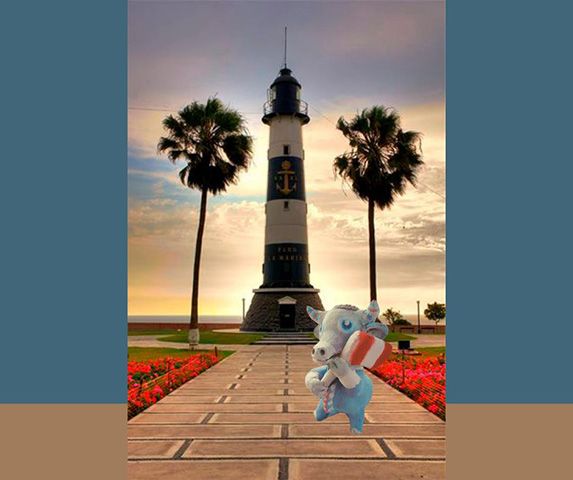 Rosalía Tineo and Rebeca Dorich sought to highlight the quality of children in these characters in order to recall images of childhood that accompany us to rediscover vital qualities to better live the changes of this time. Both come together and propose this adventure so that the little ones learn and reaffirm their identity as Peruvians.5
The figure of the chaposos was chosen as the central pieces of the project because Rosalia and Rebeca want the public to remember their national spirit and want to know their culture. These feelings are awakened with the Chaposos, since they are pieces that represent, in a symbolic way, the enthusiasm of a child for being Peruvian. Each Chaposo has a Peruvian flag in his hand or a cockade on his chest. In addition, the poses in which these figures present themselves to the public are similar to those we do when we sing the national anthem or march. Los Chaposos are full of life like children. 5
Below with a little help from Grabriela Arredondo the Quarries of Arequipa in Añashuayco are visited by Chaposos Huamanguinos as they run along the Ruta del Sillar, an area product of the explosion on the surface of the earth that occurred millions of years ago which, when solidified, became the ignimbrite known as sillar. 2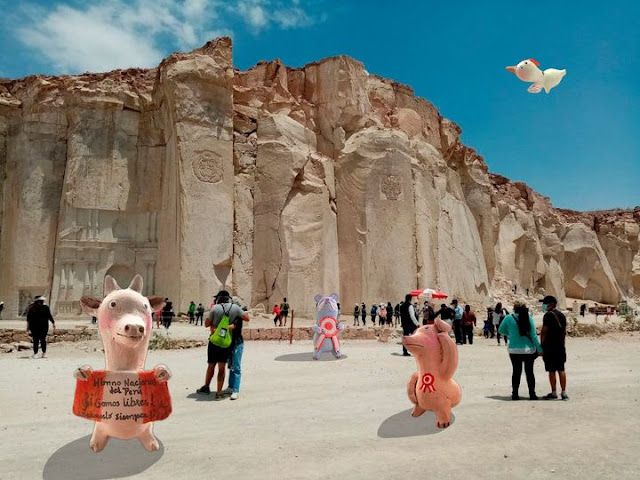 Grazzia Benvenuto, who supports the project as an artistic mediator explains that:
Social networks are for now the means where we can spread this proposal the most. By this means we share stickers of the Chaposos, personalized collages with the images of these figures, among other things. However, our desire is to go beyond virtuality and go much further along with the creativity of the public. We invite all those who follow us to be encouraged to share this participatory proposal, so that they can all reaffirm their national sentiment together.5
The Chaposos have been so hard at work spreading the Peruvian history and culture that Miguel Enrique Gil Meza has invited them to a beach party at Caleta Santa Rosa - Lambayeque.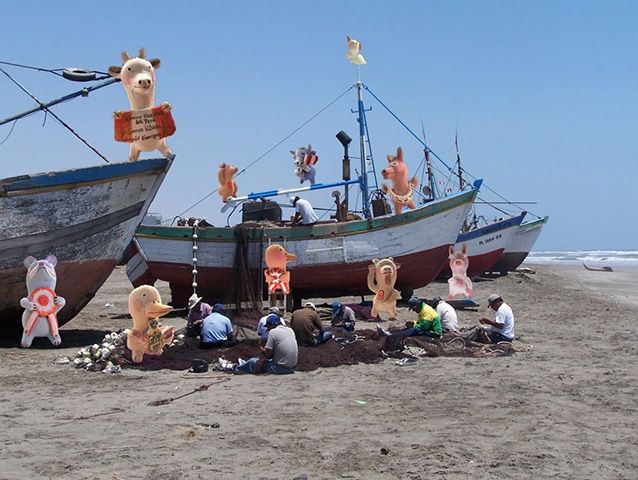 A special thank you to Rebeca Dorich who kindly assisted in producing this post. We will follow with great interest the success of the Chaposos Huamanguinos, Excursion Homeland project.
Rebeca Dorich, artist and educator has presented individual exhibitions and participated in local and international group exhibitions, in countries such as India, Mexico, Argentina, Romania, Italy and the Netherlands. 5
Credits
1. poesiadesdeelfondo.blogspot.com
2. rebecadorich.blogspot.com
3. retratosabiertos.com
4. Correspondence from Rebeca Dorich
5. Maria Zapata of TVRobles (a media/news company) interview with the mediator Grazzia Benvenuto and Rebeca Dorich - tvrobles.lamula.pe
6. Chaposos Huamanguinos Excursion Patria Facebook page