Art is for everyone ......
This is a heart warming story of a finalist painting in the 2020 Archibald Prize in Australia. It reminds us that art is for everyone, regardles of our age, background, ability or even disability ........
The delight of self expression, and the sense of purpose, confidence and accomplishment is beyond price, and available to us all.
Neil Tomkins and Digby Webster were both born in Sydney in 1987. They first met in 2017 and had worked on other projects together before painting each other's portraits to enter into the Archibald Prize competion in 2020. Tomkins says: 'Digby and I share the same middle name, Ernest, and as we were painting each other for this prize Ernest Brothers seemed like a good title. It gives a little more background to our friendship and, although it's a coincidence, we have a lot of similarities.'3
They worked separately on their portraits for this year's Archibald Prize but as the paintings came together it became clear that they should be hung as one work. 'The way the colours play with each other, although not specifically planned, was so powerful we couldn't separate them,' says Tomkins.3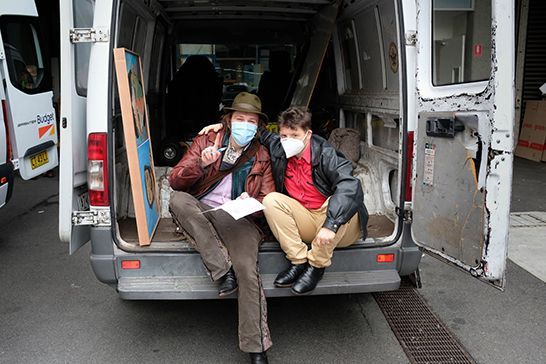 Here is Digby Webster's story about the paintings and what art means to him. (If you cannot access this video, please skip to the next video below….)
If you would like to see more work by Digby Webster click here.
And for works by Neil Tomkins click here.
Postscript 1: We congratulate Angus McDonald, the winner of the People's Choice in the 2020 Archibald Prize which was announced one day ago. McDonald's haunting portrait of Kurdish writer Behrouz Boochani is deeply reflective of his ordeal as a refugee detained off the mainland of Australia, and explains why it won the popular vote this year.
Postscript 2:
And we have some exciting news in that we have just enrolled our first subscriber from Indonesia to join the AnArt4Life blog. A very warm welcome to Y in Jakarta.
Footnotes
With thanks to
ABC Sydney
the Art Gallery of New South Wales
Down Syndrome Australia