Another Clarice... Australian painter Clarice Beckett
And another post from Caroline who is joining Jane in becoming a permanent writer for the blog. And like Jane, Caroline will bring new art topics to stimulate your creativity and enhance the way you see the world. The artist she brings you today makes a perfect extension of our knowledge on colour. (Anne)
---
Over to Caroline
Recently Anne posted an insightful blog on Michelle Clarissa Redcliffe's work based on Clarice Cliff's Summer House Vase.
This rekindled my interest in Clarice Cliff and I subsequently went searching for more information relating to her. In my quest I stumbled upon another Clarice; Clarice Beckett. (I call it going down the rabbit hole, never knowing where you end up when you divert from topic!)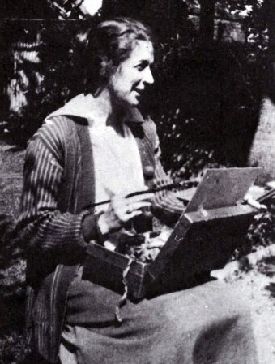 Clarice Beckett painting in the garden at Beaumaris circa early 1930s. Reproduced from Clarice Beckett, the artist and her circle by Rosalind Hollinrake (Glenicewhitting.com)
Clarice Beckett was an Australian Tonalist painter (born in Casterton, Victoria 1887, died Sandringham, Victoria 1935) known for her misty and foggy works often painted in and around Melbourne and the Bayside suburbs especially around Beaumaris and Sandringham.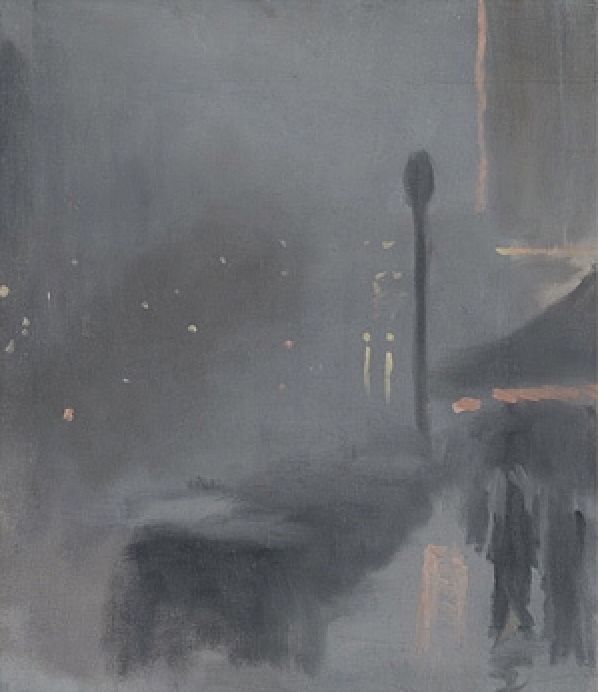 Tonalism is best understood as a painting system. It involves no under drawing and is based on the rapid and direct recording of tonal impressions (generalised massed areas of light and dark) onto the canvas in the order the impressions meet the eye of the artist. Its intention is to create an exact illusion of nature. In this way, it is a spontaneous, 'perceptual' and responsive form of painting, as opposed to traditional tonal painting, which is craft-based and measured. Thus, rather than appearing highly detailed and photographic, Tonalist paintings are more generalised and identified by a soft-focus, tonal atmospheric aesthetic. (National Gallery of Australia)
Please follow this link to read the total article from the National Gallery of Australia on the:
Misty moderns: Australian Tonalists 1915–1950.
Jane, my sister who often contributes to Anne's blog, and our Mother live in the beachside surburbs Clarice loved to paint. To see Clarice's paintings of this area provides heightened interest.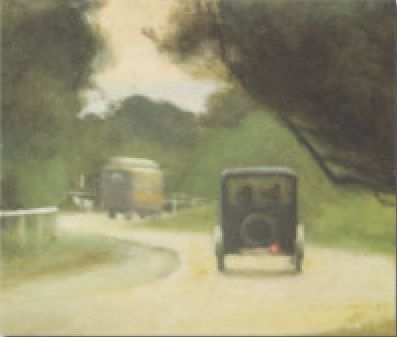 A Melbournian writer Glenice Whitting summarises Clarice's life.
In 1914-16 Clarice Beckett took lessons in drawing from Frederick McCubbin at the Melbourne Gallery School but then chose to study under Max Meldrum. Constantly encouraging, though often fiercely critical, Meldrum regarded Clarice as a very gifted artist. Clarice Beckett's personal life remains something of an enigma; her dedication to her art, and her refusal of several marriage proposals pitted her against her family's traditional view of a woman's role in society.
Clarice was twenty-seven years old when she finally attended art school; her father refused to allow her to set up a studio in the family home, where, as an unmarried woman, she remained all her life, and thus bore the full load of caring for her ill and ageing parents. Beckett's bleak domestic life was compounded by the hostility of art critics, and at times, her own peers, who misunderstood her distinctive approach.
Despite these circumstances Clarice Beckett was driven to be an artist, and each day at dawn and dusk she could be seen in the suburban streets around her home; most often on Beaumaris Beach, paintbrush in hand, absorbed in her painting… Clarice exhibited usually with Max Meldrum's other students, however, very few of her paintings were sold in her lifetime.
Nearly forty years after Beckett's death, around two thousand of her artworks were discovered in a shed on a property in rural Victoria. Many of these paintings were rotted and torn, and unable to be identified or restored. Rosalind Hollinrake, who is a curator, former gallery owner, and Beckett's biographer, helped salvage the artworks, and began to piece together the life and work of one of Australia's most unique landscape artists.
---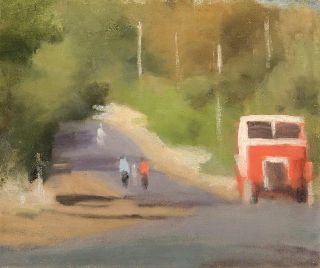 Read a tribute to Clarice Beckett by Glenice Whitting in her article Unsung Women Artists Winifred Knight and Clarice Beckett

(Credit:aasd.com.au)
We get an insight into the creative thoughts of Clarice Beckett through her words quoted by the National Gallery of Australia: Clarice said in 1924 that my aim is:
to give a sincere and truthful representation of a portion of the       
beauty of nature, and to show the charm of light and shade, which I try    
and set forth in correct tones so as to give nearly as possible an exact    
illusion of reality.  


(Credit: Art Gallery of New South Wales)
The critics around the same time were however making disparaging comments. A critic from The Age, 1924, wrote:
One would imagine from the little scenes that Miss Beckett has gathered,    
in the name of Australian art, that Australia was in a continual state of  
fog – all kinds of fogs – pink, blue, green and grey with an occasional 
mist that surely was never on land or sea. Miss Beckett is probably 
feeling her way through the fogs and no doubt she will […] at least rise 
above the dreariness which characterizes her paintings at present.
(Credit: Wikipedia)

The Bulletin described her paintings as "fogbound art" while the Sun's 
critic claimed that Beckett *obscured individuality, she being temporarily 
of a cult, which muffles everything in a pall of opaque density*. Another 
wrote that her paintings were a *dull reiteration of nature. (wsws.org)

Thankfully Beckett disregarded these harsh and superficial criticisms as part of a factional campaign against her mentor Meldrum and vigorously applied herself to her art. The more perceptive critics hailed her work as ground breaking, some describing her as the most original painter in Australia. (nga.gov.au)
While painting the wild sea off Beaumaris during a big storm in 1935, Beckett developed pneumonia and died four days later in a hospital at Sandringham. She was buried in the Cheltenham Memorial Park (Wangara Road) not far from another noted female artist, May Vale. She was only 48 when she died, the year after her mother's death. (en.wikipedia)
I am so enamoured by Clarice Becket that I will endeavour to find her headstone in Cheltenham cemetery and leave some carnations for her.


(Credit: aasd.com.au)
As a side point, it was Clarice Beckett's grandfather, Scotsman John Brown who built Como House in South Yarra Melbourne. Originally it was four rooms, the ball room and the second floor built at later stages.


(Credit: National Trust)