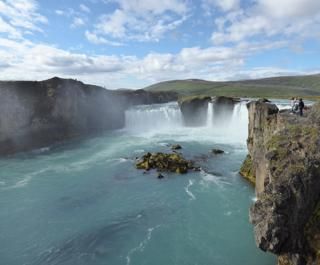 Iceland is known as the land of ice and fire – a mix of lunar deserts, thundering waterfalls, erupting volcanoes, towering snow-capped mountains and majestic fjords.
You may think the photos above are perhaps Niagara Falls, Old Faithful in Yosemite Park or a blissful scene in Austria or Switzerland, but all were taken in Iceland.
60% of Iceland's population of 300,000 live in Reykjavik and an incredible 2.3 million tourists visit each year, yet there were few people around as I circled the island on a 10 day tour in 2017. So let's escape together to Iceland.
We spent one night in a guesthouse at the foot of Eyjafjallajökull – the volcano that caused enormous disruption to air travel across western and northern Europe in April 2010. As you can see below it slumbers benignly as horses graze in the fields and we heard billy goats nearby.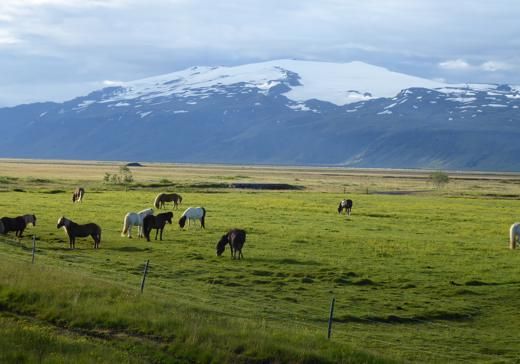 It was easy to see why Iceland meets virtually all its needs for electricity and heating from hydro, wind and geothermal power and a world leader in sustainable energy development – every day we visit a different waterfall – all are mighty with waters thundering over cliffs, often the ground shudders under our feet well before we see the waterfalls.
Below clockwise from top left:
Gullfoss double waterfall on the Hvita River, was very impressive, named 'golden waterfall' as there is usually a rainbow, which we were fortunate to see.
Dettifoss – hidden in a craggy valley – the mist rising from the most powerful glacial waterfall in Europe.
Seljalandsfoss - a narrow cascade dropping 60 metres over the cliffs of a former coastline and we take in a unique view from behind the waterfall.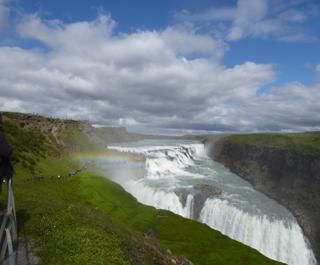 Glaciers also abound in Iceland - breathtaking in their grandeur.
Below - Vatnajökull, Europe's largest glacier snakes through majestic cliffs. Rather than undertake the steep descent to Svartifoss waterfall, which tumbles over black basalt columns, I walked with a fellow traveller to Skaftafellsjökull - perching on a rocky ledge to eat our lunch viewing one tongue of this amazing glacier.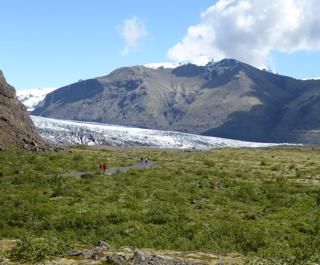 Then onto Svínafellsjökull below, yet another arm of the same glacier, but quite different with ice sculptures and deep crevasses, the lake shimmering in the sunlight. Hvannadalshnúkur rises above it all, the highest mountain in Iceland, yet a ¼ size of Mt Everest. The clouds skimmed elusively across the peak.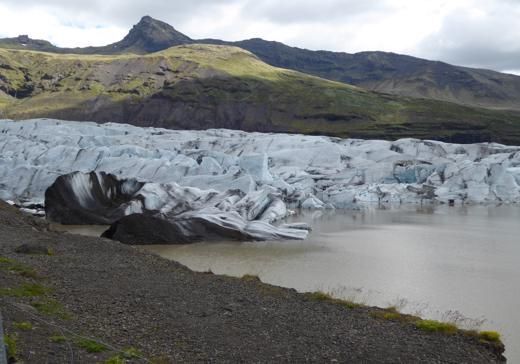 Legends and sagas abound in Iceland with quirky statues of trolls in Reykjavik and many gift shops. We visited Dimmuborgir, a city of rocks, the result of lava flows and home to Gryl and Leppaludi, allegedly vicious trolls.
Legend has it their 13 sons, Icelandic Yule lads sleep all summer in the caves and then emerge to prepare a Christmas feast as the mist hugs the craggy hillocks. All the brothers have unusual names to reflect their favourite foods or interests - Spoon Licker, Sausage Swiper, Skyr Gobbler (Skyr is Icelandic yogurt), Noisy Door Slammer; we checked around - the legend must be right - we didn't see any sign of them!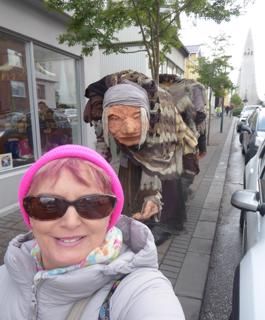 Reykjavik, Icelandic for smoky ground is the world's northernmost and smallest capital city, even ducklings wander the streets in perfect safety. Surrounded by volcanic peaks and crystalline ocean, it boasts a vibrant arts and nightlife scene.
A stylish city and a pleasure to wander the streets and laneways of this sweet, tidy and friendly city, passing the eclectic mix of architecture and delightfully coloured houses.
Below clockwise from top left:
Enjoying the local bar scene; Harpa Concert Hall; the ducklings; Puffins adorn stockings and socks;view of Reykjavik from the Hallgrimskirkja Church; hot springs which meet all the needs of Reykjavik; A local joke - the hot water is a bit smelly!; quirky street paving.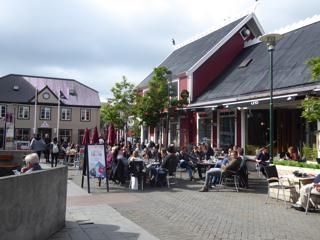 A unique landmark (below), the Hallgrimskirkja Church stands tall, named after the 17th-century clergyman Hallgrímur Pétursson, author of Hymns of the Passion. The interior sleek and simple, its stepped concrete facade a reminder of the Icelandic landscape.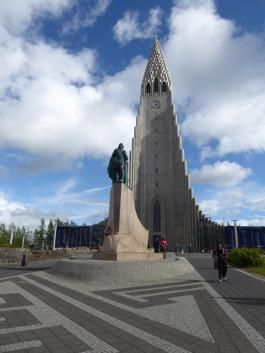 Travelling to the south we marvelled at the country's renowned natural wonders. The amazing stepping-stone basalt rock formations of Reynisdrangar and night black sand beach Reynisfjar, with sea stacks, resembling trolls rising out of the waters.
Then onto the sea bird colonies by the promontory of Dyrhólaey (below), rich in birdlife and Iceland's southernmost point. Our guide doubted we would see puffins, but to our great excitement, our luck was in and I snapped a photo with my small camera.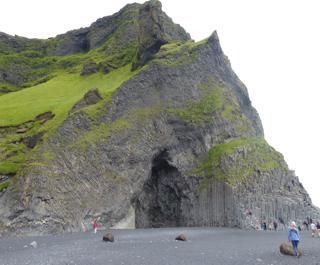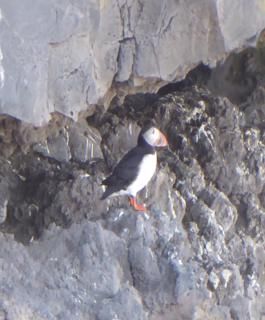 The dramatic landscapes changed again as we arrived at Diamond Beach (below). The black sands sparkle, dotted with diamonds - well actually they are small pieces of ice - remnants of the icebergs we see just offshore and melt into all manner of sculptures.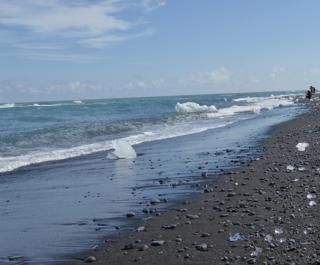 Just inland the source of the icebergs is found - the glacial lagoon of Jökulsárlón (below). We could see why it was used in many movies including two James Bond films: The opening scene for A View to Kill in 1986 where Roger Moore snowboarded down a hill and killed the population of a small Siberian town and Die Another Day, featured a consistent ice theme throughout: Pierce Brosnan encrusted the enemy's skull with diamonds (ice), and the gigantic ice castle on a frozen lake were among the many scenes shot here.
Dark clouds billowed overhead, huge icebergs all around, surreal silhouettes with a backdrop of yet another glacier.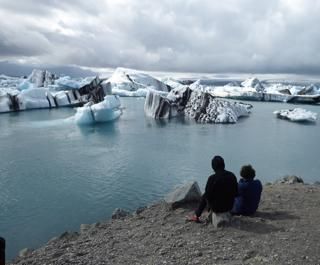 A complete contrast when we arrived in Akureyri (below), the capital of the north, perched picturesquely by the edge of a fjord. A small cruise ship was in port and we had a chance for some shopping – however everything in Iceland is very expensive!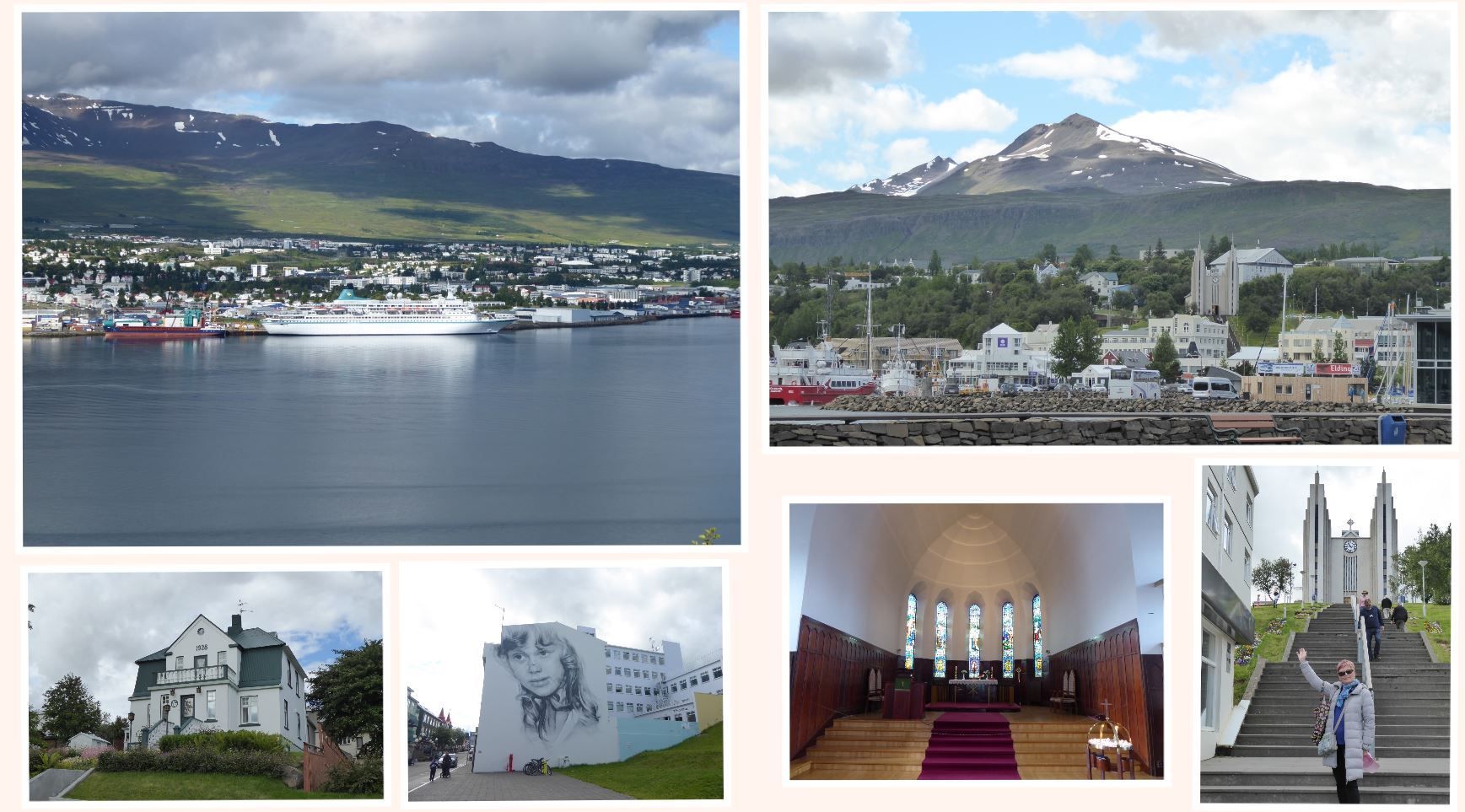 We enjoyed a walk through the botanical gardens (below) and dropped into the Catholic Church (above) lording it over the town, with beautiful stained-glass windows - apparently acquired on the black market from Coventry in England during the war.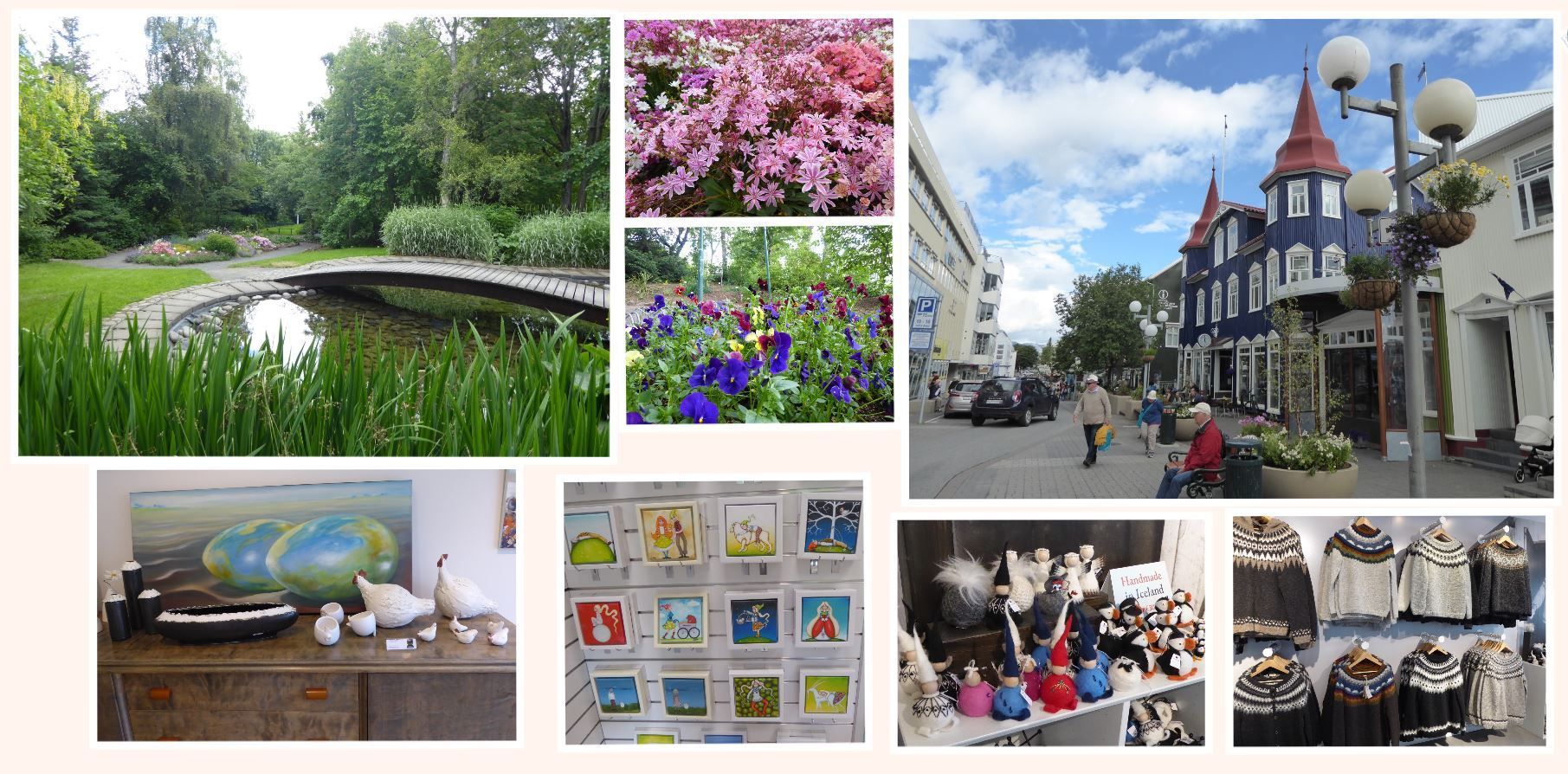 We drove past ever changing vistas as shown below. Seaside fishing villages, turf houses, breathtaking snow capped mountains, a quirky sculpture, a restaurant with one wall designed to be a library shelf (Icelanders love to read and there is a saying that every Icelander will write at least one book): and Icelandic ponies.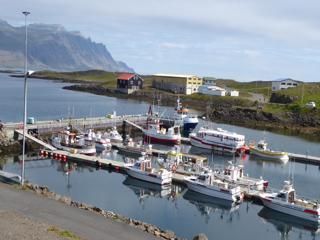 Visiting in the summer means we have no chance to see the Northern Lights. The Aurora Museum in Reykjavik has the next best thing (below) - a mesmerising time lapse film highlighting the changing colours and hues of this spectacular sight.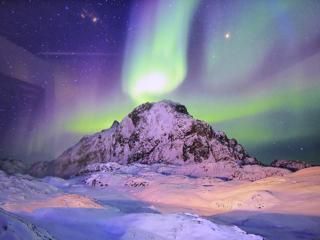 There is also little chance to catch the sunset as in July this occurs around 3am. Quite weird to wake up in the middle of the night to find its still daylight outside. During one night I captured the photos below.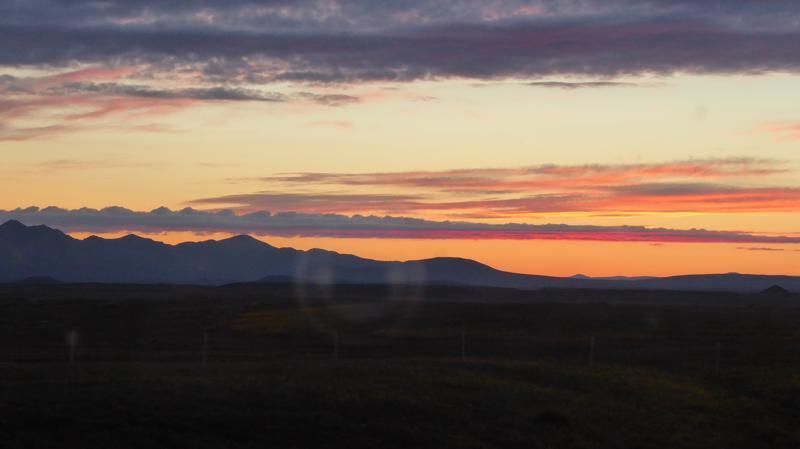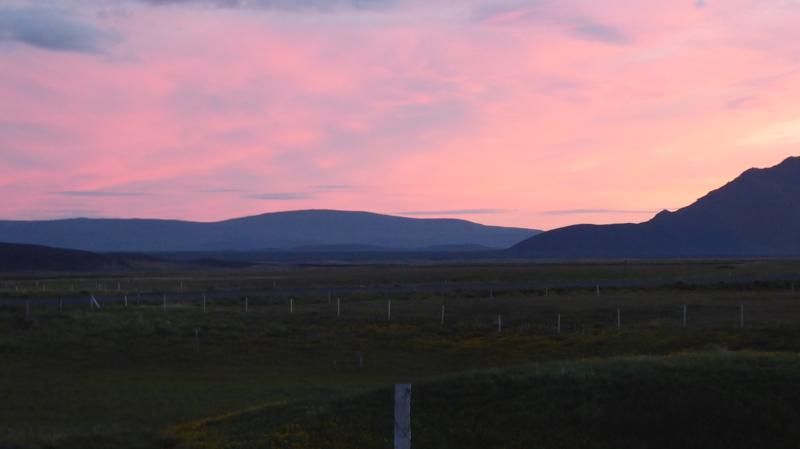 As you can see Iceland presents a fascinating escape - filled with breathtaking and majestic landscapes – glaciers, waterfalls, hot springs, snow-capped mountains, volcanos, barren lava fields, lush green meadows and tranquil lakes with a rich medieval culture and abundance of creative artists.
All photos are my own.