Alma Doepel – Off Maria Island by Robert Carter
We continue our series on the marvellous paintings by Robert Carter OAM, FASMA, FISMP of the sailing ship era and recently published in The Marine Paintings of Robert Carter1.
Robert is one of Australia's leading marine artists and is also joint founder of the Australian Society of Marine Artists with Dean Claflin.2 You can read more about Bob's biographical information by clicking here.
In this publication Bob has presented his paintings in five parts and we will follow this same format. At the moment we are admiring and learning about the ships from Part One: Maritime Australia and it is the turn of one of my favourite sailing ships - the Alma Doepel. Those of you who live in or know Melbourne will most likely recognise Alma Doepel as she has spent many years off and on berthed in Melbourne whilst undergoing restoration.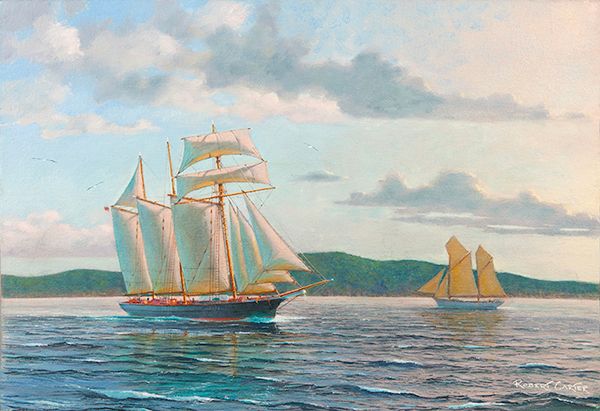 Robert Carter fills us in on the background:
The Australian topsail schooner Alma Doepel heading north to Melbourne, off Maria Island, on the east coast of Tasmania.
Alma Doepel was built at Bellingen NSW, in 1903, by Frederick Doepel, a local businessman who named her after his youngest daughter. She traded across the Tasman from ports on the NSW coast until 1917, when she was bought by Henry Jones, owner of the IXL canned fruit and jam factory in Hobart.
Dudley Turner, a seaman in her crew, related the following to me.
'My uncle took me to see Henry Jones, with a view to getting me a position in one of his ships. He was a real gentleman and highly respected around Hobart. He owned the IXL jam factory and had other business interests, such as timber. The story goes that he started his business empire by mixing up jam in his household copper (washtub).
He said that I could join the Alma Doepel on the Melbourne run, which I did in 1918. She had four seamen, a cook and mate in the crew. The skipper's name was Harry Heather (pronounced Heether) and he was something of a legend on this coast. He was an exceptional seaman, although he only had a coastal ticket. We called it a blow fly ticket. He had the nickname Spring Bay Harry, from his practice of putting into one of the small east coast ports whenever he thought bad weather was coming? He had a sixth sense in that regard.
The mate, Harry Brown, who had a foreign going Masters ticket was rather scornful of this and reckoned that we should have ridden out the storm at sea. The old man's judgement was always correct, and we never sustained any damage? Of course, there might have been an ulterior motive, as whenever we were sheltering in one of these ports the skipper would go ashore and catch the train back home for a few days. The mate was an exceptional seaman and had once been mate in the Australian barque Wild Wave.'
'I never noticed any charts or formal navigation taking place. When we sailed from Hobart we turned left and headed off to Melbourne. We always got there. We often took 12 inch by 12 inch hardwood fliches to Melbourne as well as canned jam. We brought back general cargo.
The hull had two centre boards, one forward and one aft that we lowered when sailing. The deck and most of the fittings were painted a port wine colour which was standard for ships on the coast. We had a one hundred horsepower Frisco oil engine that was used for entering or leaving port. I functioned as engineer on these occasions, even though I was engaged as a seaman. The engine flywheel had a series of holes around the outside, A tommy bar was inserted into a hole to kick the engine over. It often backfired and threw the bar out with enough force to embed it in the hull planking.
The skipper and most of the crew were hard drinkers. I remember one trip from Hobart to Tarana when the whole crew was drunk, and l was the only sober one on board. I was left at the wheel all night while everyone sobered up below.
On an earlier voyage Alma Doepel brought a cargo of wine from Adelaide. Of course, there were the usual 'broken crates' and everyone got stuck into the wine. and did not keep an eye on the weather. They were hit by a sudden squall and most of the sails were carried away. Harry and the crew had to sow more sails from wheat bags that they were carrying to enable them to reach their destination.'
Alma Doepel has just had her second major re-fit; the first took place in the late 1970s. 3
© Thank you to Robert Carter who kindly gave permission for the image of his work to be shared on AnArt4Life.
Please check out the Robert Carter Website.
And also the site for the Marine Artisits Australia.
The next glorious vessel in our Robert Carter Marine Series will appear in about a week.
Credits
1. The Marine Paintings of Robert Carter , Published in Australia by Robert Carter Maritime, Gosforth NSW, 2320, Australia, 2022
2. Correspondence with Robert Carter
3. robertcarter.com.au