A Sense of Place Part Three: En Plein Air Replaces The Studio
This is the third post I have written on A Sense of Place. Today we beging to examine a little about painters who liked to work en plein air rather than in their studio.
Personally I like to paint in my studio. I'm not that keen on working outside mainly because I like to paint in oils and it is a huge effort to lug a box of oil paints and all the equipment. And at the end of the day you have a very "wet" painting that has to be carefully transported home as oil paints take months to dry. I also have to admit that I find it hard to concentrate outside as I become too preoccupied with taking in the environment and can't get started on canvas or sketchbook.
Most of my paintings I make up from images I carry around in my head - a compilation of places I have seen, places that have significance to me. But I have painted a couple of au plein air works. One glorious day I produced a very green painting of our wonderful Royal Botanic Gardens, Melbourne.
Royal Botanic Gardens, Melbourne by Anne Newman
But if I am painting a scene such as a landscape I prefer to absorb the environment, take some photos, and return to complete the painting in my studio. Below is Escarpment painted after I spent some time in our glorious Grampians in Western Victoria.
Escarpment by Anne Newman
Importantly an artist must have the right environment to feel completely at one with the creation in progress. Before an artist creates a work of art they need to construct the right relationship between them and their spatial setting.
The other day you saw the latest painting of Australian artist John Pickup OAM. Most of John's paintings are of outdoor scenes: the Australian desert, outback, or a Queensland beach. All (to my knowledge) have been painted in his studio which is where he finds the right relationship between what he wants to paint and the canvas.
So let's see if we can find out a little about some of the famous painters and their sense of place in other words to en plein air or not.
The term en plein air literally means out of doors and refers to the practice of completing a whole painting out of doos. Before this became a popular way to paint landscapes painters did work outside but only to create sketches which would then be turned into the finished product in the artists' studios.
The English painter John Constable (1776-1837) is credited with being the first to paint entire landscapes but en plein air was really popularised by the Impressionists which we will come to in a moment. First let's take a look at some of the idyllic English landscape paintings created by Constable in what is termed the Romantic tradition.
Born in Suffolk, he is known principally for his landscape paintings of Dedham Vale, the area surrounding his home – now known as "Constable Country" – which he invested with an intensity of affection. "I should paint my own places best", he wrote to his friend John Fisher in 1821, "painting is but another word for feeling". (en.wikipedia.org)
Here are three of Constable's paintings of Dedham Vale.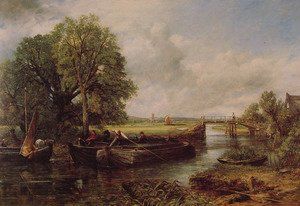 And below is a bookmark linking to Constable's works for you to escape into if you so desire. A walk down an English lane or across a field is always a good way to ease a troubled brow.
But back to a painter's sense of place for creating a work of art. While Constable was out in his English fields happily painting away, over the English Channel in France in the 1860s, a revolution was beginning: a new art movement was forming at the hand of four young painters who had met while studying in Paris with the Swiss born academic artist Charles Gleyre (1806-1874) who had taken over the studio of Paul Delaroche (1797–1856). And do you know the names of those four young painters who were to change the art scene across the world for ever?
I'm sure Claude Monet (1840-1926) is the first to come to mind.
After the outbreak of the Franco-Prussian War (July 19, 1870), Monet took refuge in England in September 1870. While there, he studied the works of John Constable and Joseph Mallord William Turner, both of whose landscapes would serve to inspire Monet's innovations in the study of color. (en.wikipedia.org)
Next you will name Pierre-Auguste Renoir (1841-1919) especially as Julie has just shown us what a remarkable painter in the Impressionist style he was.
And most of you will also know the paintings of Alfred Sisley (1839-1899): I think my favourite amongst the early Impressionsts.
But the fourth artistic radical was Frédéric Bazille (1841-1870) who was a failed medical student, took up painting but died at 28 years in the Franco-Prussian War. Bazille came from a wealthy family and used his wealth to support his less fortunate associates by giving them space in his studio and materials to use. (en.wikipedia.org)

(wikiart.org)
These four artists discovered that they shared an interest in painting landscape and contemporary life rather than historical or mythological scenes. Following a practice that had become increasingly popular by mid-century, they often ventured into the countryside together to paint in the open air, but not for the purpose of making sketches to be developed into carefully finished works in the studio, as was the usual custom. By painting in sunlight directly from nature, and making bold use of the vivid synthetic pigments that had become available since the beginning of the century, they began to develop a lighter and brighter manner of painting that extended further the Realism of Gustave Courbet and the Barbizon school. A favourite meeting place for the artists was the Café Guerbois on Avenue de Clichy in Paris, where the discussions were often led by Édouard Manet1, whom the younger artists greatly admired. (en.wikipedia.org)
Soon these artists were joined by Camille Pissarro (1830-1903),


(tuttartpitturasculturapoesiamusica.com)
Paul Cézanne(1839-1906),


(pariscultureguide.com)
And Armand Guillaumin(1841-1927)


(historyofpainters.com)
And so Impressionism was born as was en plein air all made possible by the production of paint in tubes! Up until this invention painters made their own paints by grinding and mixing dry pigment powders with linseed oil, a much more laborious and messy process. (tate.org.uk)
We will return to look at all of these artists at some time but for today you might like to check out this article on capturing a sense of place through the works of William Merritt Chase (1849-1916), is the big daddy of American Impressionism and Maynard Dixon (1875-1946) who was most at home in the desert.
Footnote:
Édouard Manet (1832 – 1883) was a pivotal figure in the transition from Realism to Impressionism.