A New Gold Nugget for Bendigo
I loved the way Caroline wrote about the Exhibition Nuggets that are found at the Bendigo Art Gallery. As a fourth generation Bendigonian I know all about the discovery of gold and the wealth it brought to Bendigo which was the wealthiest gold field in the world at the height of the rush in the 1850s. One of my great grandfathers William Lunn not only owned a very successful Paint and Decorating business he was a director of a gold mine and so he knew only too well the meaning of finding gold nuggets in all kinds of ways.
When my grandmother's house in Bendigo was finally demolished a couple of years ago, under the hundred plus years of paper which had been plastered to the walls for covering, was the original wall papers imported by my great grandfather William Lunn to sell in his Paint and Decorating business.Those that decided to settle in the gold mining town looked back to the Mother Countries of Europe for guidance in fashion both on their bodies and in their homes.
I'm going to do a post on wallpaper as it is quite fascinating. But in the meantime as we look at the Nuggets in Central Victoria, I imagine these early settlers, or at least their wives, would have liked something pretty to contrast with the harsh and often cruel environment which was now their new homeland.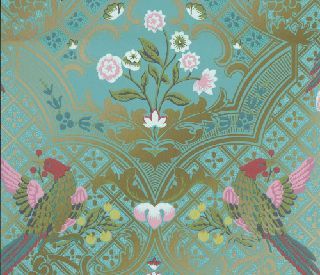 Architect and Heritage Consultant Amanda Jean said in her report for the City of Greater Bendigo titled Ironbark Heritage Study 2010 (Vol 1) that:
Cities are like jewels, visible treasures of human action and development. As social stories they mark territory. They become counterpoints in the landscape, signifers of culture created by generations and generations of people, both in their single and collective existences.
Whilst acknowledging the Sporting Prowess of Bendigo and the many famous sporting heroes who have this wonderful city as a birthplace, for me it is The Bendigo Art Gallery that binds the community together and shouts out to the world: come and visit us because we are one of the oldest and largest regional galleries in Australia and offer world class exhibitions.
Caroline is going to showcase the latest exhibition Tudors to Windsors very soon. But I must tell you that I met Queen Elizabeth 11 in Bendigo in 1954 along with 16,000 other school children. You can just pick me out in the second row, third from the right!!!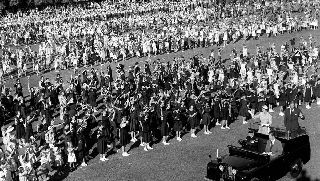 Bendigo's latest nugget is Jessica Bridgfoot who has been appointed as the new Director of the Bendigo Art Gallery. Thank you to D of Bendigo for sending me the news flash of the appointment.
Ms Bridgfoot joined the Gallery in 2016 as a curator and her major achievements include securing funding for a First Nations Curator and managing a major repatriation project with the Dja Dja Wurrung, successfully co-curating a range of innovative exhibitions including Myuran Sukamaran: Another Day in Paradise.
Ms Bridgfoot has curated the current exhibition Defining the Australian Ugliness and is the lead curator for the upcoming Balenciaga: Shaping Fashion exhibition. She is also responsible for program development and maintaining strong working relationships with reputable national and international arts organisations.