A good news story about Koalas
We are delighted to welcome another new subscriber to our art blog. A very warm welcome to FZ of Melbourne who has just joined our on-line art community where we aim to foster an appreciation of art through life.
During the bushfires in Australia last summer, we along with many people around the world adopted koalas being cared for by wildlife carers and organisations, one of the Koalas we adopted was 'Anwen.'
The wonderful volunteers at the Koala Hospital at Port Macquarie, located on the mid coast of NSW emailed us with this great news story. (Text and photos courtesy of Port Macquarie Koala Hospital
Anwen who was one of the first female koalas brought into the Koala Hospital as a result of the devastating bushfires which ravaged the Mid North Coast of New South Wales and many other parts of Australia.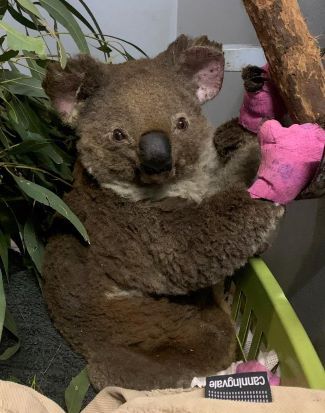 Anwen is about 4-5 years old, and had badly burnt hands, feet, arms and fur. For months she sat quietly in a basket in an intensive care unit. When it was decided her wounds had healed enough to no longer need dressing she was moved to an external, rehabilitation yard. Although quiet, she was active, cheeky and enjoyed moving around her enclosure and eating leaf.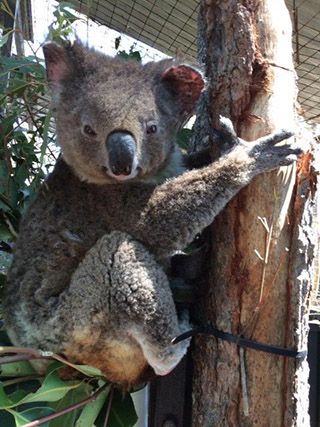 The current times are very challenging for everyone and we wanted to bring you a good news story to hopefully lift your spirits! Anwen was ready to go home and was released back to her home range on the 3rd April 2020 which has regenerated beautifully thanks to the rain.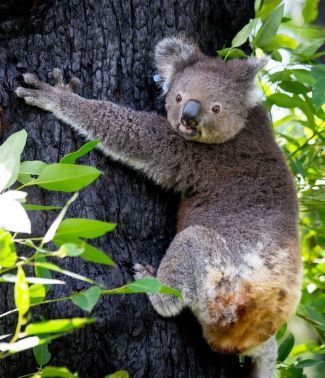 Below is a link to provide an insight into the horrendous conditions during the bushfires which some may find distressing, however it also highlights that in terrible times some courageous people go above and beyond to care for animals.
Below are links that beautiflly illustrates the positive outcomes when people join together to provide love and care to the powerless
Anwen just before her release
For those that may be interested to adopt one of the Koalas still requiring intensive veterinary care or see the wonderful work carried out at the Koala Hospital we have attached the link below.
https://www.koalahospital.org.au/
Tomorrow we will answer all those questions you have had about Koalas and may be tell you some things you did not think to ask.