A Fine Quartering Wind : the four-masted barque "Lawhill" by Robert Carter
Robert is one of Australia's leading marine artists and is also joint founder of the Australian Society of Marine Artists with Dean Claflin.1 You can read more about Bob's biographical information by clicking here.
In The Marine Paintings of Robert Carter Bob has presented his paintings in five parts2 and we will follow this same format. Today from Part Three: The Erikson Era and the Grain Ships we will showcase Robert's wonderful painting of the beautiful 4-masted barque Lawhill.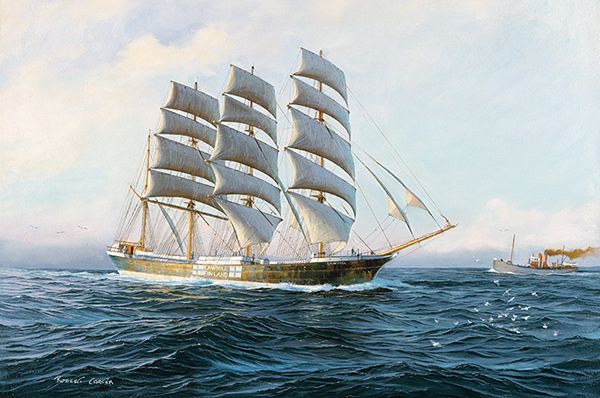 One of the best-remembered ships of the Erikson Fleet, the 4-masted barque Lawhill moves before a steady fair wind, on her last voyage from Europe in 1940; the Finnish flags painted on her sides hopefully indicating her neutrality to marauding U-Boats.
Lawhill acquired her sobriquet 'Lucky Lawhill' for several reasons – she traded through two world wars unscathed, returned her purchase price to her owner, Gustaf Erikson, after her third voyage and is recorded as never having killed a man although I was told by Bill Demerall, a seaman in her crew, that a seaman, returning on board in Cape Town, fell into the harbour and drowned. Built in Dundee in 1892 for the jute trade, she had a near sister, Juteopolis.
This last outward voyage took her to the Seychelles to load guano for Auckland, thence to Port Victoria to load grain for South Africa. She arrived at East London in July 1941. By this time the non-aggression treaty signed between Germany and Finland had made her, in the eyes of the allies, an enemy vessel. She was seized as a war prize and thereafter traded between South Africa and Australia.
Most of her Finnish crew remained with her, including her master, Captain Artur Soderlund. He had taken his wife, Elize and daughter Doris on the 1940 voyage to escape the Winter War with Russia and they remained on board for the next seven years.
Lawhill was not returned to Finland after the war and continued trading until 1948. Plans to convert her into a training ship did not eventuate and she was towed up the Tembe River in Mozambique, where she was pillaged by local inhabitants. She was finally broken up in 1956.2
© Thank you to Robert Carter who kindly gave permission for the image of his work to be shared on AnArt4Life.
Please check out the Robert Carter Website.
And also the site for the Marine Artisits Australia.
The next glorious vessel in our Robert Carter Marine Series will appear in about a week.
Credits
1. Correspondence with Robert Carter
2. The Marine Paintings of Robert Carter, Published in Australia by Robert Carter Maritime, Gosforth NSW, 2320, Australia, 2022
3. robertcarter.com.au