The vibrance of Gustav Klimt!
Today we will continue on from yesterday's post, and look at some of Gustav Klimt's most well known works, which came from a period known as his "Golden Phase".
This started around 1898 with Pallas Athene, and was further inspired by the beautiful Byzantine mosaics Klimt saw in the Basilica in Ravenna, Italy, in 1903. He used gold leaf extensively in many geometric decorative elements which characterised his new style.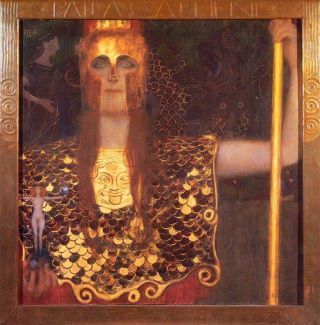 In the early 1890s Klimt met Austrian fashion designer Emilie Louise Flöge, (a sibling of his sister-in-law), who was to be his constant companion until the end of his life, even though she was twelve years younger than he.
His painting, The Kiss (1907–08), (above right) is thought to be an image of them as lovers. However, in other reports he and Emilie were thought not to be lovers, and perhaps this is how they were able to maintain a lifelong relationship and friendship, whilst many others came and went!
Gustav designed many costumes that Emilie produced, and she even modelled for some of his art works.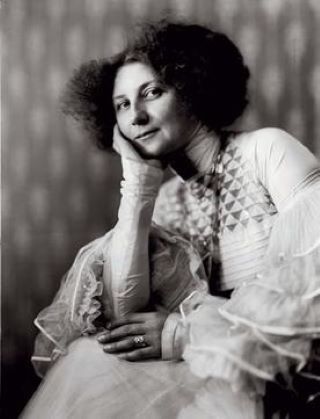 Over the years, many of Klimt's works have been the subject of controversy. Some, for being "erotic and pornographic". But others have been surrounded by mystery and intrigue. Caroline has mentioned one in her blog The Gustav Klimt Mystery.
Also, during World War II, two paintings of Adele Bloch-Bauer, called "I and II", and several other Klimt paintings belonging to the wealthy Bloch-Bauer family were confiscated by the Nazis. They were patrons of the arts and had a knowledgable, discerning collection.
Eventually, after the war, these works were added to the collection of the Österreichische Gallery in Vienna. Then, years later, they became the focus of a lengthy legal battle instigated by Adele's niece, Maria Altmann. In 2006 they were finally returned to the family. Later that year Adele Bloch-Bauer I was sold to the Neue Galerie in New York City for a then-record price of $135 million, and Oprah Winfrey reportedly bought Adele Bloch-Bauer II at auction at Christie's in 2006 for US$87.9 million. According to Bloombergs, she sold Adele Bloch-Bauer II to a Chinese buyer in 2016 for $150 million!
Maria Altmann and her international struggle to recover the paintings for their rightful heirs was the subject of a book by journalist Anne-Marie O'Connor called The Lady in Gold, and a 2015 film called The Woman in Gold (starring Helen Mirren). Perhaps you are familiar with one of these?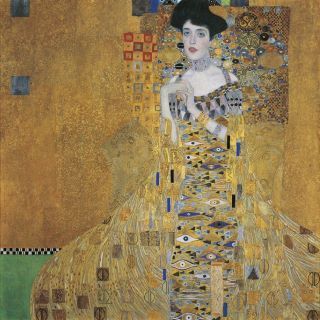 I was privileged to see the Van Gogh exhibition at L'Atelier des Lumieres when I was in Paris in September 2019,1 which was the second exhibition held there.
This huge building was previously a smelting plant. You walk into a totally dark, enormous shell. The only light is that of the slideshow itself, projected on to every available surface of walls, ceiling and floor by 140 video projectors hung from scaffolds and gantries. The walls are 10 metres high, surrounding a huge space with plenty of room to walk around to gain different views, or to just sit along the walls or even on the floor itself, to soak it all in.
It's 3,300 square metres that is constantly moving and changing. The dark silhouettes of the people look small and insignificant and only add to the impact of the whole experience.
The opening exhibition of L'Atelier des Lumieres in Paris in 2018 featured the magnificence of Gustav Klimt.
Here is a short clip of that Klimt exhibiton. Enjoy!
If you would like to see the complete works of Gustav Klimt, click here.
Footnote:
If you would like to read our two blogs about the Van Gogh exhibition at L'Atelier Lumieres, click on the bookmarks below.