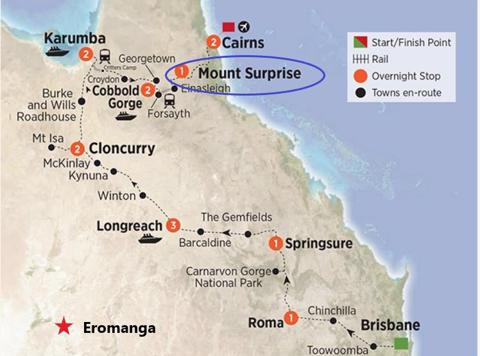 During my tour of outback Queensland we visited the Undara lava tubes which are the largest of their type in the world and located near Mt Surprise - marked on the map above.
The lava tubes are situated on Rosella Plains Station, the family holding of Gerry Collins. Gerry believed the best way to protect these dramatic, ancient formations for future generations lay in developing a sustainable visitor experience, managed to lessen the environmental impact but highlight the unique ecology and geology of the cave system.
Working closely with regional and state government bodies, the Collins family proposed a national park should be gazetted and tours to the lava tubes be accessed from a lodge facility managed by the family.2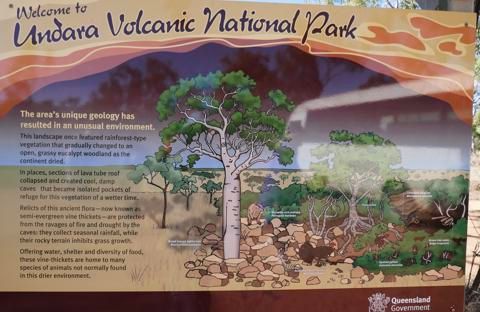 Millions of years ago this was lush rainforest with many active volcanos. Eruptions produced 23 billion cubic meters of slow moving lava spreading over land with little gradient, taking up to 10 years to cool.
As the exterior cooled, the lava inside continued to flow, which formed the large lava tubes today. Many are hard to get too and filled with noxious gasses. We descended into 2, the board walks covering dry flat ground, with cathedral like rocky outcrops overhead.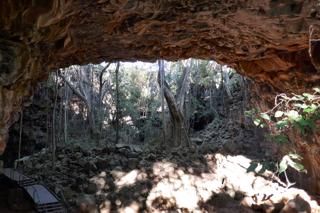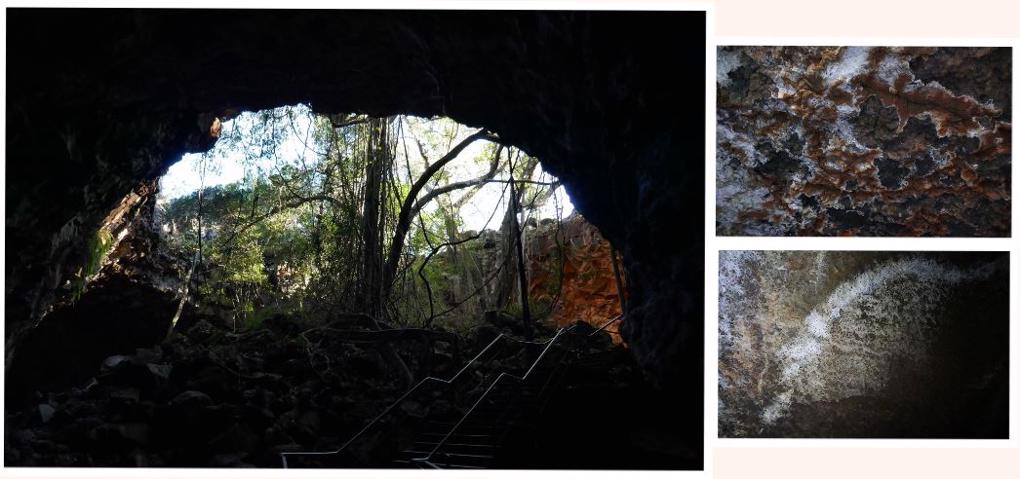 The main complex of the lodge is housed under a curved canopy - to mirror the shape of a lava cave, surrounded by re-purposed railway carriages used by diners.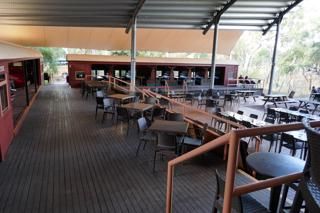 In December 1989, the theme of the Undara Experience accommodation was born when Gerry discovered eleven decommissioned Queensland Railway Carriages on a siding in Mareeba. The carriages were duly purchased and restored to provide the unique style of Eco-accommodation to enhance the Undara Experience.
In May 1990, the recycled turn-of-the century rail carriages were placed between the trees beside an old teamster's trail, preserving the ecology while allowing guests a uniquely personal experience of the Queensland bush.2
To our delight we were sleeping in re-purposed railway carriages. In the early evening we were serenaded by a myriad of birds and once night fell, the silence of the surrounding bushland.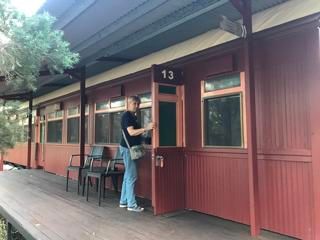 To start our morning we enjoyed a delicious bush breakfast - billy tea cooking our toast over the coals - its a skill to keep the bread from falling into the fire! A few Kookaburras hovered nearby, however we managed to avoid our bacon being stolen.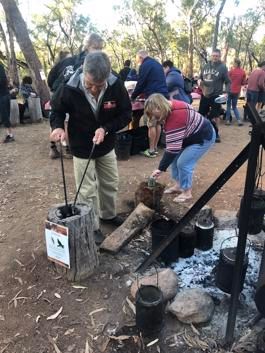 Join me tomorrow as we discover Cobbold Gorge.
Credits
1. My own photos
2. Undara.com.au