The avant garde Toulouse Lautrec
Yesterday we met the artist Henri Toulouse Lautrec, and some of the people who influenced his life and art, visible in his paintings, sketches and drawings.
I mentioned yesterday that he was also very important in the development of avant garde art, most noticeably through his work on posters!
As applied to art, avant-garde means art that is "innovatory, introducing or exploring new forms or subject matter", and his posters were certainly that at the time!
Moulin Rouge, the famous caberet and dance hall, opened in 1889. In 1891, Toulouse-Lautrec was commissioned to produce a series of posters to promote it. Whilst other artists dismissed this form of art as unworthy, Henri did not.
And who better to design such a poster than Henri, as he was so familiar with the attractions and dancers because he used to hang out at Montmartre so much.
One of the original posters is held at the Van Gogh museum in Amsterdam, and their website says this about it:
"In this poster, he depicts two artistes who performed regularly at the famous nightclub. The woman kicking her leg in the air is La Goulue ('the Glutton'), a celebrated cancan dancer who owed her nickname to the gusto with which she approached everything, from eating and drinking to dancing. Her dance partner in the top hat is Valentin le Déssossé ('Valentin the Boneless'), so called because of his supple moves. Lautrec presents them here as caricatures, with exaggerated facial features and poses." 1
"The abruptly cropped silhouettes of Valentin and the audience add to the dynamism of the composition. The deep black, the bright, solid colours and the playful typography also help make this a masterpiece." 1
"No fewer than 3,000 copies of this advertisement for the Moulin Rouge were displayed in the streets of Paris in December 1891. This poster, below, made Henri de Toulouse-Lautrec famous overnight and he quickly came to be seen as one of the greatest print designers of all time". 1
The poster is a lithograph in four colours on wove paper, and is quite large at 201 cm x 123.5 cm. It had to be printed in three parts. 1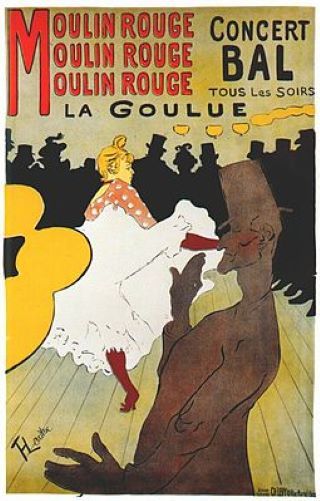 Henri became very sought-after to design posters following this initial success, and he liked the fact that they also enabled him to make a living of his own, on top of the income he received from his family.
He also designed Christmas cards, and covers for menus and programmes.
Other posters include caricatures of the singer Yvette Guilbert; the dancer Louise Weber, (better known as La Goulue (The Glutton), who created the French can-can); and the much subtler dancer, Jane Avril. 2
Toulouse Lautrec's style was also influenced by the classical Japanese woodprints, which became popular in art circles in Paris, and influenced many of the other Impressionists, particularly Monet, Cassat and Degas.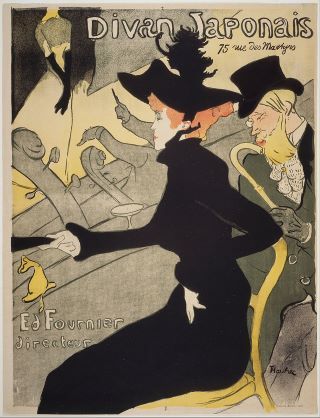 Toulouse-Lautrec's family were drawn to English culture and art, and Henri himself spoke English quite well. On one occasion, he travelled to London to make a poster advertising paper confetti and the bicycle advertising La Chaîne Simpson.
While in London, he met and befriended Oscar Wilde, the playwright. When Wilde faced imprisonment in Britain, Toulouse-Lautrec became a very vocal supporter of him, and his portrait of Oscar Wilde was painted the same year as Wilde's trial, in 1895. 2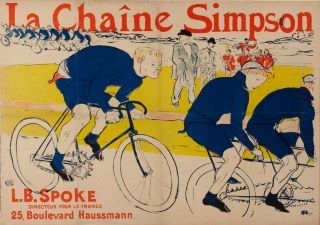 I think these posters are incredible, what do you think?
Even though they were created over 130 years ago, they are still perfectly suited to promotion and marketing today.
Indeed, they are very much sought after as decorative prints in today's modern world.
We have seen how versatile Henri was as an artist, as a painter, draftsman, lithographist and sketcher.
Which of his art styles is your favourite? His portraits? His paintings of landscapes and horses? His sketches and drawings? Or perhaps the ballet and caberet dancers of Montmartre?
Or perhaps, like me, it is his posters! .....
Footnotes
With thanks to the website of The Van Gogh Museum, The Netherlands.
With thanks to Wikipedia