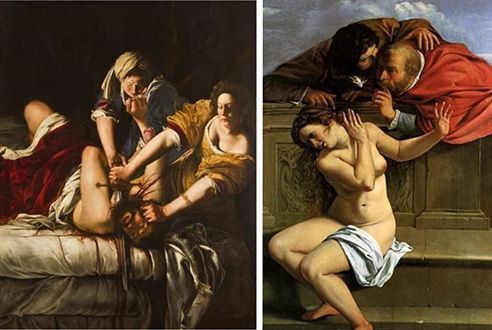 Artemisia Lomi or Artemisia Gentileschi (July 8, 1593 – c. 1656) was an Italian Baroque painter, today considered one of the most accomplished painters in the generation following that of Caravaggio. In an era when female painters were not easily accepted by the artistic community or patrons, she was the first woman to become a member of the Accademia di Arte del Disegno in Florence and had international clientele.
She specialized in painting pictures of strong and suffering women from myths, allegories, and the Bible—victims, suicides, warriors. Some of her best known themes are Susanna and the Elders (particularly the 1610 version in Pommersfelden) and Judith Slaying Holofernes (most famous is her 1614–20 version in the Uffizi gallery) and Judith and Her Maidservant (her version of 1625 at the Detroit Institute of Arts).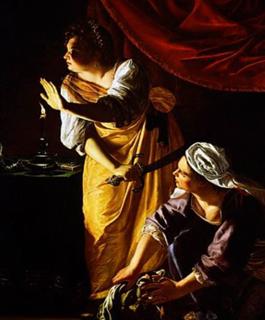 She was known for being able to convincingly depict the female figure, anywhere between nude and fully clothed. Artemisia was also famous for her skill and talent in handling color, both overall in the composition but also in building depth.
She was raped as a young woman by Agostino Tassi and participated in the prosecution of her rapist, which long overshadowed her achievements as an artist. A month after the trial, Orazio arranged for his daughter to marry Pierantonio Stiattesi, a modest artist from Florence.
They moved to Florence, where she became a successful court painter, enjoying the patronage of the House of Medici and Charles I of England.
Artemisia lived in Naples for a time. Like many artists of her day, Artemisia, being a good businesswoman as well as artist, had no qualms about producing various close versions of a painting for patrons who requested them.
There are apparently at least six other versions of David and Bathseda, but the version which was restored with the funding of Jane Fortune and Advancing Women Artists (AWA) is documented as hanging in the apartment of the Grand Duke in the Pitti Palace in 1662. As I mentioned a few days ago, large patches of paint were missing and Bathsheba's eyes had been compromised.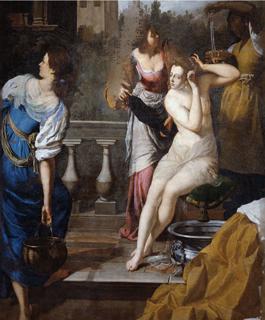 So how was the restoration completed? In 2007 Arttrav.com describes the challenge:
Conservators face a quandary with Artemisia Gentileschi's David and Bathsheba. If a damaged canvas by Artemisia Gentileschi needs extensive re-painting to fill patches of missing color, does it actually stop being a work by the artist?
This was the dilemma that plagued the group of dedicated women who gazed upon Gentileschi's damaged masterwork. They solved the quandary by using neutral tones to recompose the image. That way, they could trick the eye into seeing "the whole picture". Even Bathsheba's eye was not repainted (refer detail below) — which caused a bit of a controversy when the work was unveiled after a year and a half in the lab.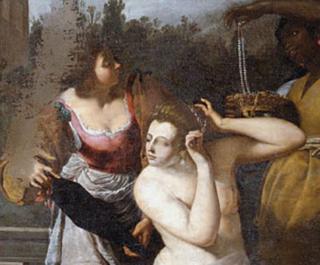 Advancing Women Artists describes the connection between the restorers and the artist as built while working on David and Bathseda:
Nicola Ann MacGregor, a Florence-based restorer from England shared her thoughts about the restoration that took the better part of two years to complete. "Anybody who came to the studio after we'd done all the filling was rather shocked, because they hadn't expected to find as much damage on Artemisia's David and Bathsheba.
We chose a brown tone that was going to be modified in light and shade, according to the colors that surround the paint loss. In all 38 years of my career as a conservator in Florence, this is the first time I have ever restored a painting by a female artist. Being a woman myself, of course, this enhanced the sense of 'bonding' nearly always established between the restorer and the author of the painting he or she is working on.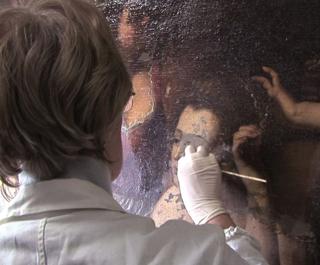 Footnote: Sadly despite great fanfare at its unveiling in 2008 at the Pitti Palace in Florence, it did not find a permanent place in the gallery and is again in storage – stored correctly now and no longer forgotten.
For many years Artemisia Gentileschi was regarded as a curiosity. Today she is regarded as one of the most progressive and expressive painters of her generation, further enhanced by the restoration work completed by AWA.
Artemisia Gentileschi is due to be celebrated at the exhibition at the National Gallery in London- 4 April – 26 July 2020.
Tomorrow Caroline takes over and we move to Australia with amazing Sheila Cruthers, another philanthropist of note.
Credit: Unless otherwise stated details taken from Wikipedia