Waning Crescent Moon vs Waxing Crescent Moon
Artists need to make so many decisions. I wonder if Dali (1904 - 1989) procrastinated between a waning crescent moon vs waxing crescent moon or was it a decision without much thought?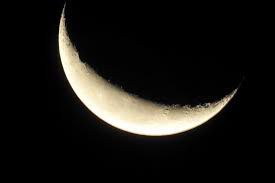 Whatever the thought process, how amazing is "Dreams of Dalí"!
The following pictures are from a virtual reality experience created by ad agency Goodby Silverstein & Partners, of Dalí's 1935 Archaeological Reminiscence of Millet's Angelus, for Disney and Dalí: Architects of the Imagination.
When you first parachute into the virtual reality landscape of Dreams of Dalí, you find yourself in a vast desert, staring up at two impossibly tall statues—an amorphous man and woman, heads bowed in prayer. The two figures are the central subjects of Archaeological Reminiscence of Millet's "Angelus" which Salvador Dalí began painting around 1933 and is based on Jean-François Millet's French realist painting, The Angelus, from 1859 shown below.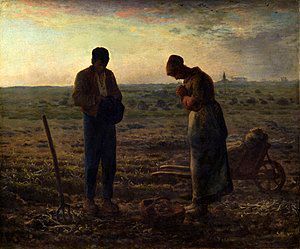 "We want to be that ant, that's staring at these towers," says Sam Luchini, a creative director at GS&P. "The lonely feeling, of you being in the middle of the desert and finding those gigantic towers" is the sensation the creators wanted to summon with Dreams of Dalí, which works with Oculus Rift and is part of the Disney and Dalí: Architects of the Imagination.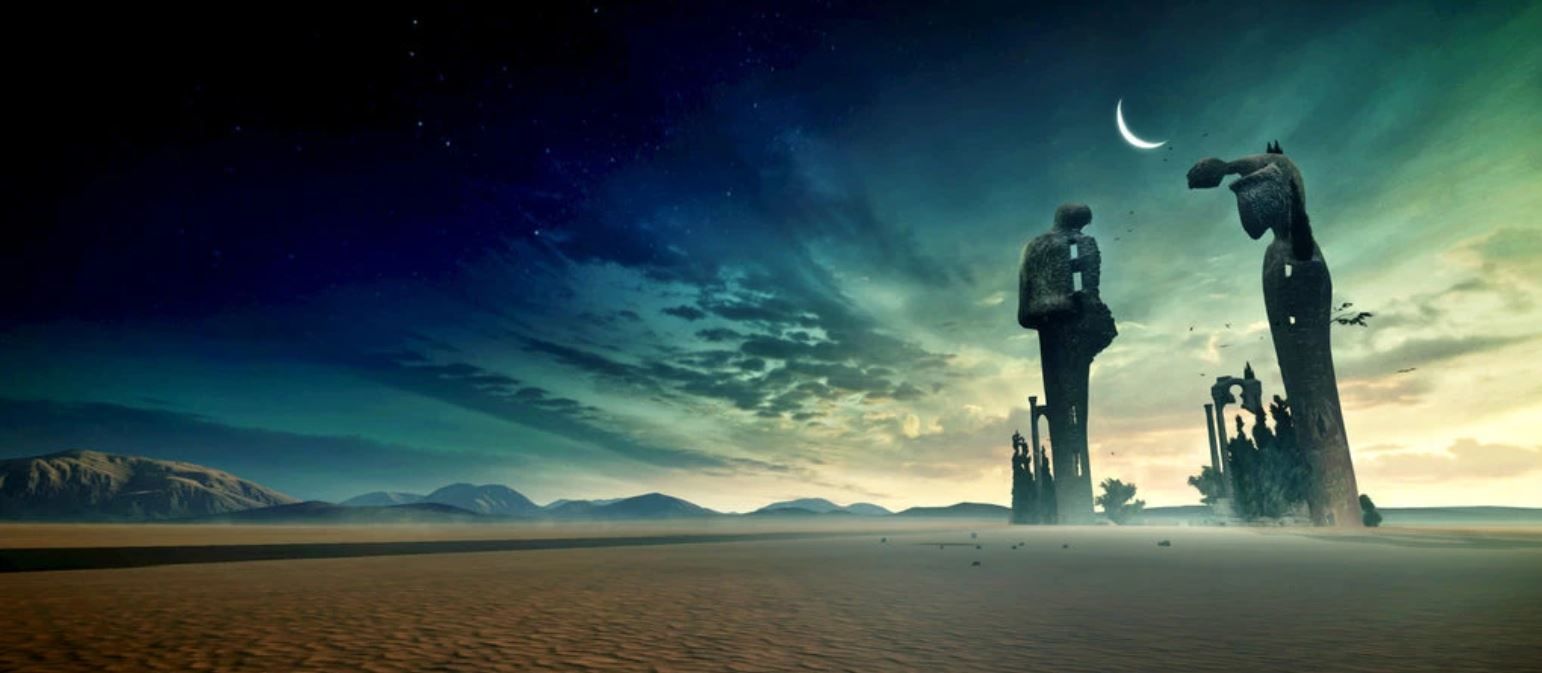 The waning crescent moon features in this 3D sci-fi view of Dali's work
Goodby Silverstein & Partners, the creative agency behind this virtual reality experience for an exhibit at The Dalí Museum in St. Petersburg, Florida, chose this painting carefully: In the foreground of Dali's original painting is a tiny silhouette of a man and a child. The child is Dalí. The man is his father. In Dreams of Dalí, you become a viewer and a visitor, a third inhabitant of the surreal dreamscape.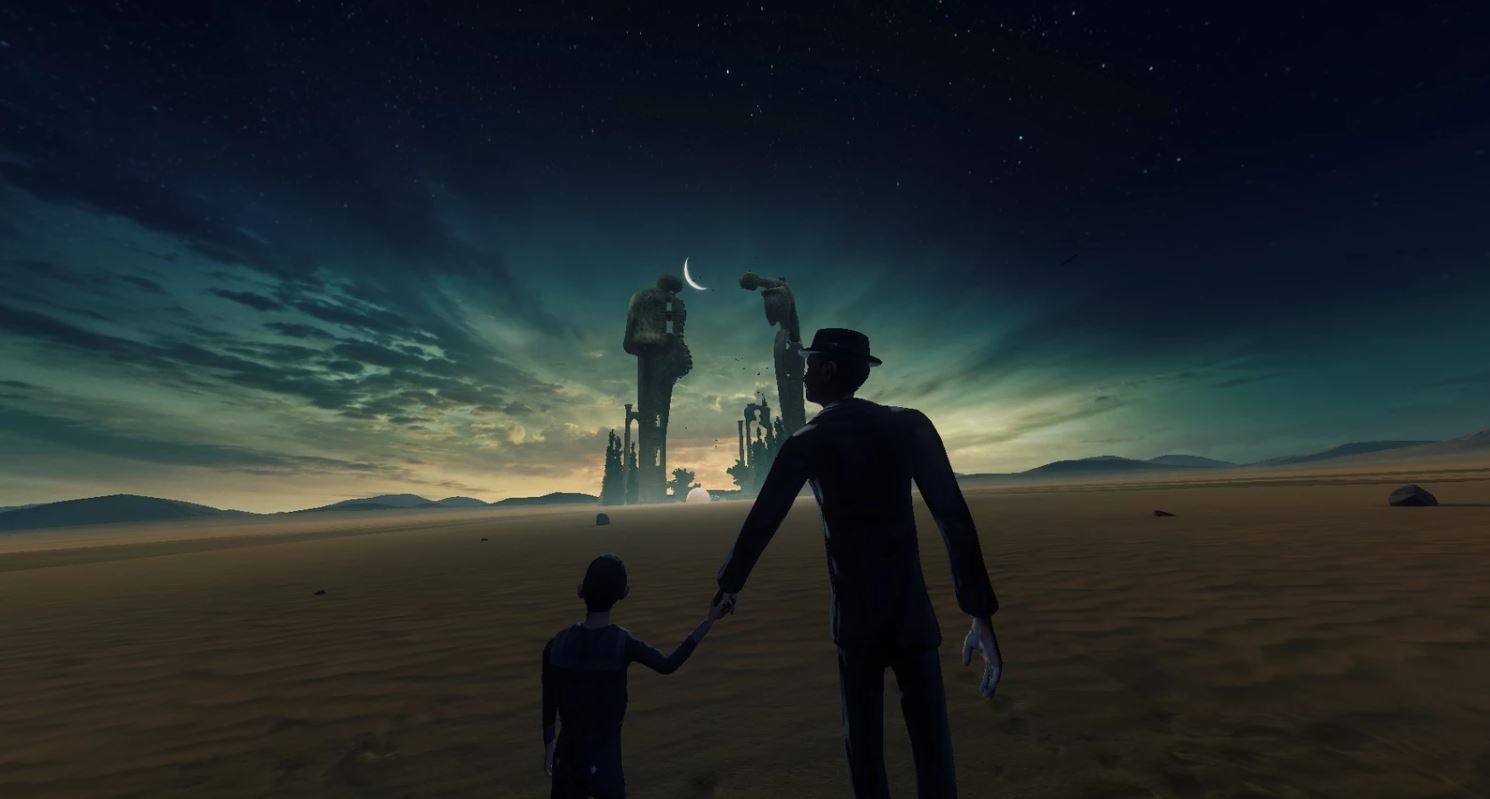 …The creators had to take some artistic liberties with Archeological Reminiscence by imagining what the towering statues might look like from behind, and what might exist beyond them.
Angelus figures are envisioned as crumbling ruins. Castle-like structures stand around the figures' feet, and a thin crescent moon hangs in the sky. In Dreams of Dalí, however, you can glide through the ruins. Behind them, you'll find four gigantic elephants, elevated skyward on beanstalk legs.
These are from Dalí's The Elephants, and appear in other paintings, as well.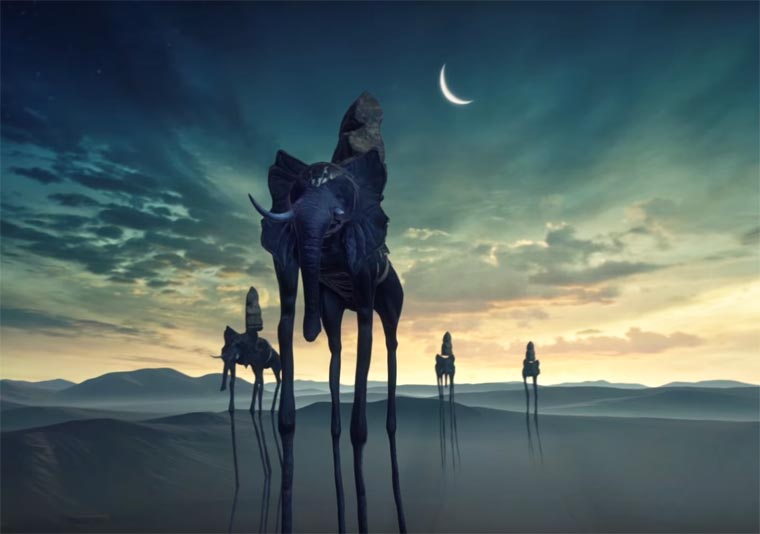 Dalí himself said "I surrendered myself to a brief fantasy during which I imagined sculptures of the two figures in Millet's 'Angelus' carved out of the highest rocks…." to see the the final result, check out this link...if you have Virtual reality glasses,,,even better. (Credit text wicked.com)