Tintoretto – The Rebel of Venice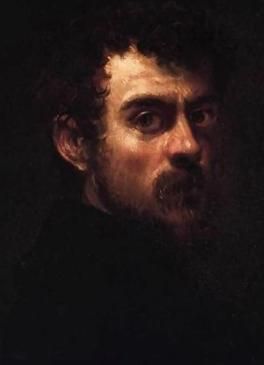 Recently I saw a film about Tintoretto, an artist about whom I knew little. It was a fascinating insight to this remarkable man who had no formal training.
Jacopo Robusti (1518-1594), (hero image is his self portrait), eldest son of a dyer or tintore, became known as Tintoretto and lived in the 16th century renaissance period. Surrounded by dyes and vibrant colours he dabbled with paint on the factory walls and it soon became apparent that he was a born painter.
A rival to Titian - in fact he attended classes under Titian - legend has it, Tintoretto was kicked out as Titian saw his abilities and a possible threat. However, Titian may also have recognised a very a stubborn man who would not benefit from Titian's training. In any event Tintoretto continued to develop his own style with no formal training whatsoever.
Titan's painting style was precise, delicate with soft colours which appealed to monarchs and nobility, with many commissions for portraits, while Tintoretto was considered a rebel.
He lived his whole life in Venice and most of his 300+ paintings are located there. He was renowned for the speed of his painting and although a religious man often featured workers and slaves as the central figures rather than Christ or the saints: quite radical at the time. He prepared his canvases with a dark base, unheard of then, and was criticised for lack of detail.
Below is a comparison of one of Tintoretto's painting of the Last Supper with one by Titian.
---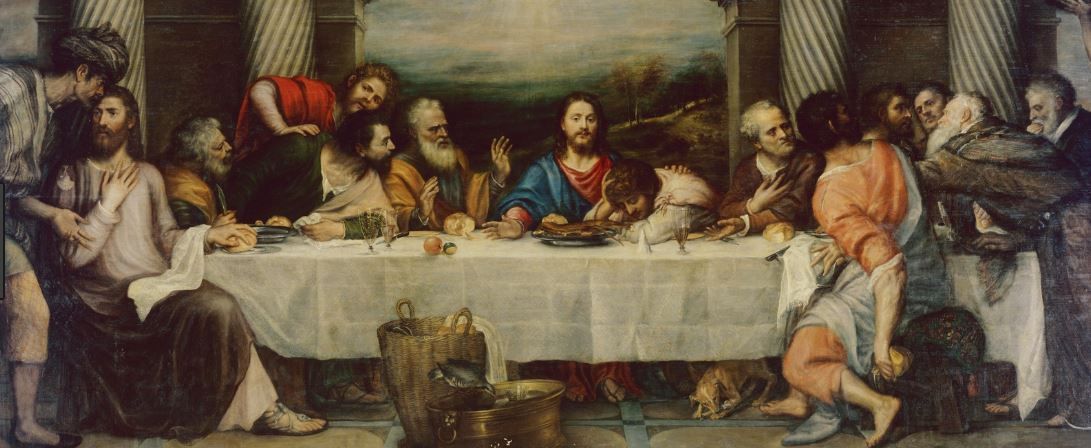 Titan uses the usual horizontal plane, with Christ in the centre, surrounded by fine brush strokes to define the disciples with a detailed background – Titian would have started with a white base on his canvas. Tintoretto on the other hand uses a vertical plane, giving the painting a greater depth of field – the central figure at the front is actually a servant, while Christ is well back (quite controversial at the time) and the background subdued. Due to the dark background he didn't feel the need to add detail, one of his secrets to speedy results.
The composition of Tintoretto's paintings is likened to a box theatre set, in fact he often set up plaster casts in boxes and added candle light to study the effect on the figures and shadows. Perhaps Adoration of the Golden Calf (1546), one of his signature works situated in the Madonna dell'Orta, started in a box? Tintoretto was a great admirer of Michelangelo and studied his painting and replicated his model in plaster casts.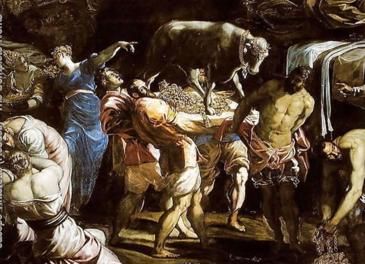 Dark bold colours with a theatrical style was considered to be very contemporary - David Bowie was very taken with his works and bought one. He named his record label Tintoretto.
Tintoretto's style allowed him to churn out paintings, fast and furious, under cutting the price of his competitors and delivering a completed work quickly. Some things never change!
A key to success was the support of a patron and Tintoretto vied for the attention of Pietro Aretino, an art critic with a lot of influence, and Titian's patron. I gather Aretino quite liked Tintoretto's work, having a portrait commissioned and a ceiling painted in his home, however Titian would have none of it.
Not to be daunted Tintoretto often completed works in a church or public building for cost price or no charge at all, just to win favour. In 1560, five principal painters, including Tintoretto, Titian and Paolo Veronese, were invited to send in trial-designs for the centre-piece of the small hall named Sala dell'Albergo, in the Scuola di S. Rocco. Scuole or schools of Venice were more in the nature of hospitals or charitable foundations than of educational institution and run by those of influence.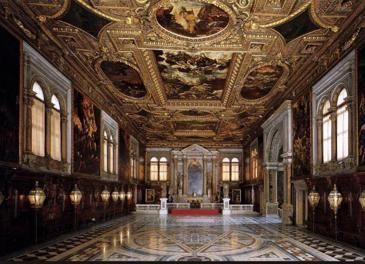 Apparently, there was some skulduggery with bribes paid to ensure Tintoretto would not win. As you have gathered this didn't stop Tintoretto. Rather than produce a sketch, he acquired the exact dimensions and then proceeded to paint and instal a fully completed work which he offered as a gift to the Scuola. The competitors remonstrated, not unnaturally; but the artist, who knew how to play his own game, gifted the painting, and, as a bylaw of the foundation prohibited the rejection of any gift, it was retained in situ. Tintoretto painted the remainder of the ceiling at no charge. As a result, he was commissioned to complete all the paintings in the Scuola di S. Rocco which is now regarded as a shrine to Tintoretto and his own genius. One of the most famous paintings being The Crucifixion.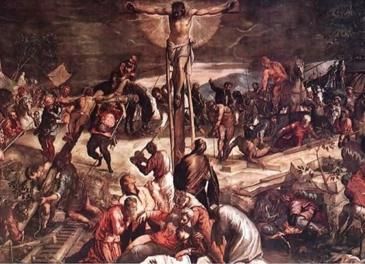 In the The Crucifixion (above) the background is filled with spectators and we feel invited into the foreground.
One of my favourites is Susanna and the Elders – a bibilical tale from the Book of Daniel - Susanna was a particularly beautiful young Jewish woman whose husband Joakim had invited the elderly men as guests to their home.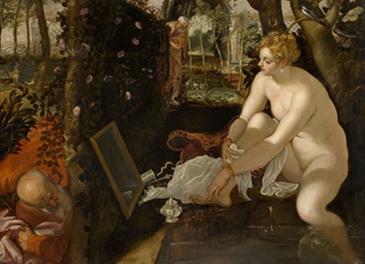 They decided to spring upon her once she was alone in the garden and threatened her with consequences if she rejected their advances. This distasteful behaviour is all the worse as they are considered friends of both Susanna and her husband.
His crowning glory and last influential work -Paradise in Scuola della Misericordia, is the size of a tennis court, and reputed to be the largest painted canvas in the world - 500 figures and required 50 canvases to be stitched together. It has fallen into disrepair, but thankfully free of inexpert restoration – it must be a sight to behold even today.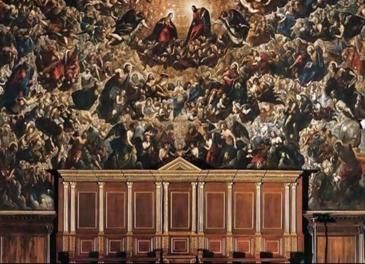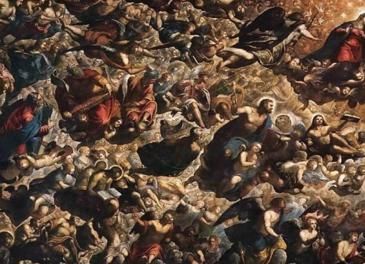 His son, Domenico assisted with this work as with many others, a recognised artist in his own right.
Tintoretto outlived Titian and got his final comeuppance over him - Domenico continued with the family studio which was successful for more than 60 years, while within Titian's family, due to infighting his studio fell into oblivion soon after his death.
And welcome aboard to a new subscriber M of Tottenham in the UK. I just happen to know (through Anne) that this person is an exceptionally good artist in her own right so we will gain much from her joining us.