Here I strove to have a go at painting Belted Galloway cattle and the glorious landscape of Gippsland, Victoria provided the backdrop.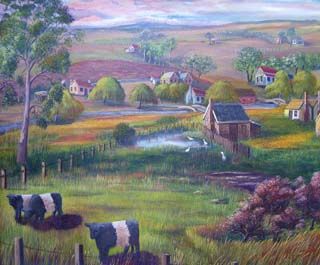 The Valley - Anne Newman
Original: Oil on canvas, w100cm x h67cm, framed
I added The miners' cottages for effect and to tell a story. The layers tell of the changing ideas artists often struggle to convey. When it was first painted I included wind turbines but received such a negative response I removed them. There were also people going about their daily lives and again the viewers weren't pleased so I erased them. All that remain are the cattle which many people don't believe are real breed and the cottages.
Painting Status: Sold