The uniquely inspired sculptures of Ryan McCallister
I'm always drawn to images of dragons or other mythical creatures, and so, when I recently came across the following two compelling images, of course I had to investigate the artist.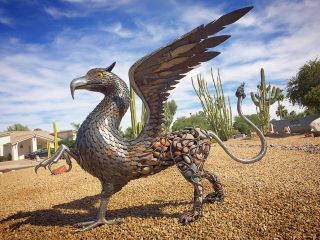 The sculptor is a multi disciplined young man named Ryan McCallister from Scottsdale, Arizona, USA.
His website says "I am a ceramicist, sculptor, welder, and all around lover of arts. McCallister Sculpture is a small business that currently sells handmade home decor, fine art sculptures, and as of most recently, metalwork and outdoor sculptures."
"I was raised in Louisville, Kentucky, received my BFA in Sculpture from University of Tampa, and now operate out of Paradise Valley, Arizona. I've travelled, lived, and have been influenced in parts of Europe, SouthEast Asia, Spain, Norway, to name a few".
"You could say I've been fortunate enough to have experienced an adventurous life".
Ryan works in metals such as steel, bronze and copper, as well as ceramics, stained glass and other mixed media. As well as outdoor sculptures and installations, Ryan also makes practical items such as serving trays, wine glasses, doors and gates, and light fittings.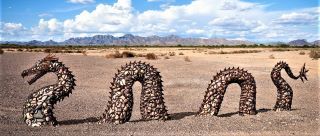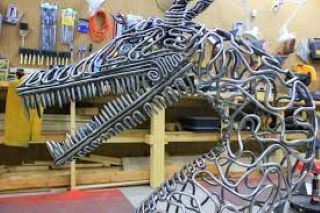 His work is fascinating because the detail is so meticulous and very time-consuming to get just right.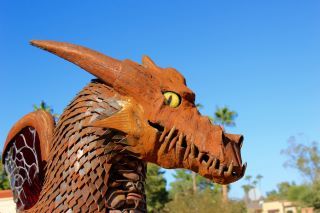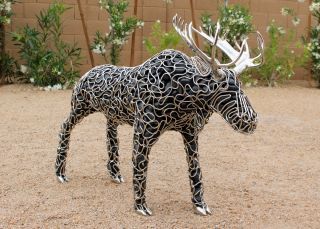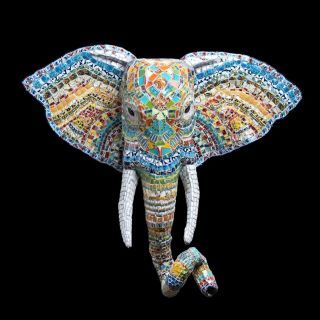 To gain a full appreciation of the breadth of talent of this versatile artist, it is worth spending some time looking through the variety shown on Ryan's Facebook page, or his website:
Footnotes:
With thanks to mccallistersculpture.com