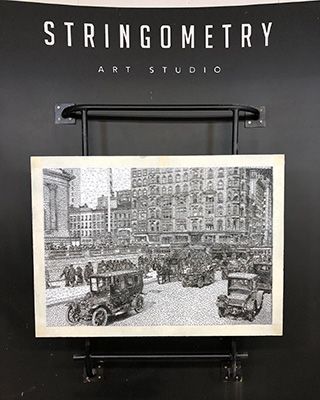 Lately we have been looking a little at numbers in art and also how they "figure" in our lives. And Julie introduced us to the patterns of String Art which set me off looking further into what is possible.....
So today I want you to meet The String Art Guy who uses the common nail and some string - plus a great shot of creativity and intelligence to produce amazing images which just about blew my mind!
And by the way - it's called Stringometry!!!
The String Art Guy's real name is Ben Koracevic who says:
Persistence, Passion, Patience 💡
Chase the goal, not the reward!
Self taught 👨🏼‍🎨
Stringometry Art Studio represents a passion consumed in creating beautifully detailed pieces of artwork with the simplicity of a piece of string. Ben Koracevic is our London based string artist who has a driven passion to perfect this rare art form.
Click on the link below to look at the fabulous pictures he creates! Yes, they look like pencil sketches, but they really ARE done with nails and string! Look at the video following and you will see him in operation! And we thought Michael Grab and his rock balancing was the ultimate in patience and perseverance! Link to that post.
And tomorrow you are going to start seeing a series of paintings where intimate details are again a feature.