Not long ago we featured the prolific stained glass work that appears in houses and churches in and around Melbourne, made by a company called Ferguson and Urie. This company was started by two men who emigrated from England in 1853. You can read that post if you wish by clicking here.
One of their earliest works was a large window called The Shakespeare Window, which was very colourful depiction of The Bard. It was commissioned by George Coppin (1829 – 1906) in 1862 for the Apollo Music Hall in Bourke Street, Melbourne.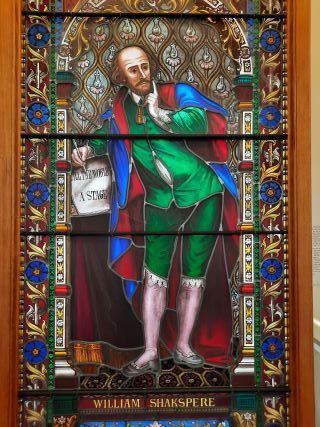 This special window survived for less than ten years as a window at the Apollo, and from there had a quite a chequered history of multiple owners and locations, surviving fire, and even some damage along the way. It was eventually bequeathed to the State Library of Victoria by Coppin's daughter Lucy, in 1960, and still resides there today. The State Library is an iconic building in the heart of the Melbourne CBD.
Whilst I did mention this window in my post about Ferguson and Urie, I then forgot all about it. But I happened to go to the State Library of Victoria recently for another purpose and decided to have a look around whilst I was there as it is such a beautiful building. It was built in 1854, (when Melbourne was barely 20 years old as new town)! It has been well preserved, but underwent a refurbishment and restoration inside in 2020.
Its original features have all been retained, such as the wood panelling in the reading room, the marble staircases, the scrollwork and ornate plaster ceilings, frescos on the walls etc.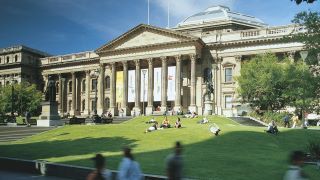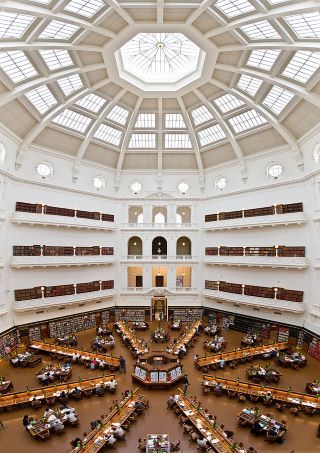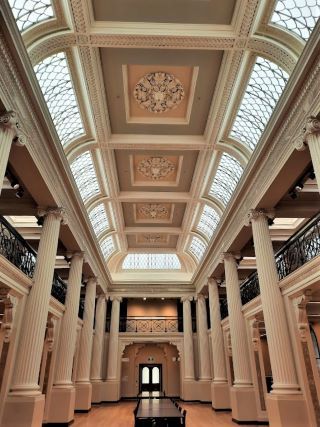 The library also has an art collection and exhibitions from time to time, and whilst I was wandering along, marvelling at all there was to see – completely free and available to any member of the public!– I just happened to come across the The Shakespeare window by Ferguson and Urie! What a thrill it was!
It stands in a wooden frame in its own alcove, and I was absolutely delighted to see it for real, and able to see it up close!
I can only tell you that the detail, the colours of the stained glass and the craftsmanship is something that has to be seen to believed, and even my poor photos don't do it proper justice!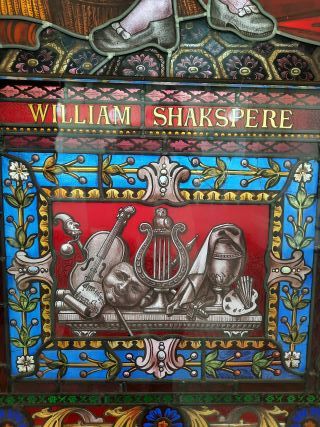 The three metre portrait displays the text All the world's a stage, a quotation from the play As You Like It, and the beginning of the famous speech describing the seven ages of man.1
"All the world's a stage, And all the men and women merely players; They have their exits and their entrances, And one man in his time plays many parts, His acts being seven ages."
The window is based on a sculpture by London-based French sculptor Louis François Roubiliac (1702-1762), commissioned by David Garrick, and now held at the British Library.1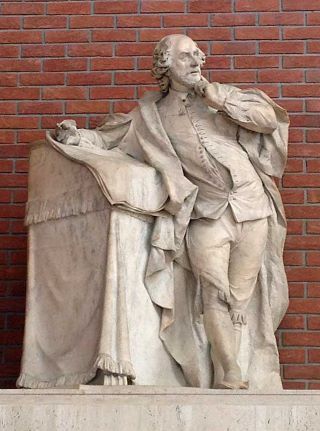 There is a plaque alongside the Shakespeare window which describes its long history, and it is wonderful that it has been preserved for everyone to enjoy. The damage caused by its many moves (with even whole pieces of glass destroyed) were extensively restored in 2005 by stained-glass artists Geoffrey Wallace and Robert Rusev.
And so from the sixth floor of the Library's grand Dome, this brightly coloured Bard of Avon watches over Victoria's readers, writers, thinkers and dreamers! 1
Footnotes
With thanks to the State Library of Victoria