The romance of Flying Boats from yesteryear
The year 2020 saw the 100th year anniversary of the great Australian airline QANTAS, but that passed by with very little fanfare or celebration due to the world events of this year. A short video commemorating the airline beginnings right through to today was shown on the television news around Australia.
For John Pickup, OAM, (one of the Brushmen of the Bush mentioned previously in the blog,) one of the planes featured in that tribute, an Empire Flying Boat, instantly brought back memories of actually being on one of these, going from Sydney to Hobart, Tasmania, in 1953! But more about that in a minute!
So, whilst many of us are currently grounded due to the pandemic restrictions, let's take this time to look back to the romance of early international air travel.
Did you know that the first international airport in Australia, (and elsewhere), was actually on the water!??
The harbourside suburb of Rose Bay, in Sydney, was selected as the site in Australia, primarily because it was a large bay with calm water located close to the city. At the time, many major cities around the world already possessed water airports, or marine air terminals, as they were called in the United States.1
To fly internationally in the 1930s travellers would most likely depart from a water airport in a flying boat, and it was not until after World War II that commercial land airports and their aircraft became more widely used. 1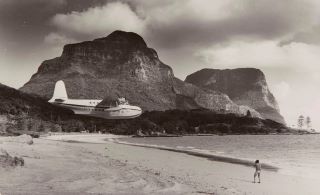 The 'Short' Empire Flying Boat was a medium-range four-engined monoplane, designed and developed by the Short Brothers in the United Kingdom during the 1930s, with a particular emphasis on the core routes that served the United Kingdom. The UK Imperial Airways (later BOAC), Qantas (Australia) and TEAL (later Air New Zealand), were the primary customers as they all operated commercial services between these long distance locations. 2
As well as mail, Empire flying boats could carry up to 14 passengers and had a flight time of only ten days from Rose Bay, Sydney to Southampton, UK, compared to more than 40 days (almost 6 weeks!) by sea. During the 1930s and 1940s, for those that could afford it, (as a ticket cost the equivalent of a year's salary), flying boats began to rival ships as a popular form of transport. Flying boats provided a first class-only service, with silver service meals and cocktails all served by smartly dressed stewards..... (long before the advent of 'economy' class!)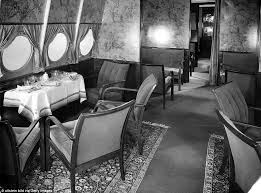 The flying boats did not operate during the night, so the voyage from Australia to England required nine overnight stops. Passengers stayed at luxury hotels, such as the Raffles in Singapore, or in accommodation built specially by the airlines, and this was all part of the unique travel experience.1
All this luxury disappeared with the outbreak of World War II in September 1939. The Australian Government pressed a number of Empire flying boats into service with the RAAF as long range bombers. By 1944 all the Empires that had seen service had either crashed or been destroyed by enemy fire and by 1948 there was only one Empire remaining in Australia, and it was broken up for scrap in January of that year. 1 The Short Empire had been developed and manufactured in parallel with the Short Sunderland maritime patrol bomber, which saw service throughout the whole of the Second World War. 2
The war also saw the arrival in Australia of the Catalina, perhaps the best-known and most loved flying boat of all. Catalinas were long range patrol bombers and undertook many dangerous night-time flights mining Japanese harbours. They also kept the air route to Europe open after the fall of Singapore by flying epic nonstop flights from Perth to Ceylon (Sri Lanka). 1
You can see from the photos below that they had two propellers instead of four, and their fuselage (body) design was quite different to the Empire flying boat, more suited to its functions during the war years.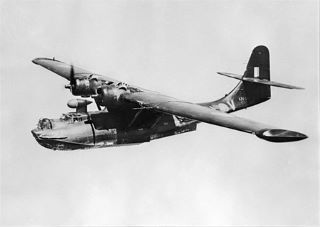 The massive building works of both airstrips and land-based aircraft undertaken during the war was the catalyst for the demise of the flying boats, which were more expensive to maintain. New technology meant that seaplanes were no longer larger and faster than land-based aircraft.1
However, despite the worldwide demise of flying boats after the war, Sydney remained uniquely placed to take advantage of their waterborne capabilities. With air travel becoming more affordable, the Rose Bay flying boats set their sights on Australia's east coast and surrounding South Pacific destinations.1
Many Sydney residents enjoyed travelling on the flying boats for holidays to Hayman Island; two-week South Seas 'cruises' to Fiji, Noumea and the Cook Islands; charters to Lake Eucumbene near the Snowy Mountains; and trips to Lord Howe Island, 700 km east of Sydney. Thousands of Sydneysiders holidayed on this island, many returning year after year. Some travellers met for the first time there and returned as married couples on honeymoon. The journey to Lord Howe Island on the flying boat was an integral part of their holiday experience.1 Here are a couple of examples of the advertising posters - aren't they marvellous? They are artworks in their own right!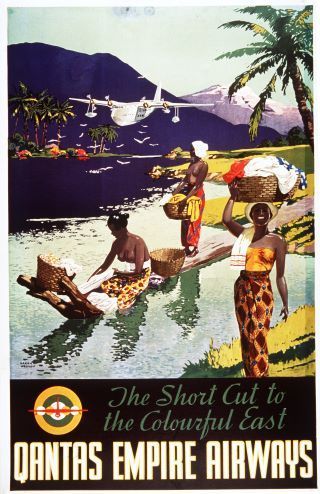 As mentioned above, one of our subscribers, John Pickup, OAM, wrote to the blog, recalling his luck in cadging a unique ride down to Tasmania:
"On Boxing Day 1953 I took off in a Sandringham flying boat from Rose Bay in Sydney, flying down the coast at 2000 feet over the 'Sydney to Hobart' yacht race, eventually landing on the Derwent River in Hobart."
"Not only that, but I have the information card that was passed around showing our position and signed by the captain in charge, Sir Gordon Taylor who was a very famous Australian pilot and navigator."
John also recalls that his first flight was also in a Sunderland, in 1946: "The aircraft was converted from a Sunderland after the war and my brother-in-law was able to get me on board the Sunderland test run. He was an instrument fitter at Rose Bay and managed to persuade the captain to take me on the flight. It lasted over two hours and we stood all the way as there were no seats!"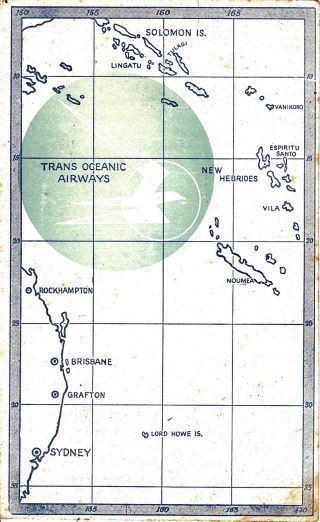 How wonderful it is to have the first-hand comments of someone who has actually been on these wonderful aircraft! John says that, to this day, they remain his ultimate flying experience !
John also sent us the photo of the transoceanic Sandringham in which his parents did a trip around the South Pacific, also with Sir Gordon Taylor! Thank you, John!
Do let us know if you have any stories of iconic planes .... or trains or ships or cars, for that matter! We always love to hear of memories that our posts bring back!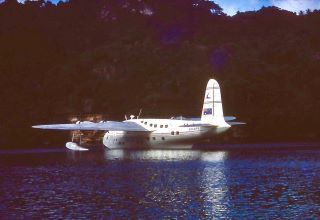 By the early 1970s increasing maritime traffic on Sydney Harbour had resulted in the restriction of flying boat services and only two of the aircraft were left at the Rose Bay base.
For some absolutely wonderful photos and history by Mr Frank Stamford of these two remaining flying boats on Lord Howe Island, Beachcomber and Islander, please click here.
After a land airstrip was built on Lord Howe Island in 1974, the two remaining flying boats were sold off and eventually finished their working days in the Caribbean, but both do survive as static exhibits to this day.
When the flying boat base closed that same year, a unique chapter in Sydney's history came to an end.1
Here is a 3 minute video showing one of the final flights around Sydney harbour in in 1974, with the iconic Harbour Bridge and Opera House in full view!
We leave you with a 20 minute video of the history of the flying boats in Australia. If you have the time, it is well worth watching to see some unique footage of yesteryear, and interviews with pilots who flew these iconic planes – including Sir Gordon (P G) Taylor, who flew John Pickup down to Hobart and his parents around the South Pacific!
Footnotes
Courtesy of sydneylivingmuseums.com.au
Courtesy of Wikipedia.com