We have a new subscriber: welcome V of Melbourne. We are delighted that you have joined our on-line art community.

As I mentioned yesterday falconry was offered at Bovey Castle – for most of us that meant joining the crowd at 10am for falconry display. George filled in for Simon and although having the same opinion about owls - to our delight brought out Merlin - an eagle owl.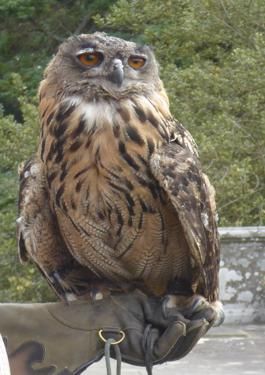 As I learned during a visit to Bath earlier in the trip, Athena the Greek goddess of Wisdom was symbolised by an owl. The wise owl appears in everything from The Iliad to Winnie the Pooh. Though excellent hunters, owls are stubborn; they hang out sleepily on tree branches and do not always take orders!
For weddings booked at Bovey Castle, Merlin can deliver wedding rings to the altar; but sometimes he flies off onto the moors, with the rings!
Owls have 3 eye lids, but as we learned from Julie's blog a few days ago, cannot actually move their eyes - they need to swivel their heads to look around. Merlin is getting on in years and stayed on George's arm, yet his large eyes blinked very slowly checking us out. George told us not to be enchanted - Merlin's talons could still crush the head of a small deer!!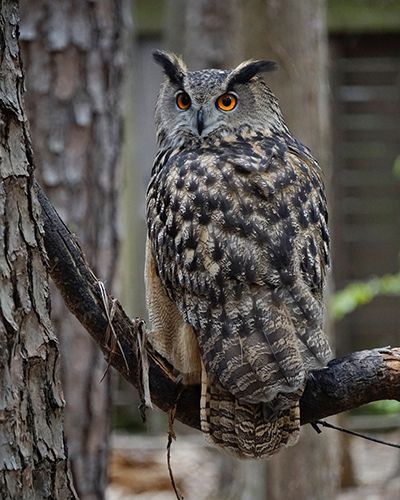 Well, we decided Merlin was very cute and just a little bit wise... No cats around Bovey, obviously smart enough to avoid the birds looking for tasty prey! Pooches are welcomed - in the grounds, at the castle and even in the rooms. In the entrance a stack of pristine white(!!) towels reserved to clean muddy paws.
England is very dog friendly - hotels, pubs, cafes and shops seem to welcome well behaved dogs on leads - and here in the land of being prim and proper, man's best friend follows suit.
In an art shop I spotted an inquisitive pup checking out a gold fish pond and finally a Pussycat enters the story eyeing off a tasty morsel for lunch.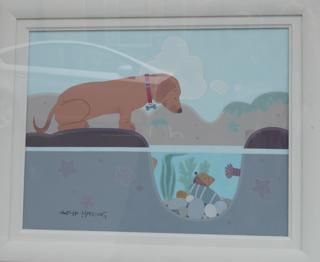 Credits: all photos are my own unless stated otherwise.